Congratulations! You're pregnant!
Now what?
Whether this is your first or fourth pregnancy, you could always use tips and advice from other moms. When I was pregnant, I welcomed any advice I could get (well not all advice but that's a whole other topic!). I loved learning about new products and books that could help make the next 9 months a little easier.
After speaking with several moms as well as pulling from my own experiences, I have created a list of 10 must-haves for pregnant women. This list is clearly not exhaustive and some items may not be for you but it's a great place to start. Also, please consult with your doctor before trying ANYTHING!
10 Things Every Pregnant Woman Must Have
Body Pillow
When I asked my mommy friends to list their must have pregnancy items, this product won hands down! As your pregnancy progresses, sleeping becomes more and more difficult. Besides having to pee every 10 minutes, you just can't get comfortable. A good body pillow can conform to your ever changing body making sleeping a little easier and more bearable! I used the the Leachco Snoogle Mini Compact Side Sleeper (which can later be used as a nursing pillow as well) while some moms prefer the Leachco Snoogle Total Body Pillow.
Maternity Support Belt
This was the second place winner among friends (next to random food cravings of course!) A belt, such as the Gabrialle Elastic Maternity Support Belt, can help lessen back pain and make pregnancy easier. It is especially helpful for women who enjoy working out and walking while pregnant. (Please speak with your doctor before using a support belt.)
Bellaband
This was my life saver during both pregnancies! The Bellaband is an adjustable elastic fabric band that fits around your belly and holds up your pants once they can no longer be buttoned. With this I was able to wear almost all my work pants until the end of my pregnancies!
What to Expect When Your Expecting Book
We have all heard of this book and there is good reason for that. This book is a wonderful resource for moms to understand each step of their pregnancy. What to Expect When You're Expecting can be purchased on amazon for less than $8. You may also want to try What to Expect: Eating Well When You're Expecting which offers healthy but realistic eating advice as well as 150 recipes! I LOVED this book! Need a book for dad too? Try What to Expect When Your Wife is Expanding, a comedic approach to helping men understand each step of pregnancy.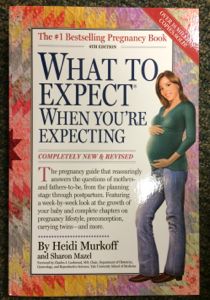 Gift Certificates for Maternity Clothes
Every mom wants to feel beautiful during pregnancy (even though it can be hard sometimes). Want to make a pregnant women happy? Get her a gift certificate to places such as Motherhood Maternity, Gap, Old Navy, Target or Macy's! You can can even give a gift certificate to amazon for some great maternity clothes!
Want to try something different? Sign up for Bump Love Club! Like Stitch Fix, Bump Love Club is a personal styling service but for pregnant women. You can get pre-packaged bundles or customized boxes full of stylish maternity clothes. Buy what you like and send back what you don't! It's that easy!
Belly Lotion
Not only are lotions great for preventing stretch marks, they also help control that ridiculous itching!! I loved Palmer's Cocoa Butter Formula. I used this during both of my pregnancies and did not get one stretch mark! (No promises as results vary for each person) Please consult your doctor before trying any lotions.
Belly Diary/Journal
I absolutely loved keeping a belly diary during my first pregnancy. Not only was it fun, it was also a great resource for me during my second pregnancy. I used the Belly Book but you can also try The Pregnancy Journal or Bump to Birthday. These days another great way to document your pregnancy is to blog about it!
Comfy Slippers
Let's face it, those work shoes just don't cut it anymore! When you get home, you just want comfort. A good pair of slippers makes time at home easier especially during that last month! You can also bring them to the hospital. Of course I recommend Ugg slippers, but I know that is quite pricey. Check your local Famous Footwear or DSW for great slipper options!
A Good Tooth Brush
It's so important to maintain good dental health while pregnant. Your gums become very sensitive, and you are more prone to gingivitis. Also, don't be alarmed if your gums bleed a little. A brand new soft bristled toothbrush is the way to go. For me, I was very nauseous for the first 5 months. Honestly, I threw up every time I brushed my teeth! My dentist recommended I use a kids toothbrush which is smaller with softer bristles. (Please discuss all options with your dentist first!)
Anti-Nausea ANYTHING!
When I was pregnant, I tried EVERYTHING from ginger snaps to pregnancy tea to Preggie Pop Drops candy. What worked best, however, was mint gum or mint candy! Other moms swear by Tums (which also provides a great source of calcium), fresh ginger, chamomile tea and an abundance of carbs!
So there you go!! I hope you have found this list helpful as you embark on this great adventure. I want to remind you that I am NOT a doctor or nutritionist, just a mom with some fun tips and ideas. Please consult your doctor before trying anything during your pregnancy!
Happy 9 months!
You may also enjoy:
Mama Boxes: Helping Moms One Trimester at a Time
Mom to Mom: Advice for New Moms
Tips to Prepare Your Child for a Sibling