Are you looking for a great family day destination that offers fun, excitement and hands-on learning?
If you're answer is YES, and I am sure it is, then Morris Museum is the place for you. Located in Morristown, NJ, Morris Museum combines the love of art, theatre and science into one exciting interactive experience the entire family will love. Morris Museum is open Tuesday through Sunday from 11am – 5pm (Sundays the museum opens at 12pm). On Tuesdays, the museum stays open until 8pm with pay-what-you-want admission from 4pm – 8pm.
There are so many reasons to visit Morris Museum. It not only offers a great venue to increase knowledge, it also allows kids to expand their vocabulary and overall language skills. Social skills are improved as well as kids learn the proper way to behave in a museum including respecting the displays. Cognitive growth is unlimited as kids use problem solving skills to complete activities as well as engage in deep thinking when viewing the various exhibits.
Morris Museum offers families the opportunity to explore fun permanent exhibits as well as special and traveling exhibits. Kids are able to tap into the world of science and art while engaging all of their senses. A wide variety of special events and programs are also available throughout the year for individuals of all ages. In this article, I am going to focus on the amazing opportunities for scientific exploration and discovery.
4 Exciting Science-Based Exhibits at the Morris Museum
Musical Machines
My family and I took a fun and interactive journey into the past as we walked through the Guiness Collection of Mechanical Instruments and Automata. We learned all about how mechanical music boxes work to create beautiful music. We even made our own music with the punched books and roll as well as the pinned barrels. We also learned about phonographic records, cassette tape recorders and the digital music age. Who knew there was so much science involved in creating music?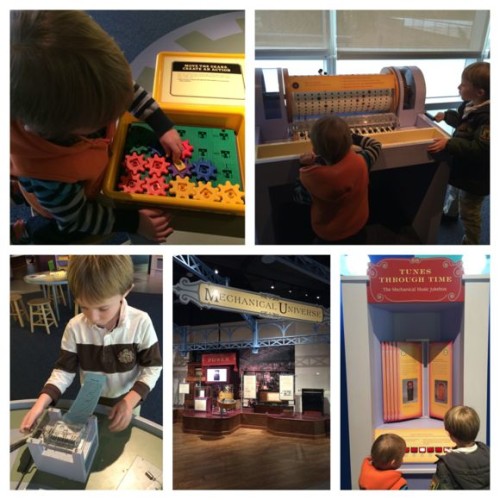 The music and motion room was our favorite place to visit. This room took a true multi-sensory approach to learning. The boys were able to hear, see and touch music. The Music Meets Art interactive display tapped into their creativity while the activity boxes utilized problem solving skills and critical thinking.  We also enjoyed a live demonstration about how music boxes work. We were able to see and hear antique music boxes from around the world. The presenter was very knowledgable about the topic and made it easy to understand. My son was fascinated with the gorgeous boxes and how they worked.
Mammal Exhibit
The Mammal Room was great for delving into the world of animal science and conservation biology. The boys loved looking at all the animals on display. They especially liked the giant bear. We learned all about exinct and endangered species as we explored this room. The museum allowed visitors to see extinct animals such as the passenger pigeon and Carolina parakeet. We learned about how endangered species such as the osprey have been saved and moved to the threatened category. It was sad to learn about the animals that are hunted like cheetahs and rhinos.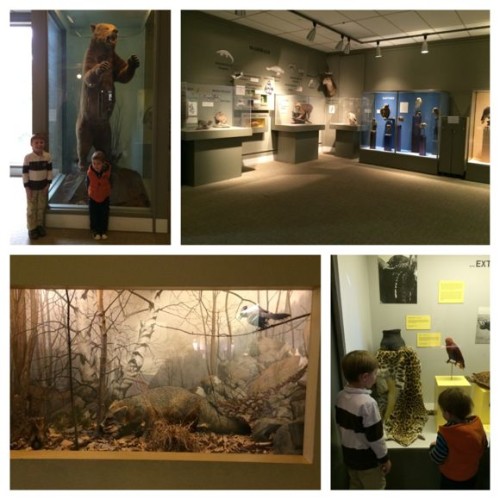 Dinosaur Den
The dinosaur section was my little one's favorite area to explore. We had a blast being paleontologists for the day and learning all about prehistoric life. It was so cool to see fossils found in NJ like insects trapped in amber and natural cast of Eunrontes track. The boys were also able to compare their size to the size of a dinosaur bone and a dinosaur nest. Our favorite area was the T-Rex skull. While exploring this amazing skeleton, we also read fun facts about this fascinating dinosaur.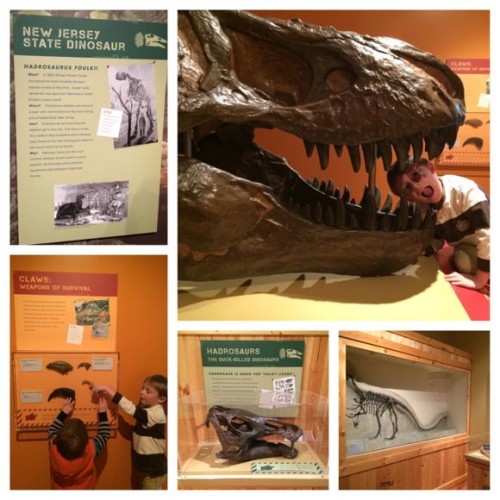 Rocks and Minerals Exhibit
The Rocks and Minerals room focused on several areas of science such as geology, petrology and mineralogy. We learned all about different types of rocks and minerals from around the world as well as a focus on NJ geology. The boys were able to engage in a true multi-sensory approach to learning as they were able to touch, see and even smell a variety of specimens in the gallery. We especially liked the beautiful geodes. We were also able to learn all about how rocks were made and how minerals obtain their amazing colors. The dark "cave" offered a unique perspective on the vibrant colors rocks and minerals can illuminate depending on the light.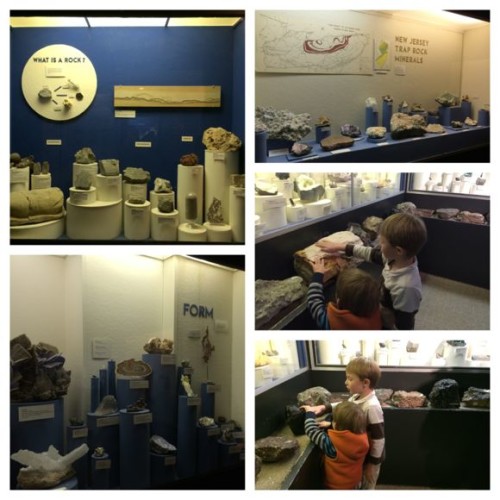 As you can see, there are so many exhibits to explore and scientific concepts to discover and learn about at Morris Museum. We spent several hours bouncing from one exhibit to the next all while having fun!
Mommy University Suggestions
Morris Museum doesn't have a cafeteria.  If you are planning on visiting which overlaps a meal, you may want to pack something.  There are several tables in the lobby as well as picnic tables located outside.
This is a small museum but works perfectly for young children.  Parking is free and available in the front and side of the building.
Check with your local library if they have a membership to the museum as that can be borrowed.  However, if you are planning on visiting a few times in a year than a family membership might be more appropriate.  As well, if you are Bank of America cardholder the first weekend of the month is free.
Morris Museum hosts some wonderful annual programs such as Astro Day that promotes an appreciation of astronomy and Dino Day.  However, they also host FREE educational programs for toddlers and BASF workshops for children ages 6 and older.
If you like this post, you might like: