In full disclosure, DJC Creations provided us with 2 custom Halloween buckets at no cost in exchange for our honest review.
Are you looking for an adorable Halloween bucket to go with your child's perfect costume?
Do you want a personalized bucket that you can use even after Halloween is over?
Well I have the perfect company for you, DJC Creations!
This amazing family owned company can create an exciting custom made Halloween bucket just for you! Not only are their buckets perfect for Trick-or-Treating and Halloween parties, they are also great to use after Halloween for storing toys, collecting objects on nature walks and enjoying summer fun on the beach! Who knew Halloween buckets were so versatile?
DJC Creations started about one year ago after receiving tons of compliments over personalized pencil cases used as a birthday party favor. From there, they moved into personalizing just about everything from toy chests and step stools to wine glasses and beach chairs. Whatever you imagine, they can create! This season, they are thrilled to offer personalized Halloween buckets that are sure to please children of all ages!
DJC Creations offers Halloween buckets in a variety of colors. We had our's designed on blue buckets but you can also choose from green, orange, pink or purple. Each bucket can be personalized with your child's name in any design you can imagine! Want it to be spooky and scary? They can do it! Want it to match their costumes? They can do that too! Want them to include your child's favorite character? Of course they can do that!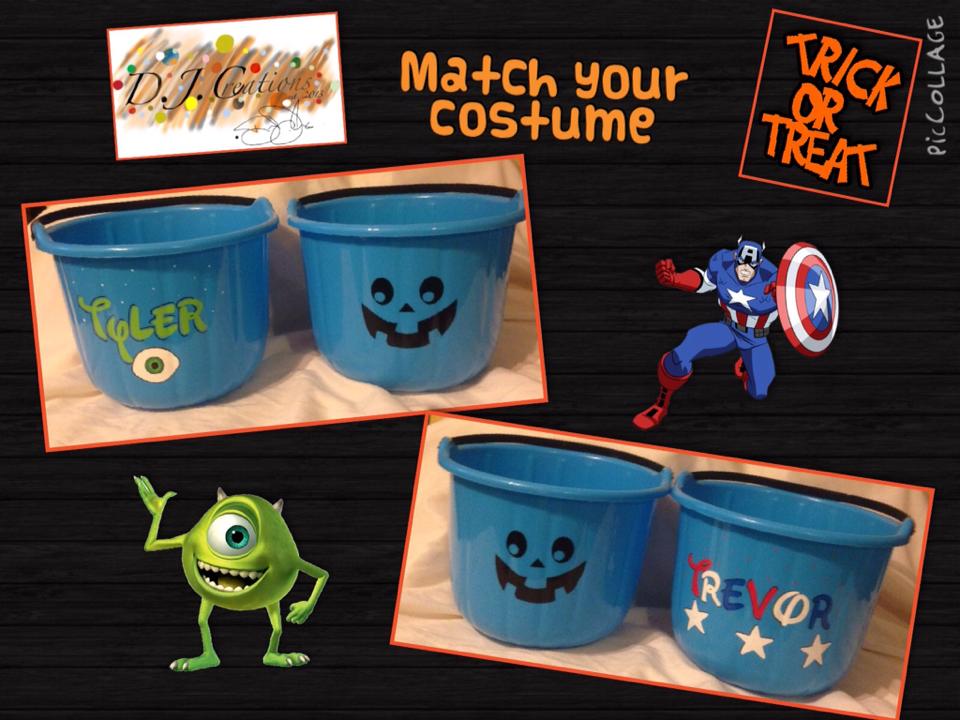 To match the boys' costumes, DJC Creations designed buckets that embodied true Disney magic just like the costumes they chose. The Monsters Inc. inspired bucket has one eye just like Mike, while the Captain America themed bucket consists of red, white and blue letters to write my son's name. It is also has blue and white stars along the bottom. Both buckets have a cute jack-o-lantern face on the opposite side.
The boys were so excited when they saw their new Halloween buckets. They immediately wanted to play with them. They cannot wait to use them on Halloween to collect yummy candy and treats!
What do we love about our personalized Halloween buckets?
Bright and Colorful: I love the colors on our buckets! They are so bright and match the costumes perfectly.
Perfect Size: The Halloween Buckets are the perfect size for my boys to carry on Halloween. They are sure to hold just the right amount of candy so there is enough to share with mom and dad!
Versatile: Of course these buckets are great for Trick-or-Treating but they can be used for so much more! Once Halloween is over, they are perfect for storing toys and art supplies to help organize your child's bedroom or playroom. They can also be used to collect items on nature walks or make sand castles at the beach. You can even use them to boost development by having kids sort objects in them by shape, size or color. You can also have them go around the house and find anything that is the same color as the bucket!
With Halloween quickly approaching, don't wait, order your customized bucket today!
The buckets featured in this article cost $18, but the price will vary based on the design. To order your buckets, check out DJC Creations website (link provided above) or visit their Facebook page. You can also find them on Etsy! Make sure you tell them Mommy University sent you!