Now that you have made or purchased your Disney Countdown calendar and planned out what you want to see and experience while on your Disney vacation, it is time to create ideas and activities to implement during your Educational Disney Countdown.
To make this process easier, I will break my ideas down by 3 categories: Parks, Resorts and Other Activities. This post will comprise of just Disney Parks. There is so much to cover so I decided to break it into two posts as to not overwhelm anyone, especially first time Disney vacationers! You can base your countdown activities on which park  you will visit and what rides you will experience!
DISNEY PARKS
Epcot
There are so many amazing areas to focus on in Epcot. Almost every area has an educational benefit which makes it even better for this countdown. Here are some ideas based on the areas:
World Showcase: There are a total of 11 countries represented in Epcot's World Showcase. During your countdown, you can focus on each country for one day. Here are some activities you can do:
Make a meal from that country such as scones for England, pasta for Italy and ratatouille for France.
Make the flag for each country (most of them are pretty easy to replicate).
Read a book about each country.
Find the country on a map or globe.
Learn about the clothing and culture of each country.
Innovations East and West: There is a wide variety of educational activities in these two pavilions. Here is what you can do at home:
Fire Safety Day: Visit your local fire department for a tour, discuss fire safety, read fire safety books and complete fire safety workbooks.
Weather Day: Read books about extreme weather, watch specials on the Weather or Discovery Channels, make your own tornado in a bottle, discuss your family safety plan and donate to a charity that helps families after natural disasters.
The Great Piggy Bank Adventure (just like at Epcot): Give the kids a set amount of money at the start of the day then have them decide what to buy with it or should they save it. Price items around the house then use a cash register for purchases.
Visit an amusement park and ride a roller coaster in honor of The Sum of All Thrills area.
Mission: SPACE
Make a replica of the solar system.
Stargaze.
Read books about space and the planets.
Make your own telescope out of a paper towel roll and paint.
Visit a planetarium.
SeaBase: Kids LOVE this area, especially the Nemo and Friends Attraction. Here are some sea related activities: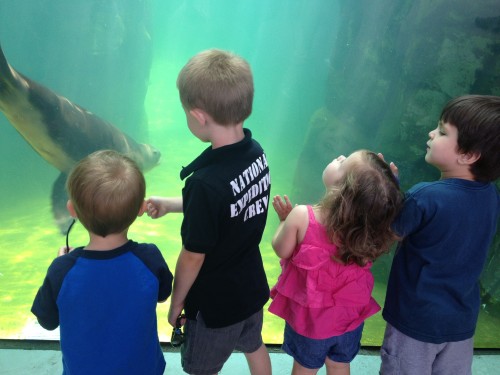 Visit an aquarium.
Read books about various sea creatures.
Watch Finding Nemo.
Make a sea related craft.
Go fishing.
Go dolphin and/or whale watching.
Collect shells then sort them by size, color and texture.
ANIMAL KINGDOM
Animal Kingdom is another perfect park to focus on for your Educational Disney Countdown. Here are some ideas and activities:
Kilimanjaro Safari
Focus on one animal per day.
Make animal masks and other crafts.
Hide animals around the house and "hunt" for them.
Read books about different animals.
DinoLand
Read books about dinosaurs.
Hide dinosaurs around the house and "hunt" for them.
Draw and/or color dinosaurs.
Make a volcano.
Make dinosaur puppets or masks.
Expedition Everest (Some kids are not tall enough to ride this thrilling coaster, but you can still make it a focus for a day.)
Yeti Day (my son came up with this one)
Read books about Everest.
Make your own mountain.
It's Tough to be a Bug: Dedicate one day to bugs! Here are some activities:
Catch lightening bugs.
Make a bug habitat.
Watch A Bug's Life.
Go to an insect museum.
Read books about bugs.
HOLLYWOOD STUDIOS
This park focuses a great deal on movies, especially Pixar so your countdown days can focus on these movies and their famous characters. Here are some ideas:
Cars Day: Design your own car, draw and color cars, play with cars, go ride bumper cars or watch Cars the movie.
Monsters Inc./University Day: Make green Jell-O, learn about universities, discuss future careers, make Mike and Sully masks and read books.
Toy Story Day: Create your own Toy Story adventure with Toy Story dolls or make your own puppets on a stick, create several different Mr. Potato Head designs and learn about space in honor of Buzz Lightyear.
Star Wars Day: Have a movie marathon, make your own light sabors and recreate famous scenes and ships using Legos.
Disney Junior Day: Dress up as pirates and/or princesses, make your own swords or crowns, pretend to be a doctor like Doc McStuffins, dress up like a cowgirl or cowboy like Cheriff Callie or learn all about the sea like the Octonauts.
Animation Day: Practice your skills by learning to draw various Disney characters.
MAGIC KINGDOM
Magic Kingdom is full of wonder and discovery. It is a magical place where it seems anything is possible. As a result, there are endless possibilities for activities based on this park. Here a few I have come up with based on each magical area:
Adventureland
Pirate Day: Play dress up, make your own swords, go on a treasure hunt, meet a pirate (i.e. Jersey Shore Pirates), visit Tuckerton Seaport, read books about pirates and make a pirate ship out of cardboard boxes.
Jungle Day: Read about all the animals found on the Jungle Cruise, make animal masks, visit animals at the zoo, take a boat ride, put toys animals around the house and go on your own safari around your house.
Liberty Square
Visit a haunted house.
President Day: Learn about the presidents, visit a museum, read books about your favorite presidents or dress up like a president.
America Day: Make the American flag, draw a map of America, learn about the states (especially Florida where Disney World is located), read books about America and visit a museum about American history.
Fantasyland
It's a Small World Day: Learn about each country featured during this ride (each country could have it's own day if you choose) or make your own puppets.
Storybook Circus Day: Dress up as a clown, learn to juggle, learn magic tricks, read books about circus animals, read and watch Dumbo or visit a petting zoo.
Princess Day: Dress up as a princess, make your own magic wands, have a Princess Tea Party, read princess books or take your daughter to get her nails done (or paint each other's nails).
Winnie the Pooh Day: Read Winnie the Pooh books, cook using honey or play pin-the-tail on Eeyore.
Snow White and the Seven Dwarfs Day: Visit a mining museum, go "mining" in your backyard, make candy apples, read this classic book and watch the movie (you can also watch Enchanted which has a similar theme).
Frontierland
Wild West Day: Learn about the wild west, learn about horses, go horseback riding, visit a museum, learn to make a lasso or have a BBQ.
Go hiking like you would on Tom Sawyer Island.
Main Street USA
America Day (see above)
Train Day: Play with a toy train set, visit a train museum (i.e. Northlandz), paint your own wooden train, read Thomas and other train books or complete train puzzles.
I hope you have found these activities helpful as you plan your Educational Disney Countdown! You can also check out Part 3 with ideas and activities based on Disney Resorts and other Disney World activities!
To see more of what I did for my Educational Disney Countdown, check out my Facebook photo album!
If you like this post, you might like: