Mommy University is so happy to partner with Lauri from KEEP Collective jewelry to help moms show off their unique style and personality!
A couple of years ago my sister and her husband moved to Louisiana. My sister and I are VERY close so this move was very difficult for both us. Before she left, she gave me a beautiful KEEP Collective bracelet that signified our unique and special bond. Every time I wear or just look at this bracelet, I think of my sister and know she is only a phone call away.
Recently, I was reintroduced to KEEP Collective as one of my close friends was having a party. I instantly fell in love with all the amazing ways this jewelry allows women to show off their unique style, interests and passions. For those that don't know, KEEP Collective offers custom designed keepsakes made by award-winning jewelry designers from Sausolito, CA. Their mission is to "give every woman the means to design her one of a kind life."
How does it work?
Making your perfect KEEP Collective piece starts with finding an amazing designer like my friend Lauri Hromoko. KEEP designers help you create and tell your story by listening to what you love and understanding your passions. Lauri was able to create a bracelet for me just by knowing me as a friend and understanding who I am as a person. Finding a great KEEP designer is key to making your dream piece of jewelry.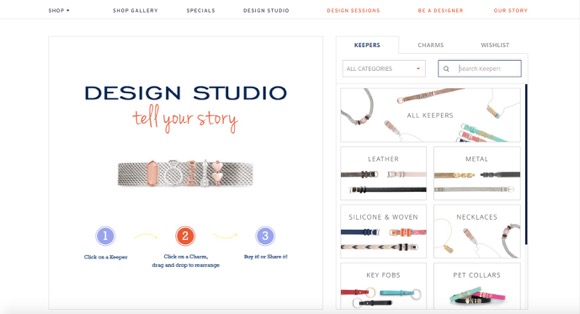 KEEP Collective offers bracelets, necklaces, key fobs, pet collars and bags, all of which can be adorned and personalized with beautiful charms. There are so many options to choose from that the process can be overwhelming which is why a designer is so important in this process. First, you have to decide what keepsake you would like to make. I chose a bracelet which appears to be the most common KEEP Collective choice. Bracelets come in leather, woven, silicon and metal. There are solid colors, patterns, reversible, double bands and cuffs. I told you there were a lot of choices!
Once you choose your band option, you then decide on charms. You can go simple with just one or choose letters to spell your name or combine the two. You can also start simple and add to it as time goes on. For my band, I wanted to show off Mommy University. After going back and forth with several ideas, we finally went with the letters MOMMY U and a blue stone for the "O". For my band, I chose the reversible blue and brown. I love how I can change my bracelet to match my outfit. One day I can wear the blue side then the next day the brown side. It makes the bracelet so versatile!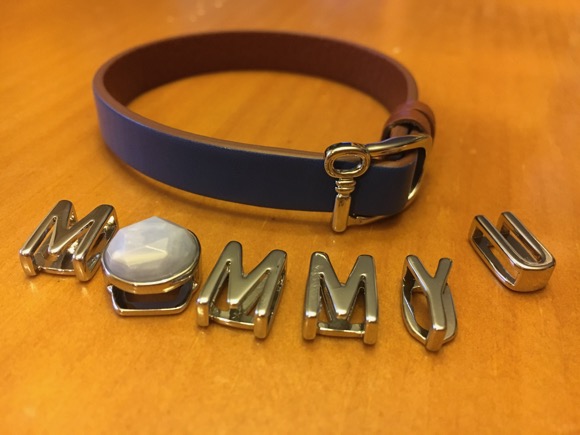 I have to tell you that when your bracelet arrives, it is not in one piece. That is part of the fun of ordering KEEP Collective jewelry. You have to put it all together. My band came in a box, while my letters came in a little bag. Putting the bracelet together turned my new jewelry into a craft experience I did with my kids.
Once put together, you have a piece of jewelry that is truly unique to you!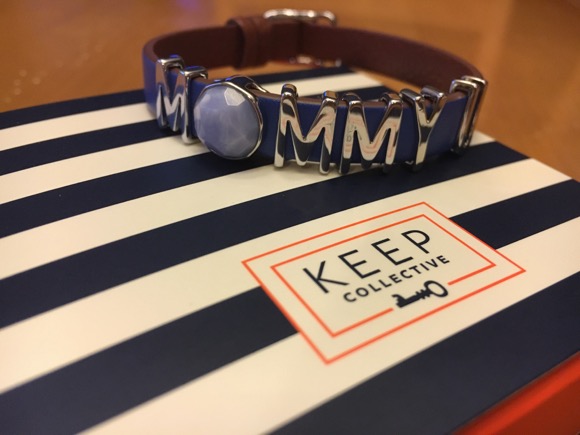 As stated on their website, KEEP Collective jewelry offers an "instant reminder of the little things, big things and all the things that make you unique." With Keep Collective, you can show off what matters most to you.
I cannot wait to make another KEEP Collective piece. Who knows? Maybe my next bracelet will show off my Disney Side!
To make your own unique piece or plan a party, visit Lauri's website!