Last year, my son joined the Cub Scouts. I was not entirely sure what to expect as this was a new experience for me. I don't have any brothers and only did the Girl Scouts as a kid for a few years. I was excited but a little nervous about this new adventure, but I knew it would be life changing for my son.
One of the reasons we joined was for the fun events the Cub Scouts partake in. My son came home from school one day and said, "Mom, I have to join the Cub Scouts. They get to sleep on a battle ship!" He was sold, and so was I. Who wouldn't love to sleep on a battle ship, museum or aquarium? These are experiences of a lifetime that not only create wonderful memories but allow my son to gain an immense amount of knowledge.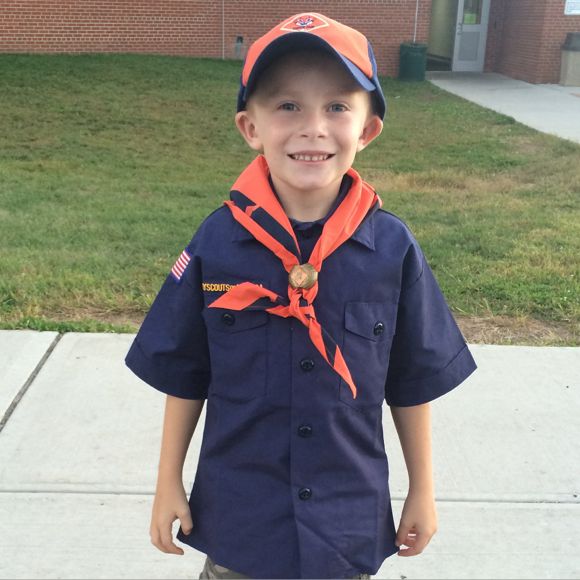 It is now our second year of Cub Scouts. We have enjoyed some amazing experiences and made lifelong friends. This year, I have been asked to gather information about trips for the boys. If you follow Mommy University, then you know WHY they asked me to be in charge of this task. Since I am already putting this list together for my son's pack, I thought, why not share it with my readers too? So here you go, a list of amazing scouting events and programs in NJ and Philadelphia!
Exciting Scout Events and Programs in NJ
Adventure Aquarium
Adventure Aquarium, located in Camden, NJ, offers amazing learning experiences for scouts and their families. With over 20,000 square feet to explore with 8500 amazing sea creatures to see, it is the perfect place for scouts to learn, play and grow. Here is what they offer:
Discounted Scout Group Admission Price: $12/Scout (ages 2-12) and $13/extra chaperone (and children ages 13+). Chaperones (1:20) are FREE!
Scout Weekends: Scouts and families can explore the aquarium for $14/person (Scouts and adults). This includes a patch! If you have 20 or more people, you can upgrade to an additional educational program or 4D film. The dates are:  February 25-26, April 1-2, and May 20-21.
Scout Workshops: Packs can work with Adventure Aquarium to earn specific badges through hands-on activities.
Shark in the Dark Overnight Program: Overnight programs take place from 6pm – 9am and include a scavenger hunt, free exploration time, 4D theatre show, shark bridge, visit to Hippo Haven and much more. A light snack is served at night and continental breakfast is provided in the morning. Each scout will earn a patch! The cost is $55/person on Friday nights and $60/person on Saturday nights. The dates for 2017 are: February 3, 17 and 25 and March 3 and 10.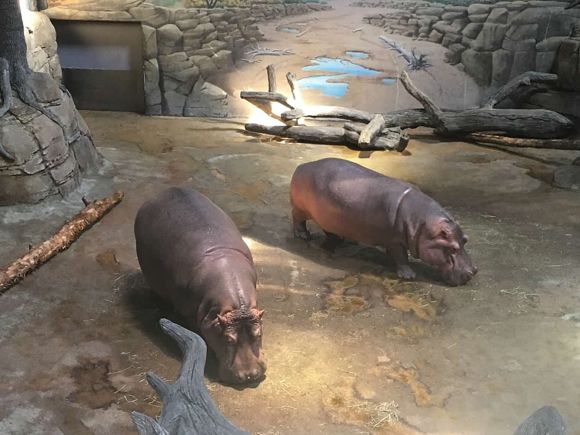 Diggerland USA
Located in West Berlin, NJ, Diggerland USA is the only construction themed amusement park in America! Kids (and parents) can ride, drive and maneuver REAL construction equipment like diggers, skid steers, mini land rovers, dumper trucks and more! Diggerland is a wonderful learning experience for all ages making it the perfect scouting destination. Here is what they offer for scouts:
Discounted Admission: Scout groups with at least 10 preregistered attendees will get discounted admission. Tickets cost $21.95/person. Groups get one free chaperone per 10 paid guests. Each scout will also get a patch!
Boy Scout Overnight: Scouts will have access to rides from 6pm-10:30pm and can play in the arcade from 7pm-11pm (complimentary $5 arcade card provided). They will also get a special Diggerland Stunt Show. Guests are provided an all-you-can eat pizza, salad and dessert buffet as well as continental breakfast. Scouts will earn a patch at the end of the event. The cost is $59.95/operator and $29.95/chaperone not operating machinery. The next overnight is April 22, 2017.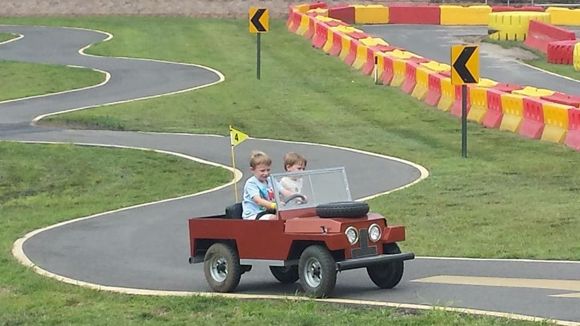 Liberty Science Center
We LOVE visiting the Liberty Science Center and have even had the pleasure of attending one of there camp-ins. It is the perfect place for scouts to explore, discover and learn. Here is what they offer: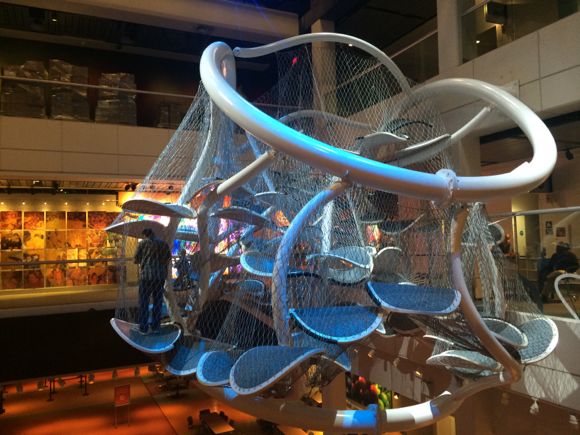 Turtle Back Zoo
Located in West Orange, NJ, Turtle Back Zoo offers a wide array of educational programs that can be catered to meet the needs of Scouts. Programs are 30-45 minutes and do not include zoo admission. The cost is $100 for up to 35 people (scouts and adults). Here are the topics to choose from:
Animal Coverings
Animal Adaptations
Animal Habitats
Animal Enrichment
Pump It Up
Pump It Up locations in Randolph, Roselle Park and Freehold offer fun and exciting jump sessions just for scouts! For only $14.95/scout and $12.95/sibling, guests will get 70 minutes of play time and 50 minutes in the private party room. This is a great way to teach kids about health and fitness as well as boost gross motor, social and problem solving skills. Each scout will also earn a patch!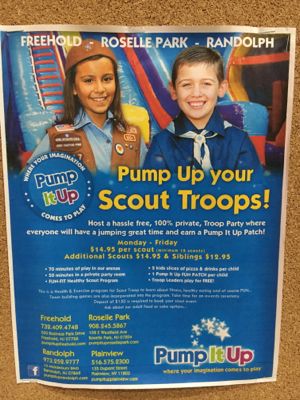 iPlay America
Located in Freehold, NJ, iPlay America offers thrills and excitement for scouts. Packs/Troops can put together their own group event with fun packages that can include laser tag, a ropes course, riding a spinning coaster, bumper cars, 4D movies, arcade games and much more. Packages begin at $19.99/person. iPlay is also offering a Girl Scout overnight May 12-13, 2017 5pm-7am. Scouts can enjoy unlimited Go Karts, Freedom Rider and more as well as a $10 game card, snacks and continental breakfast. The cost is only $49.95/person.
Insectropolis
Scouts will have a blast exploring creepy crawly critters at Insectropolis in Toms River. They will learn all about bugs during a group tour or a BugOut. Every 3rd Wednesday in November through May, Insectropolis is open specifically for scouts from 4pm-6pm. They offer guided tours and touch presentations that allow scouts to earn badges. BugOuts are only $8/person. Here are the dates: February 15, March 15, April 19 and May 17.
Exciting Scout Events in Philly
Academy of Natural Sciences
One of our favorite places to visit in Philadelphia is the Academy of Natural Sciences. My boys love seeing all the dinosaurs and dioramas as well as enjoying their hands-on activities. The Academy also offers wonderful programs for scouts. At the Scouting for Science Day events scouts can enjoy a fun day at the museum while working toward badge and journey requirements. The cost is $17.95/scout and $15.95/adult. Here are the details:
Reptile and Amphibian Day: Scouts will investigate snakes, conduct experiments, touch live specimens and more all while earning a badge. Guests will also have access to the new exhibit Frogs. This event takes place February 25, 2017.
Discovering Dirt Day: Scouts will dissect dirt, plant seeds, conduct experiments and learn about decomposers. They will also get to visit the exhibit Frogs. This event takes play May 6, 2017.
Night at the Museum: Scouts can spend the night at the museum! How cool is that? Scouts will get up close and personal with exhibits, go on a scavenger hunt, enjoy hands-on activities, dig for dino bones and more. The overnights begin at 6:30pm and end at 9am the following morning. The cost is $50/members and $55/nonmembers. Guests will get a snack and light breakfast. Overnights take place March 11 and April 1.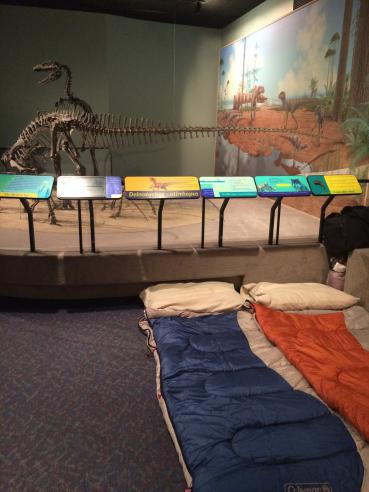 Philadelphia Zoo
The Philadelphia Zoo is one of my favorite zoos. We especially love visiting the giraffes and polar bears. This zoo is not only great for families, it also offers wonderful experiences for scouts. They have special Scout Workshops for Girl Scouts, Cub Scouts and Boy Scouts during which scouts will enjoy hands-on learning adventures while earning badges. Scouts can also enjoy overnights! Scouts will get to experience a night hike, watch live animal presentations, chat with a zookeeper and earn a badge. The cost is $60/person with an additional fee for badge programs. Dates are as follows: February 11 and 18, March 4, 11, 18 and 25, April 8 and 29, May 6, 13 and 20, June 3, 10 and 17, July 7, 22 and 29, August 5, 19 and 26, September 2, 22 and 23, October 14, 21 and 27, and November 3, 11 and 18.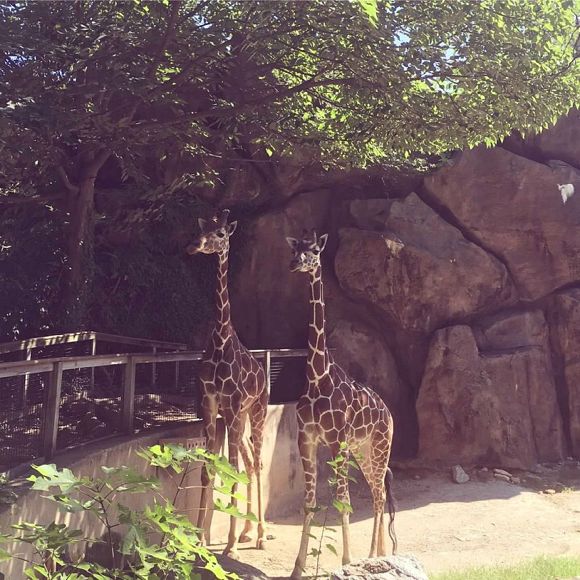 We will be adding to this list as more programs and events are released. Please check back frequently. If you know of any brain boosting scout experiences not on this list, please put it in the comment section below!
Looking for more amazing overnight experiences? Check out our article: Brain Boosting Sleepovers in NJ.