There are so many sweet experiences to enjoy at Hersheypark. From rides to character meet and greets to delicious treats, there is something for everyone in your family to enjoy. Every time we visit Hersheypark, we have a new adventure. I have written a lot of posts about all the fun things to do in the park and at the resorts, but in this post, I want to go a step further. I decided to put together some fun activities to make your trip even sweeter.
Hersheypark Happy: Fun Activities to Enhance Your Trip
BINGO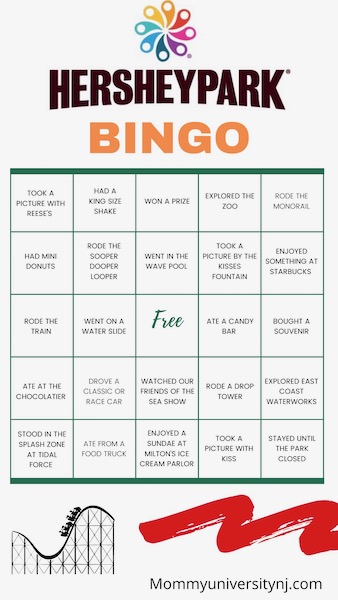 To help keep track of your sweet fun at Hersheypark, I created a BINGO board. For each trip, try to complete a row. You can even compete as a family to see who can complete the most boxes. At the end of the day, week, or even season, see who is the family winner. Can you fill in a row or even the entire board on your next trip?
Picture Scavenger Hunt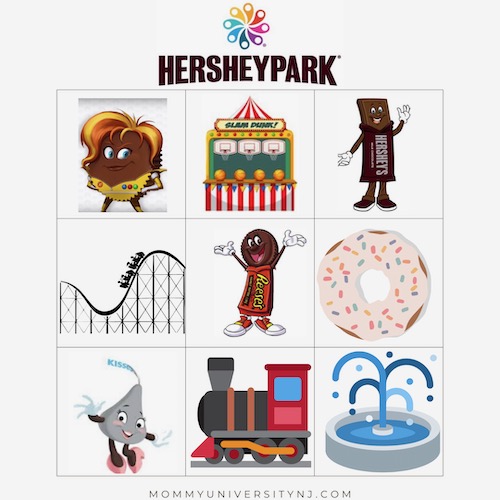 For the little ones, I created this adorable picture scavenger hunt. As your kids find each item, they can cross it off. Once they fill the board, they can earn a reward of your choice. The hunt can be completed in different ways. A box can be crossed off each time an item is seen or you can require an activity to be completed based on the picture. For example, the box with Reese's on it can be crossed off when you take a picture with Reese's, have a Reese's shake, or find a ride with Reese's on it. The opportunities are endless!
Sweet Treats Checklist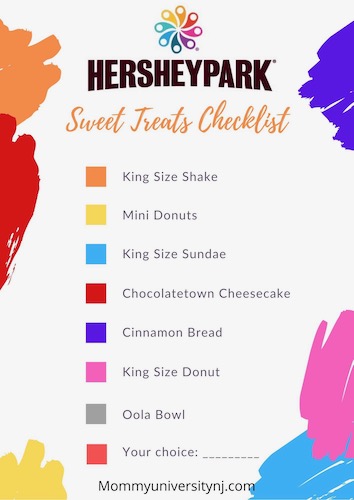 In my post Must Have Sweet Treats in Hersheypark, I listed some of my favorite treats in the park. To help you keep track of what you have tried, I put together this fun sweet treats checklist. You can even add your own treats to the list!
Sweet Photo Spots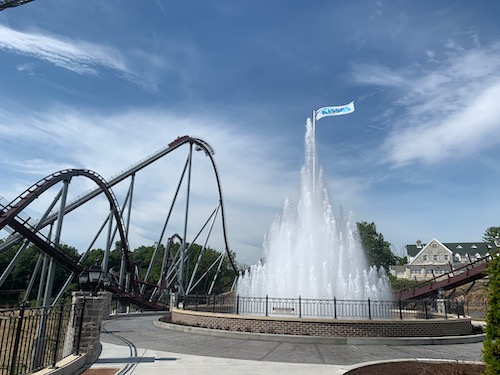 Hersheypark offers so many sweet spots to take a photo. On your next trip, try to take a picture at as many of these places as you can. Make sure to post them on social media and use #HerhseyparkHappy!
Kisses Fountain

Candymonium Sign
From the top of the ferris wheel
Milton Hershey Fountain
Measure Up locations
Character Spots
From the sky ride
I hope you have a sweet time on your next trip to Hersheypark!
You may also enjoy: