My son recently became a Star Wars fan so when we planned our spring break trip to Walt Disney World we knew exploring Galaxy's Edge was going to be a MUST DO experience. My son was also turning 12 during our trip and had made one request, to make his own lightsaber. So at 7am on the 60th day before our trip, I was on my computer making his reservation for Savi's Workshop.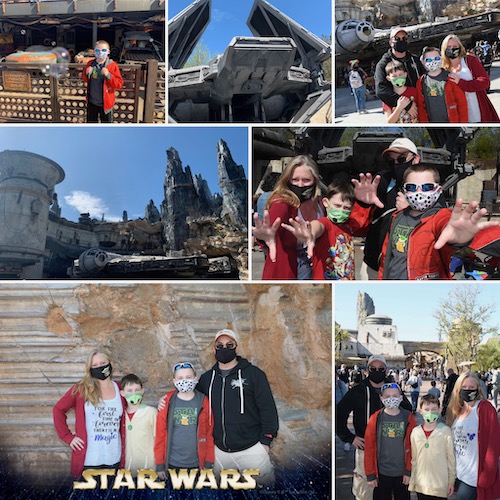 For those that don't know Savi's Workshop is located in Star Wars: Galaxy's Edge which is found at Hollywood Studios. Star Wars fans will enter a covert workshop at Black Spire Outpost and embark on a truly unique experience. With the help of the Gatherers, guests will construct their very own lightsaber. This experience costs $219 (plus tax) and advanced reservations are required. Park admission and reservation is also required.
My son had a 9:45am reservation which was perfect. We arrived at Hollywood Studios around 8am for its 9am opening. The gates opened around 8:15am and we sprinted (well lightly jogged) to Smugglers Run. Afterwards we had some time for Toy Story Mania before returning to Galaxy's Edge for his reservation. While waiting, our Rise of the Resistance group was boarding which made my son quite nervous. We learned that ROTR will allow guests to board late if they were held up by a reservation at Savi's Workshop which put my son's mind at ease.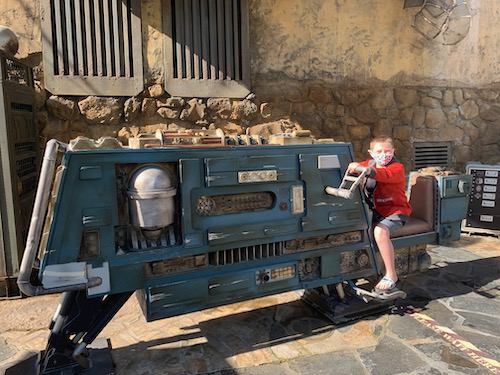 How Does It Work:
Upon arriving, my son was asked what type of lightsaber he wanted to build. There are 4 hilt themes to choose from:
Peace and Justice: Made from salvaged scraps from Jedi temples and crashed starships.
Power and Control: Features remnants from the Sith homeworld and abandoned temples.
Elemental Nature: Embodies the Force.
Protection and Defense: Materials have mysterious motifs and inscriptions from the ancient wellspring of the Force.
Outside the workshop are drawers that allow guests to see the different hilt options before making a decision. You can also scan a QR code to look at the menu of options on your phone.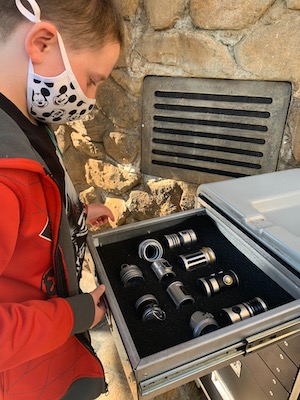 After choosing Peace and Justice, my son was provided a cloisonné pin that identified his choice. Once I paid the bill, we were asked to wait in holding area for a few minutes.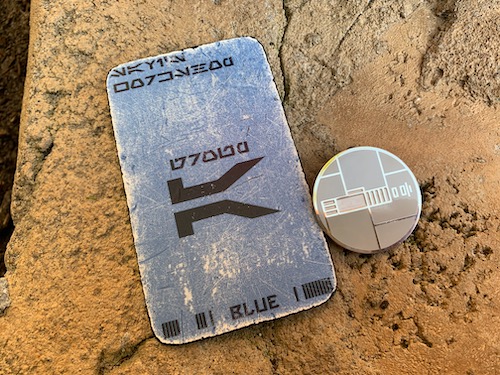 We were the first guests in the building for our group and we were both in awe of the set up. We truly felt like we were transported to another Galaxy. Builders are spaced out around the oval shaped table, and due to Covid policies, each builder can only bring one guest inside with them.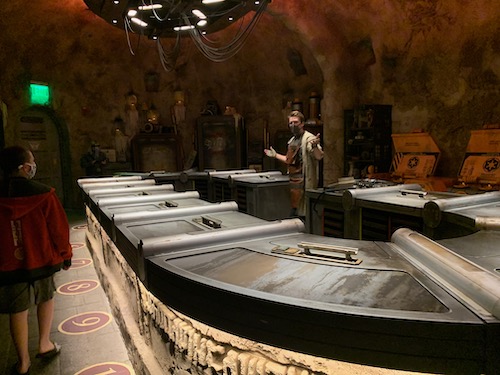 The experience started with a powerful introduction that included the history and importance of the lightsaber. It was quite inspiring and helped build a level of anticipation and excitement. Before assembling the lightsaber, builders are asked to choose their kyber crystal, which is referred to as the heart of the lightsaber. Builders can choose from blue, green, violet, or red. The crystal is then carefully placed on the table to be used later.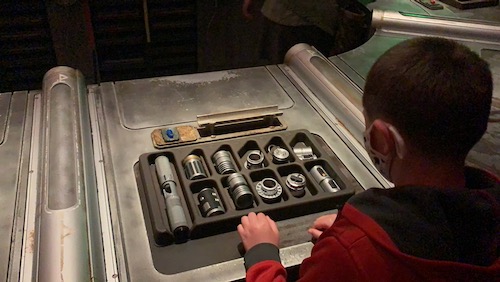 Each guest is then provided with all of the parts needed to build their lightsaber. Step by step instructions are provided, and individualized assistance is offered if needed. I was also able to move up and help my son when he had some difficulties or was a little confused. Within the set provided to the builders are multiple options to choose from making each lightsaber truly unique and special. (Note: If your child has some fine motor, visual motor, or visual issues, they may need some assistance as some of the pieces can be tricky to attach and/or tighten.) Each set includes:
1 hilt
4 sleeves (choose 2)
2 emitters (choose 1)
2 pommel caps (choose 1)
2 sets of activation plates and switches (choose 1 set)
The first step in the building process is to insert the crystal. It was a very special and magical moment. Next, builders are asked to choose each piece from their assembly kit and carefully put them together. Once the hilt is complete, the remaining parts are taken away by the Gatherers.
Builders are then asked to place their hilt into their table where it is connected to a 31" lightsaber blade. The full lightsaber is then activated by the builder and magically revealed in true Disney fashion.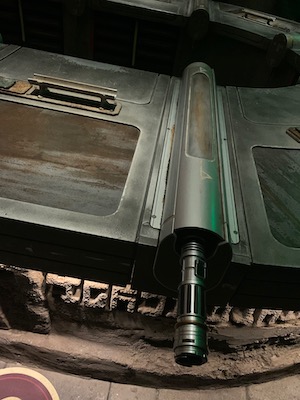 Builders are then asked to raise their lightsabers and encouraged to go out and change the universe like the Jedis before them.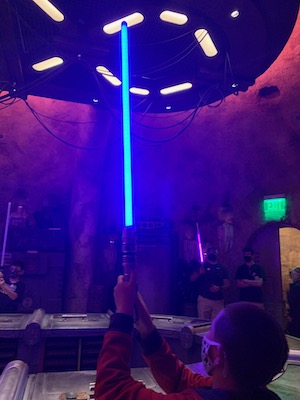 Upon leaving, builders are provided a carrying case for their lightsaber. I highly recommend keeping your lightsaber in the case. Although you can play with the lightsaber, I would not categorize it as a toy. The case will protect it as you explore the rest of the park. 
Savi's Workshop was a truly amazing experience, especially for avid Star Wars fans. Not only will you leave with a lightsaber, but you will leave with memories to last a lifetime!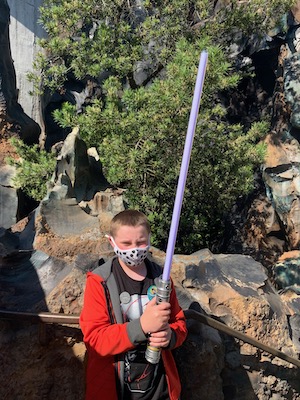 Check out my video of the experience here:
To learn more and make a reservation, visit the Walt Disney World website.
You may also enjoy: