From the moment I walked into the lobby, I knew I was home…my Disney home that is! I have been visiting Walt Disney World with my family since my youngest was 8 months old. It is our happy place, and after being away for 2 years, it felt incredible to be back. As many of you know, we are DVC members but we love trying other resorts in the area as well. That's why I was so excited to be invited to stay at Wyndham Garden Lake Buena Vista (LBV), an Official Walt Disney World Resort Hotel. 
The Wyndham Lake Buena Vista Resort Complex offers a unique experience as it is actually two resorts on one property: Wyndham Garden LBV and Wyndham Lake Buena Vista. Both resorts recently underwent a $14 million renovation that is truly breathtaking. The renovation included 394 reimagined garden themed rooms and 232 upscale rooms located in a 19-story tower overlooking Disney Springs. Guests of ALL rooms can enjoy shared amenities including a fitness center, spacious lobby, an incredible pool complex, and the open air and climate controlled Oasis Restaurant and Sports Bar.
The Wyndham Garden LBV Resort truly embodies the Disney spirit. It even smells like Disney (avid Disney fans will know what I mean). Located just across the street from Disney Springs and only a short drive to all Walt Disney World theme parks, the Wyndham Garden LBV offers a truly special vacation experience. It is the perfect resort for families, couples, and friends. Here are some reasons why you should check out the Wyndham Garden LBV when planning your next Walt Disney World vacation!
Family Fun at Wyndham Garden LBV Resort
Amazing Pool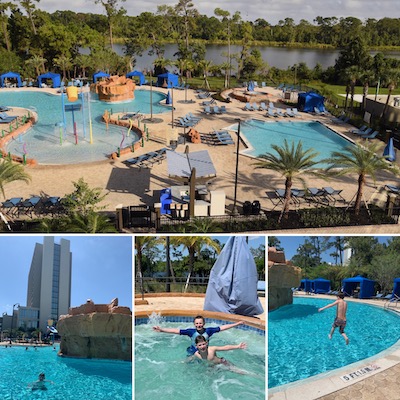 Despite being only 65 degrees outside, my boys were determined to go swimming. The pool complex at the Wyndham Garden LBV is a child's dream. With 2 pools and a hot tub, there is so much fun to be had by all. The main pool features a tipping bucket, splash areas, zero entry, waterfall, and plenty of space to jump, swim, and play. It is heated too! The second pool is cooler, making it perfect for a hot summer day. There are plenty of chairs scattered around the pool allowing for social distancing, but if you are looking for even more privacy, you can also rent a cabana. 
Located next to the pool is the new open air and climate controlled Oasis Restaurant and Sports Bar which serves delicious meals for adults and kids. You can also enjoy a refreshing drink at the bar or by the pool. Some unique eats include spicy wings, Mahi Mahi tacos, and Italian sausage sandwich. A kids menu is also available upon request. The restaurant also features big screen TVs so you never have to miss the big game while on vacation.
Close to Disney Springs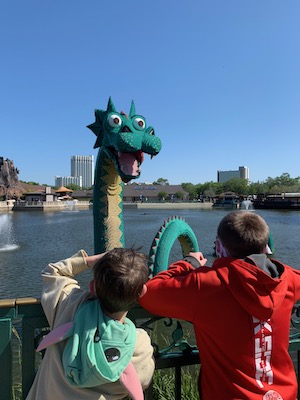 The Wyndham Garden LBV is only a 5 minute walk to Disney Springs. How awesome is that?! Day or night, guests can walk over to their favorite store or restaurant. Since it is so close, we actually walked over twice in one day. Grab a delicious Joffrey's coffee and a donut or breakfast sandwich from the Sundial Cafe in the lobby and head on over to Disney Springs for a day of fun and magic. You can even see the Wyndham from the LEGO Store (pictured above).
Comfy and Cozy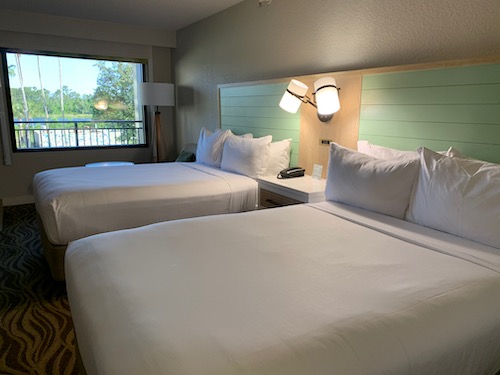 After a VERY long drive from New Jersey, it felt so good to rest in our room. The beds were so cozy and comfortable. I also loved the view of the pool, sunny skies, and palm trees from our window. Each room also features a mini fridge, safe, coffee maker, 55-inch flat screen television, and free WiFi. It was easy to see how much time and pixie dust went into their recent guest room renovations.
Plenty of Photo Spots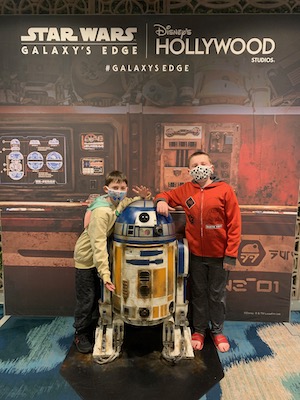 I don't know about you, but I LOVE taking pictures to capture the magic of our Disney vacations. That's why I was so excited to find so many amazing places to take photos throughout the lobby. Although our favorite was R2-D2, my boys also loved the Toy Story blocks, Pandora sign, and WDW characters sign. Of course, I also loved taking pictures of the gorgeous view from our room which included the hidden Mickey on the garden lawn.
Know Before You Go: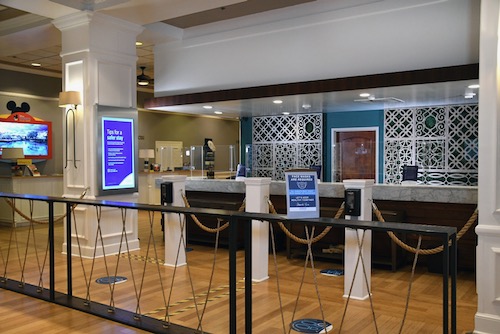 It is important to mention that the Wyndham Garden LBV is doing an excellent job with providing guests a safe space to vacation. The lobby is open and spacious allowing for plenty of room to remain socially distant from other guests. There are also markers on the floor at the check-in desk to ensure distancing. Masks are required and hand sanitizer is readily available for guests. Tables at the dining locations are also spaced out as well as the lounge chairs at the pool. 
Are you ready to book your Walt Disney World vacation? For more information and to book your stay at the Wyndham Garden LBV, please visit their website.
You may also enjoy: