Ever wish you could fly amongst the trees like a bird or swing from branch to branch like Tarzan? Well, now you can (sort of). All across NJ, families can enjoy exciting outdoor aerial adventures. From treetop courses to 4-story structures, there are plenty of opportunities for families to climb, swing, and explore. It's a fun way to build confidence while enhancing motor skills, balance and coordination. Here is a list of amazing ropes courses and zip lines in NJ!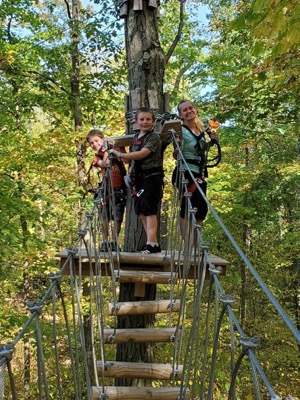 Outdoor Adventures in NJ: Ropes Courses and Zip Lines
Adventure Lookout
Located in Pt. Pleasant on the famous Jenkinson's Boardwalk is Adventure Lookout, an exciting ropes course offering gorgeous views of the ocean. This multi-leveled course has a peak of 36-feet and offers a variety of obstacle course experiences including a zip line. The Adventure Course is only $7/person and the Jr. Course is $5/person. The Adventure Courses are also part of the wristband promotions!
FLG X Adventure Course and Zip Lines
Located in Ledgewood, FLG X Adventure offers hours of fun for thrill seekers 9 years of age and older. Guests will experience an outdoor adventure 15-50 feet above the ground. Some obstacles include bridges, swings, ziplines, nets, and even an aerial surfboard. A color coded system is used to indicate challenge levels based on height and difficulty. Guests can also enjoy Adventure Zip Lines which offers over 30 experiences. 
Adults and Teens (12-15)
Height requirement: While keeping feet flat on the ground and arms raised above your head, palm of hand must be able to touch the height of 5'11″.

Ages 12-17 must have a waiver completed by their parent or legal guardian.
$54.95/person
Pre-Teens (9-11)
Height requirement: While keeping feet flat on the ground and arms raised above your head, palm of hand must be able to touch the height of 5'9″.

Ages 9-11 must have a waiver completed by their parent or legal guardian.
$36.95/person to access to first 3 Adventure Courses; $52.95/person to access Zip Lines
Mainland Adventure Park
If you are taking a trip to the Jersey Shore this summer, make sure you check out Mainland Adventure Park that features over 50 aerial attractions! This Manahawkin based course offers 3 levels of fun varying in difficulty. The Aerial Adventure Trails and Zip Lines are for ages 7 and up with a minimum height reach of 60 inches. Guests must weigh between 44-285 lbs for adventure trails and 60-285 lbs for zip lines. Mainland Adventure Park also offers an exciting Play Fort for ages 4-10 with a maximum height requirement of 54 inches. A 50-foot Climbing Wall is als available for ages 4 and up weighing 44-285 lbs. 
Admission includes aerial trails, play fort, zip lines, and climbing wall: $50/person for 2 hours; Play Fort only – $29/person for one hour
TreEscape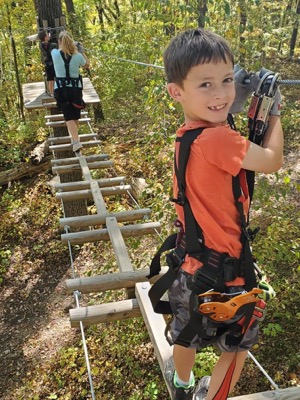 The TreEscape Aerial Adventure Park at Mountain Creek in Vernon, NJ is nestled within the picturesque mountains of Sussex County. It is not just for thrill seekers but also for couples, families, scouts, or anyone looking for adventure. Open May through November, TreEscape offers a day of fun for ages 4-94 (well, you know what I mean).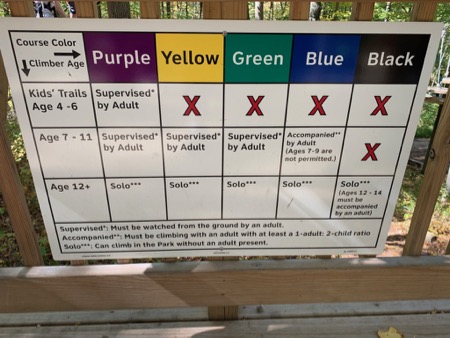 Courses are color coded based on age and difficulty level. Little ones (ages 4-6) can only do the purple courses which are located close to the ground. Yellow and green courses are for ages 7 and up while blue is for ages 10 and up. Black courses are for your ultimate thrill seekers over the age of 12 (12-14 year olds must be accompanied by an adult). Read my review here.
Admission: Ages 4-6 – $25; Ages 7-11 – $45; Ages 12+ – $53
TreeTop Adventure
Before or after visiting the animals, enjoy some time among the treetops at Turtle Back Zoo. Aerial obstacle courses are available for adults and juniors.
Adult Course 
Min Height – 54 inches; Max Weight – 250lbs

Approximately 35 feet high
30 unique challenge elements
$30/person; $35 with zip line
Junior Course
Min Age – 6 years old; Max Weight – 250lbs

Approximately 10 feet high
15 unique challenge elements
$20/person; $27 with zip line
Tree to Tree Adventure Park
Located in the beautiful Cape May County Zoo, Tree to Tree Adventure Park offers aerial courses for both children and adults. There are over 100 activities that are all color coded based on difficulty level. 
Adult (ages 10+)
Includes 3 courses and zip line

Reach requirement is 5'9"
$50/person
Kids Course (7-9)
Includes 2 courses

Reach requirement is 5'7"
$30/person
Zip Line Course (ages 10+)
Includes one course with 5 zip lines

Reach requirement is 5'9"
$35/person
Ropes Course at Diggerland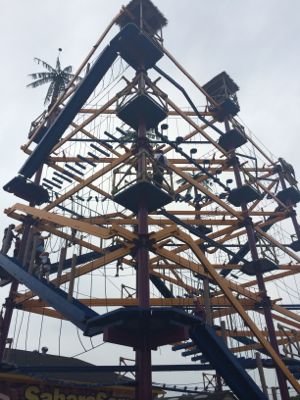 At 4-stories tall, this exciting ropes course within Diggerland USA is a thrilling experience at any age. Brave climbers are equipped with safety harnesses and set off to explore the course. Climbers can choose which way they would like to go and how high they want to climb. The ropes course is included with admission to Diggerland. The height requirement is 42 inches to climb with an adult and 48 inches to climb alone.
Which one is your favorite? Put your answer in the comments section below!
You may  also enjoy: