We are so excited to partner with the following brain boosting toy companies to bring you this year's Easter Basket Gift Guide: Faber-Castell, PlayMonster, Just Play, Creativity for Kids, Think Tank Scholar, No Stamps Needed, and Basic Fun.
At Mommy University, we believe that everything our children play with should enhance development and aid in positive academic growth. This Easter why not fill their baskets with fun and educational goodies the kids will not only love but learn from?
For this guide, we will provide 5 themed Easter basket ideas. Each theme will promote growth and development in certain areas. Under each theme we will provide several suggestions of what to put in your child's basket. Amazon affiliate links are included to help make your shopping experience easier. We believe there is something for everyone on this list. So have fun making a themed basket or mix and match different ideas! Either way you will be happy knowing you provided Easter goodies that will have a positive impact on your child's development and academic success.
5 Brain Boosting Themed Easter Baskets
Arts and Crafts
Our first basket will focus on our love of art. Introducing kids to art helps them enhance creativity, boost fine motor skills, increase visual-spatial awareness, and let's face it, it's fun! Here are some brain boosting arts and crafts suggestions for this basket:
World Colors Crayons and Modeling Clay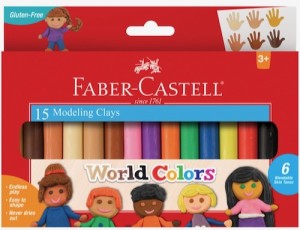 Faber Castell produces high quality art supplies which are perfect to put in your child's Easter basket this year! Along with their World Color EcoPencils which we have featured before, they have also released World Colors Crayons and Modeling Clay. Each set encourages your kids to embrace diversity and celebrate equality. The World Colors crayons are made of beeswax and come in sets of 15. The World Colors Modeling Clay comes with 20 sticks of clay and 3 plastic clay tools. Each set allows little (and big) artists to blend the colors to make their own skin tone and the skin tone for their friends. 
Creativity for Kids Mini Gardens

My son recently made a Dinosaur Mini Garden and LOVED it!Each mini garden set comes with an egg-shaped container and decorative stickers, dirt, seeds, colorful sand and characters, and there are 3 designs to choose from: dinosaur, unicorn and mermaid. Putting together the garden helps kids learn scientific concepts while being creative and artistic. The Mini Gardens can be found on Amazon for under $15.
Glitter Dots (Crayola)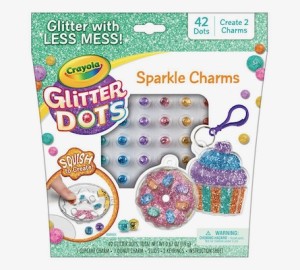 Glitter Dots offers a fun and unique way to create beautiful art! These innovative dots can add some sparkle to any art project with ease. Plus, you don't have to worry about glitter all over your house because each dot is specially coated to keep the glitter contained to the dot. How cool is that?! Glitter Dots come in a variety of sets such as Sparkle Charms, Ornament Craft, and Sparkle Signs. Sets can be purchased on the Crayola website and Amazon.  
Creativity for Kids Big Gem Diamond Painting Kit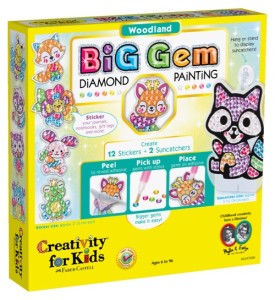 I absolutely LOVE this art set. There are 4 versions to choose from: Woodland Creatures (pictured above), Sea Friends, Sweets, and Magical. Each contains 12 sticker and 2 suncatchers to decorate. The kit uses wax to adhere gems onto the stickers and suncatchers. This kit is great for boys and girls as it encourages creativity while building important fine and visual motor skills. Big Gem kits can be found on Amazon for under $15.
Scribble Scrubbie (Crayola)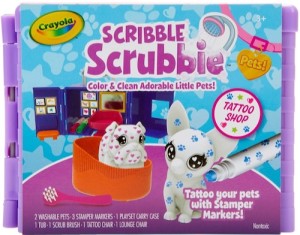 Crayola is known for offering bold colors and innovative art products that encourage creativity. The Scribble Scrubbie line of toys is no exception! Kids will want to play for hours decorating their adorable pets then rinsing off the color to make an entirely new creation. These sets also encourage pretend and imaginary play. My son and his friend had so much fun mixing colors to see what they would get. It is a fun introduction to the science of color. Scribble Scrubbie Pets Tattoo Shop (pictured above) can be found on the Crayola website and Amazon along with other fun designs such as Pet Salon, Vet Set and Scrub Tub Set. You can also purchase additional pets, markers and accessories.
Creativity for Kids Finger Looping Bunny 
Knitting is an amazing skill that improves visual spatial skills, fine motor skills and math skills. Finger looping is the perfect way to introduce children which is why the Creativity for Kids new kit Finger Looping Bunny is a wonderful centerpiece for the Easter basket. Not only will children develop a new hobby but they will make an adorable bunny to hug! Priced for less than $15 on Amazon it is recommended for children ages 7 and older.
Crayola Sidewalk Chalk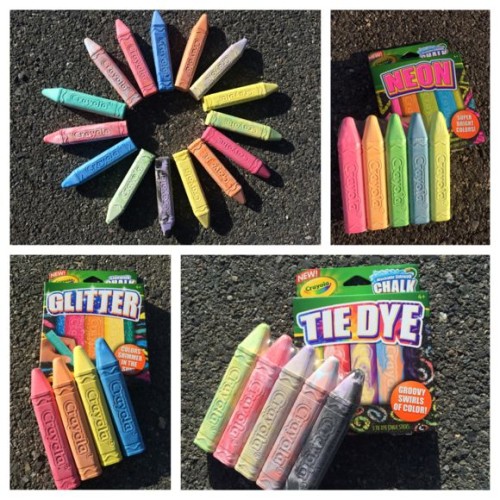 Sidewalk chalk offers so many benefits such as enhancing fine motor skills, increasing academic knowledge and encouraging an appreciation of art. This season, explore the benefits of sidewalk chalk with your children by using the Crayola line, Special Effects! It takes everyday chalk and adds even more spark and creativity. Available in Tie Dye, Neon, Glitter and Color Core, this chalk will offer new and unique ways to color and create! Neon, Glitter and Tie Dye can all be found on the Crayola website and Amazon.

Sensory Learning
Children learn best by engaging all their senses. This is especially true for little ones. Children with special needs also thrive on sensory based learning and discovery. In this themed basket, we have come up with some brain boosting suggestions to help stimulate all the senses:
Sensory Bins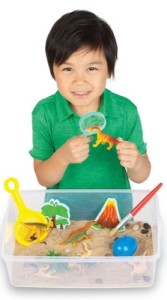 Kids learn best while using all of their senses. They also learn many important skills through play. That's why I am so excited that Creativity for Kids has released an amazing line of Sensory Bins. Each bin allows kids to use all of their senses to learn about topics like dinosaurs, space, the ocean, and more. Each bin comes with a filler, toys, and digging tools. While playing, kids ages 3 and up will build fine motor, visual motor, and problem solving skills. Each Sensory Bin is under $19 on the Faber-Castell website.
Crazy Aaron's Putty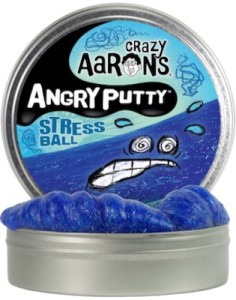 We could all use a little stress relief these days, especially kids. Crazy Aaron's Angry Putty offers just that. This unique putty that builds resistance as you play offers tactile feedback allowing you to decrease frustration and increase relaxation. Angry Putty comes in 3 varieties: stress ball, hot hero and drama queen. Crazy Aaron's Putty can be found on Amazon and at Target.
Little Kids Inc. Bubbles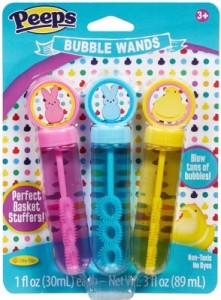 Did you know that bubbles are wonderful sensory-based learning tools that boost language development and visual scanning skills? Fubbles Bubbles are no-spill bubble containers that are perfect for spring and summer.  They come in mini, regular size and the bucket. Little Kids Inc. also offers PEEPS Bubbles products which are perfect for your kids' Easter baskets. On-the-Go Jelly Belly bubbles are another great Easter gift that lets kids bring the sensory fun everywhere. Shaped like the iconic jelly bean, these scented bubbles engages all the senses while playing. 
Fluffy Cloudz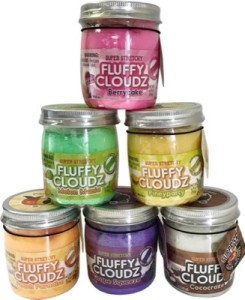 Fluffy Cloudz is one of my absolute favorite sensory products. My students love it as it offers the perfect amount of tactile input. It is scented so kids get even more sensory feedback. This Easter brighten up their basket by adding Fluffy Cloudz which comes in a variety of colors and amazing scents. Fluffy Cloudz can be found at Walmart and Amazon.
Sequin Pets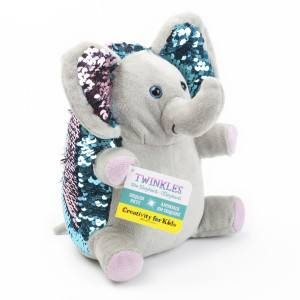 We are big fans of the Sequin Pets from Creativity for Kids. Each pet offers a multi-sensory experience that kids enjoy like movable sequins, soft texture and weighted bottom. Sequin Pets are perfect for kids who require tactile input during the day in order to decrease anxiety and overstimulation. Sparkles the Unicorn is the larger version while there are several options for the minis such as Twinkles the Elephant, Dazzle the Dinosaur and Hope the Hippo. Sparkles is under $20 on Amazon while the minis are under $10.
Crayola Silly Putty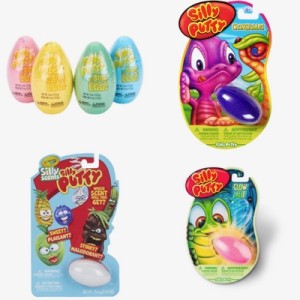 Instead of chocolate or plastic eggs this Easter, surprise the kids with Silly Putty Bigg Eggs from Crayola! Kids will have blast engaging all their senses as they play with this super stretchy, super fun putty. Crayola Silly Putty provides great tactile input while also encouraging pretend and creative play. The putty never dries out so it allows for hours of fun. Crayola Silly Putty comes in a variety of colors, scents and sizes and sells for under $7 on the Crayola website and Amazon!

Academic/Cognitive Development
What would a Mommy University list be without academics and cognitive development? Cognitive development is so important and essential for academic success. Here are some brain boosting Easter basket ideas that help build cognitive skills such as spatial awareness, visual-discrimination and problem solving as well as help increase academic skills such as math, writing, reading and, of course, STEAM.
Science4you (PlayMonster)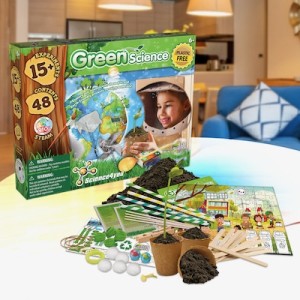 Encourage a love of STEAM with Science4you kits from PlayMonster. Each kit offers over 15 experiments that help kids learn all about science while also encouraging creativity, enhancing problem solving skills, and building cognitive skills. Science4you kits come in a variety of designs including Green Science, Coding Lab, Gadgets Factory, Little Farmers, and more. Sets can be found on Amazon.
My Fairy Garden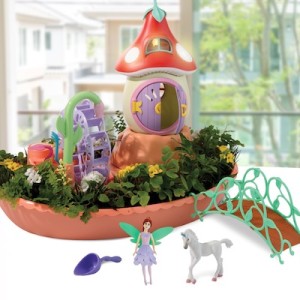 I love that PlayMonster combines art and science with their My Fairy Garden kits. Kids can use their creativity and imagination to create a real garden. This encourages a love and understanding of nature and science. My Fairy Garden sets come with seeds and soil along with beautiful decorations. It is recommended for ages 4 and up and sells for under $25 on Amazon.
Sunflower Garden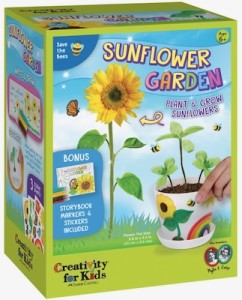 The new Sunflower Garden set from Creativity for Kids is the perfect way to get ready for spring! This kit offers STEAM learning in a fun and unique way. Not only do kids get to grow a sunflower, but they also get to decorate their pot and create their own storybook to document their experience. Sunflower Garden helps builds science, writing, and reading skills all while having fun. This set can be found on the Faber-Castell website for under $15.
No Stamps Needed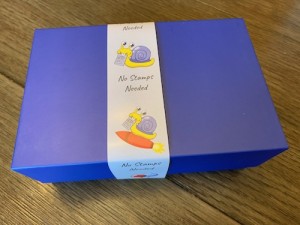 No Stamps Needed is offering a unique way to keep siblings connected. Each doorbox comes with letter stickers, an adorable crayon, cute sticker, and velcro. Kids decorate their box then velcro them to their door. Inside the box you can put paper and pencils so family members can write notes to each other. What a fun way to keeps families connected while building a love of writing! You can get your doorbox for only $14.99.
Math Flash Cards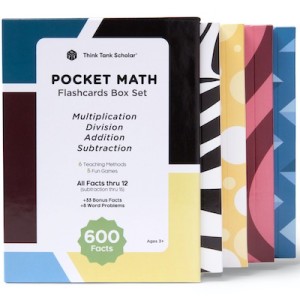 Think Tank Scholar has released a wonderful line of math flash cards that will help kids learn their basic math facts in no time. Sets are available for addition, subtraction, multiplication, and division. The sets are perfect for road trips, plane rides, or just studying at home. They are also offer flash cards for sight words and preschool concepts. Flash card sets can be found on Amazon.
Sky Viper Nano Drone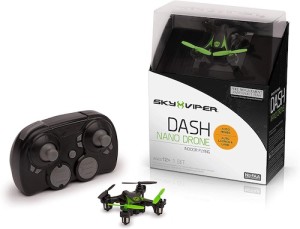 At only 2 inches in size, the Sky Viper Nano Drone will be the perfect addition to your child's Easter Basket this year! It is ultra-durable, easy to fly drone that offers auto launch and land features along with one-touch stunts. The Nano Drone is recommended for ages 12+ and can be purchased for under $20 at Target.
Pocket Brain Teasers (ThinkFun)

Flex those cognitive muscles with these fun and challenging Pocket Brain Teasers from ThinkFun. Kids and parents can play for hours trying to solve puzzles that offer 4 levels of difficulty. These puzzles are perfect for a brain break during virtual learning, road trips, and even rainy days at home. Each puzzle is under $10 on Amazon.
CREATTO Light of Crafting Kits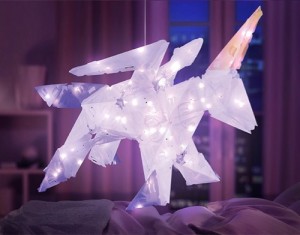 Thames and Kosmos is well-known for their amazing science kits so it is no surprise that they have released a fun building set that teaches kids STEAM concepts. The interlocking building tiles are flexible and durable making them perfect for builders ages 9 and up. Each kit comes with instructions for 4 different creations but kids can also use their imaginations to make their own designs. Each set comes with LED lights and USB cable. Kits include Shark & Ocean Pals and Unicorns & Friends, and they can be found for under $30 on Amazon.
Stick-O-City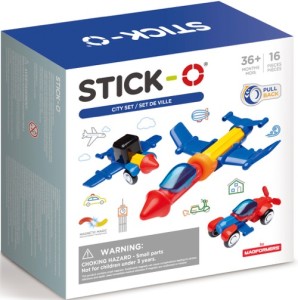 Kids will enhance cognitive development as well as an understanding of STEAM concepts while building and playing with Stick-O-City. Children ages 3 and up can build cars, planes, racers and more with this unique 16-piece set. Each set comes with 1 sphere, 2 sticks, 3 long sticks and magnetic accessories such as propellers, wings and tires. Stick-O-City can be found on Amazon.
Dig It Up! Single Mineral Egg (MindWare)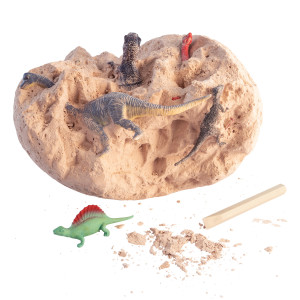 Do you want to keep kids engaged and having fun while learning about cool dinosaurs? As part of the popular Dig It Up! Series where children are excavating creatures, The Big Egg comes with two chisels where one or two children can discover seven unique dinosaurs. This awesome set is priced at $20 on Amazon.

Game Time
Let's have some brain building fun this Easter with some amazing games. Games help enhance a variety of skills such as problem solving, cooperative play, spatial awareness, turn taking and more. Here are some games the kids will love this Easter.
Trailz (PlayMonster)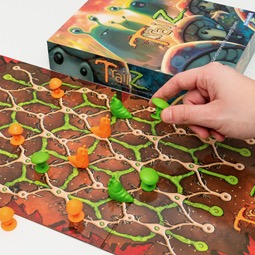 Trailz is a fun and unique game of strategy that kids will LOVE! It is recommended for ages 7 and up and only requires 2 players. Using slugs and shrooms, players have to out smart their opponent in order to make it across the board. This is a great game to introduce strategic thinking. Trailz can be found on Amazon for under $15.
Goliath Jumping Jack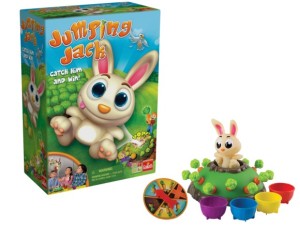 How cute is this game? It is perfect to celebrate Easter too! Jumping Jack is recommended for ages 4+ and can be played with 2-4 people. Each player spins the spinner to see how many carrots they have to pull from Jack's bunny hill. One carrot will make Jack jump but no one knows which carrot that will be making the game new and exciting each time you play! This is a fun game that helps enhance fine and visual motor skills as well as cause and effect. Jumping Jack can be purchased on Amazon for under $20.
Go Fish, You Wish (Peaceable Kingdom)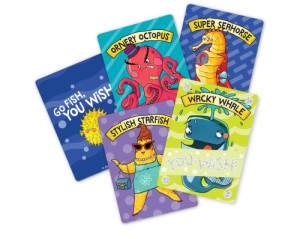 While everyone may be familiar with the game Go Fish, Go Fish, You Wish has a fun twist that will make this not only easy to learn but the perfect addition for game night. With 48 playing cards, 4-6 people can be dealt into the game. When a player gets the You Wish card, they will be able to grab cards from another player. Priced for less than $8 on Amazon, it is a fun addition to your child's basket.
Coilz

Kids will enhance their visual motor and fine motor skills by playing with the new and exciting Coilz. You can bounce it, roll it, flick it and toss it. The play possibilities are endless. Coilz offers over 10 challenging games but kids can also make up their own. Series 1 offers 50 Coilz to collect, and they can be purchased in a starter pack, super pack or Coilz Cup.
Spanish Bingo (Peaceable Kingdom)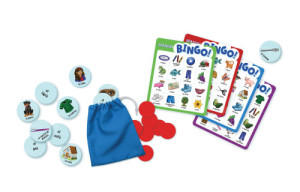 Bingo! There is nothing like a game that the whole family can play and children can learn. Peaceable Kingdom has brought to life a new twist on Bingo as children ages 5 and older can add to their growing Spanish skills. With 6 double sided playing boards, 50 word tokens, and 72 chips, there will be a lot of fun at family game night. Priced for less than $14 on Amazon, this is a great game for the basket this year.

Pretend Play
Encouraging kids to use their creativity and imagination has amazing developmental benefits. Not only do they enhance language development and story telling skills, kids also increase self-esteem and self-confidence. Here are some toys that will help encourage imaginary play this Easter.
Face Paintoos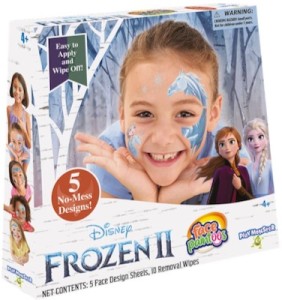 Take dress up and pretend play to a whole new level with Face Paintoos! Available in a variety of styles including Frozen and Spider-Man, Face Paintoos is an innovative face painting option that kids will LOVE. It offers all the details without taking hours to apply. Using just a wet sponge, you can apply the design on your child's face. It won't smudge and lasts a long time allowing for hours of pretend play fun! Face Paintoos are available on Amazon.
World's Smallest Toys

This unique line of classic toys will have kids learning through play hours! World's Smallest Toys come in a variety of designs like Kerplunk, Slinky Dog, and Pictionary. You can even get the World's Smallest Elf on the Shelf! While playing, kids will build visual motor, problem solving, and fine motor skills. Check Amazon for more options!
Ravel Tales

If you are looking for a unique gift this year, then Ravel Tales should be on your list! As kids unravel the ball, small toys and items will be revealed. There are 12 small surprises in all which can include stickers, DIY activities, accessories and a collectible plush. Ravel Tales are recommended for ages 5 and up, and a 2-pack can be purchased on Amazon for under $25 or a single pack for under $10 at Kohl's.
Cutetitos

Engage all your senses with adorable Cutetitos! These adorable plush gift sets come in a variety of styles including Babitos, Budditos, Fruititos, and Pizzaitos. Each Cutetito is cleverly wrapped in a soft and colorful fabric. Some are even scented. Your kids will love collecting them! Cutetitos can be found on Amazon and Walmart.
Monopoly Surprise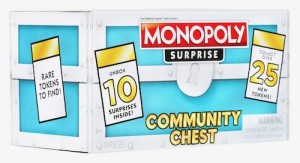 If your kids love to play Monopoly, then they will love Monopoly Surprise. The Collectibles line offers a peel 'n reveal unboxing experience that ends with 5 surprises. Each box comes with an exclusive token along with other fun items. There are 6 different cubes and 20 tokens to collect in all. The Community Chest line offers 10 surprises to reveal with over 25 tokens to collect. Both sets can be found at Walmart.
Disney Junior Minnie Mouse Picture Perfect Camera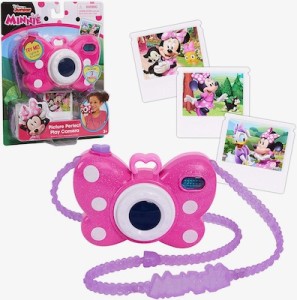 Say Cheese! Your little one will love pretending to be the family photographer with this adorable Minnie Mouse Camera. It offers realistic sounds and lights along with Minnie Mouse phrases. A photo will also pop out of the bottom like a polaroid camera. Recommended for ages 3 and up, this camera is under $10 on Amazon making it the perfect Easter gift.
Blume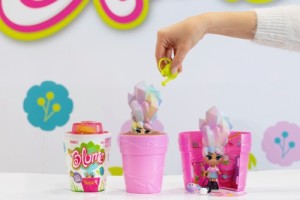 Blume dolls from Skyrocket offer an innovative way for kids to play and learn. Just water your "seeds" and watch your doll grow right out of the flowering pot. Each doll is unique making it even more exciting to collect them all. Blume dolls each have a  fun and unique hairstyle and come with mix and match outfits, a handbag, mini friend and sticker book. This unique doll combines imaginary play with art for hours of fun. Blume dolls are recommended for ages 5 and up and can be purchased on Amazon.
Pound Puppies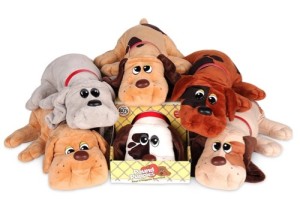 I was beyond excited when I found out Pound Puppies were coming back. They were one of my favorite toys from my childhood. These adorable stuffed pups are ready to be adopted and loved by children of all ages. Each puppy comes with its own official adoption papers and care sheet. The pups also come in their own carrier-shaped package so your little one can take him/her everywhere. Pound Puppies can be found on Amazon for under $20.
I hope you have enjoyed our list of educational and exciting toys you can put in your child's Easter Basket!

You may also enjoy: