I am not sure what this winter will bring us but I know there can be fun and adventure if we just use our imaginations! In NJ, the winters can be a cold and dreary time, especially when we are encouraged to stay at home but I am determined to have fun this winter with my family. Whether it's game night at home, a virtual event, or an outdoor adventure, there is so much fun to be had this winter. Here are some unique ways to have fun and get rid of the winter blues! (I included Amazon affiliate links to make your shopping experience easier.)
Unique Ways to Have Fun This Winter
Maple Sugaring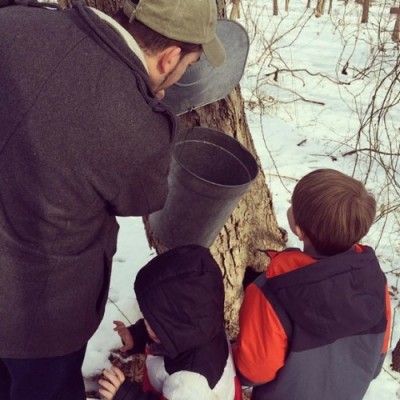 No, you don't need to travel to Vermont to enjoy this experience (but you can if you want to). New Jersey is the home to some amazing maple sugaring events and experiences. They are outside adventures so social distancing is easy. Kids will love learning how to tap trees and collect sap, but, most of all, they will love tasting maple syrup!
Family Game Night
We are big believers in family game night at MU. Games offer so many ways to learn through play. This winter, however, take game night up a notch by creating your own game room! Throughout the year, we have been purchasing some fun games and transforming our basement into a game center (or as my husband calls it, his "man cave"). One simple game system is ProjeX. All you need is a dark room and blank wall or white sheet. The system doesn't even need wifi! Learn more about it here.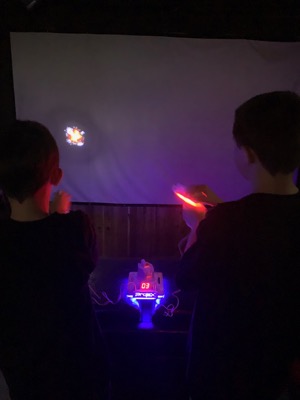 Another fun way to turn your house into the ultimate game center is to get an arcade game from Arcade1Up. They are smaller versions of the games you love like Pac-Man, Galaga, and Mortal Kombat. They are much more affordable too!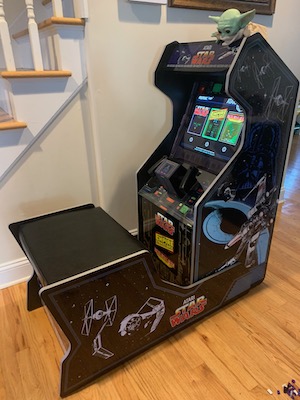 In addition to the games listed above, we have also been introduced to some fun new board games. I also introduced my kids to games from my childhood like Clue. Here are some games your family will love to play this winter:
Winter Games
If you are really looking for fun with a touch of competition, then start your own Family Winter Games! You can work together to create different events like who can throw a snowball the farthest, sled races, or racing in an obstacle course. The games can last a day, weekend, or even a week. You can even have the kids make their own trophy for the winner!
Take a Virtual Art Class
I know the kids are on their screens all week for school but this virtual event is different than the rest. Many local art studios are offering virtual painting or drawing events that your budding artist will LOVE! The events often include the materials as well. You can even do a family event or take the class with friends.
Go Hiking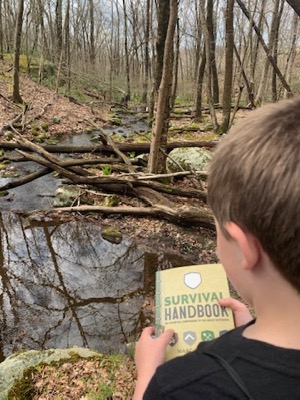 It might be cold but that doesn't mean hiking has to stop! In fact, the winter is a great time to explore nature and see how the animals survive these harsh months. It's also great exercise during a usually stagnant time of the year. I recommend getting the All Trails app to learn about trails near you and read reviews from fellow hikers. For even more fun while hiking, check out these activities to enhance your trip.
Learn to Cook or Bake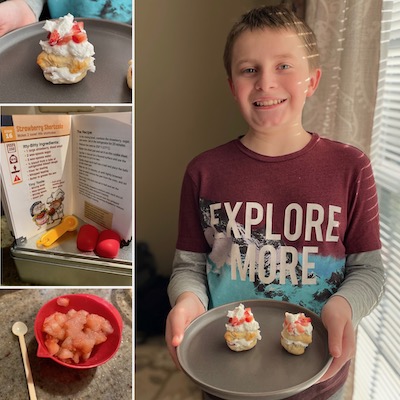 Do you have a budding chef in your house? If so, the winter is a great time to foster that love and enhance those skills. I recommend checking out an awesome cooking subscription program like Harlow's Harvest. You can also have fun with the Tiny Baking set. My son absolutely loved making tiny cookies and strawberry shortcakes. Tiny Baking is a unique way to have fun cooking while enhancing math, science, and visual skills!
Make a Puzzle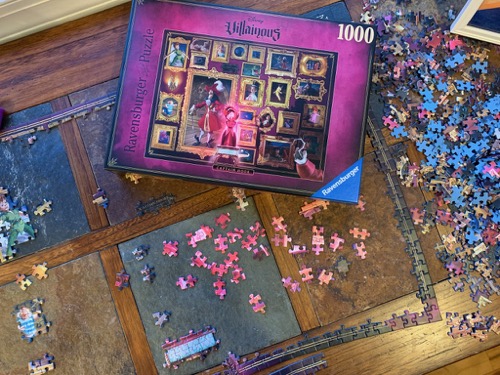 Puzzles are great for passing the time, but they also bring families together while enhancing important cognitive skills. If possible, find a space in your home to dedicate to puzzle building. Each night your family can work together to put the puzzle together. When done, you can frame your masterpiece and show off all your hard work! If you are looking for amazing puzzles, I recommend Ravensburger!
Go Ice Fishing
As a resident of Sussex County, ice fishing is a winter pastime for many in my town. I love driving by Lake Hopatcong and seeing families fishing together. This is a fun and unique way to spend a winter day. Make sure to be cautious, however, as ice can be dangerous. You can get some awesome gear and supplies on Amazon.
Experiment with Snow and Ice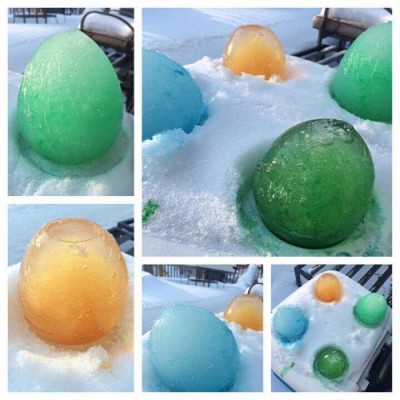 There are so many fun ways to learn by experimenting with snow and ice in the winter. For little ones, you can create sensory bins using snow while older kids can make snow ice cream or sugar on snow. Another fun experiment is making ice balls. All you have to do is fill a balloon with water, add food coloring, and then put the balloon outside. Once frozen, take the balloon off and see what's inside. Another fun experiment is to blow bubbles outside in the cold and watch them freeze!
Rent a Movie Theater
How cool does that sound? For under $100, family and friends can rent out a theater and watch a classic flick. For just under $250, you can watch a new release. AMC and Cinemark are both offering this in NJ but I am sure there are other movie theaters offering the same great deal. So grab your inner circle and enjoy a few hours at the movies like old times!
Go Tubing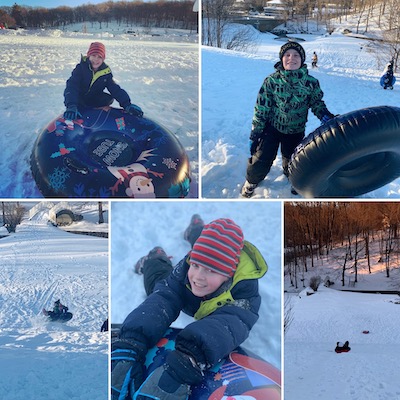 Whether it's in your yard, at a local park, or at a big ski mountain, tubing is an awesome way to enjoy a winter day. You can order a tube off Amazon then hit the hills. Make it even more fun by having a family race or building a ramp to catch some air. The fun is endless!
Here are some other fun winter activities: