The kitchen is the hub of the home. It is where we gather around every major holiday and where the most important conversations take place. Cooking brings families together and as the world has slowed down, it has reinforced the importance of spending quality time with our children. Harlow's Harvest is a cooking subscription box designed for kids, created by a kid. Harlow was a 7-year-old entrepreneur who had a vision to encourage others to cook with their families.
Some quick things to know about Harlow's Harvest is that the subscription box changes each month. This is important because that means each month there will be new recipes and activities. The box will include three laminated recipes, a kitchen tool, a collectible pin, a science experiment, a shopping list that has a budget sheet on the back, and activities that can explore history, geography, and character education. Over several months, I find the activities to be interesting and thorough enough to capture a child's attention.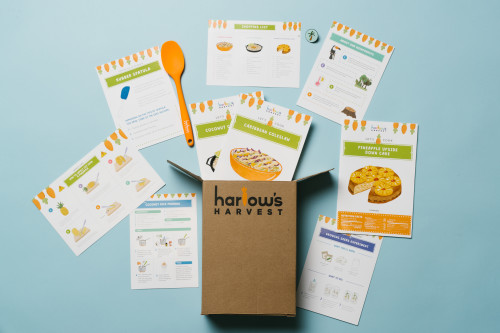 The focus of Harlow's Harvest is getting kids in the kitchen and realizing that every opportunity is one to learn. If you are looking for educational experiences where your child has fun and gets them in the kitchen, this makes a wonderful gift. You can order on a monthly basis for $23; however, if you expand to a six month subscription, the price is $21 a month. For a year, the cost drops to $19 a month. The six month and twelve month subscriptions also include a free apron where kids can attach their pins. There are so many benefits to Harlow's Harvest and we are still exploring all the items in each box!
Benefits of Harlow's Harvest Cooking Subscription
Promotes Healthy Eating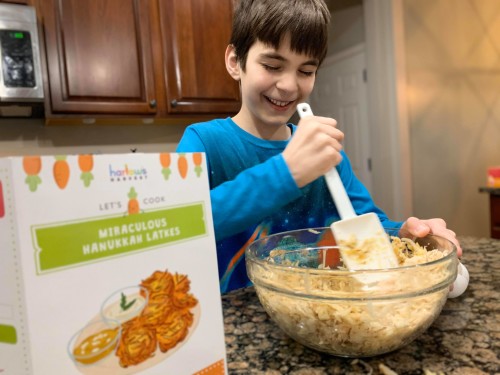 Over the course of the subscription kits I received, I particularly loved that the recipes would include and highlight vegetable dishes. My son is a picky eater so the more dishes where he is included in the process translates into more opportunities for him to eat what he makes. While latkes are delicious this became the perfect entry point for him to build confidence to cook other recipes in the kitchen. He was so impressed with what he made that he declared they tasted better than the ones we have bought from the store. Now he is inspired to make the other recipes from the various kits!
Acquire Skills though Cooking Academy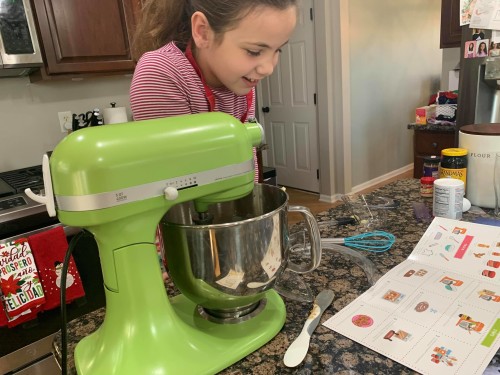 Cooking Academy is a series of focal points highlighted within the kit that can be easily identified by different icons that can be matched throughout the included activities. From culinary term development to kitchen safety, the Cooking Academy also brings attention to developmental and academic skills. Also included in every monthly kit is a kitchen tool. On the back of the Cooking Academy handout is a description of the cooking tool of the month. For example, the October kit which focused on Mexico included a whisk. Did you know there are different types of whisks? Kids will learn about the tools and feel more confident using them. The quality of the cooking tools are very good and have found a permanent home in our drawers.
Learn Money Management
A reality of every household is that while we may love to have gourmet meals every day of the week, budgeting is critical. Included in the kit is a shopping list, so you can take children to the food store to seek out the ingredients needed to make the recipes. On the back of the shopping list is a budgeting sheet where they can write down how much each item cost and calculate how much the meal costs. This simple activity not only encourages math skills but also is a conversation of budgeting.
Increase STEM Skills
STEM intertwines in our lives in so many different ways including the kitchen. Harlow's Harvest includes science experiments tied to the monthly theme. From exploring why leaves change color to decomposition using old pumpkins, the kits have activities that extend learning and curiosity each month. By encouraging kids to observe and investigate, these skill sets can be easily transferable to these future chefs.
Character Education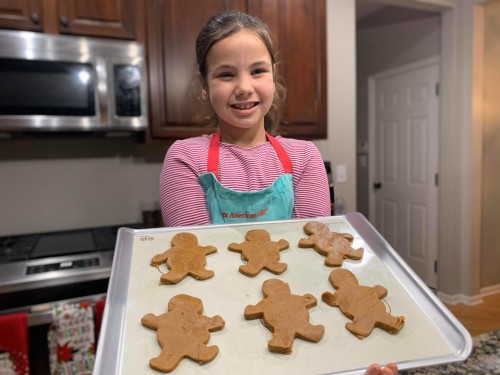 Harlow's Harvest includes different activities in each of their boxes, but I felt it was important to highlight that they have also included activities focused on character education. The November box contained a Community Card which lists three ways children can get involved in their community. I thought the information on Thanksgiving Language to be interesting as it provides vocabulary words we often use but sometimes don't consider to breakdown for smaller children. Talking about compassion, gratitude, and tolerance inspires children to become civic-minded and members of their community.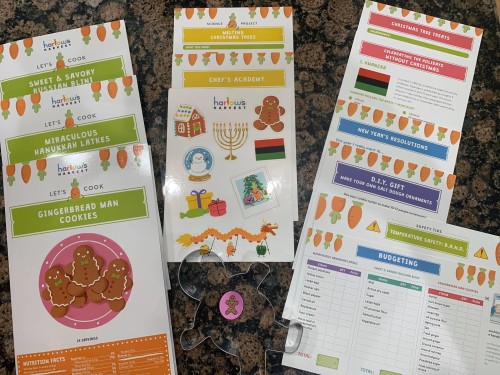 I found Harlow's Harvest kit to be very conscientious and thoughtful in its design. Since my package arrived in the pouring rain, I realized the importance of the recipes being laminated. Designed for kids as young as four, the recipes are sturdy and will withstand accidents that might occur during cooking. Ultimately, with Harlow's Harvest children are not only learning cooking techniques and skills but other concepts through diverse activities proving true that big things can come in small packages.
If you like this, you might like!