We are so excited to bring you this year's Play and Learn Stocking Stuffer Guide. We are thrilled to partner with some amazing and award-winning companies who provided some of the brain boosting toys on this list so we can share them with you this holiday season.
Unwrapping gifts under the tree is a magical time, but there is nothing like the little treasures that snugly fit in the stocking.  While there are the traditional items like a toothbrush, fun socks, or an orange, stockings can hold so much more! Little ones dreaming of science can get a small science kit while budding artists can get a quality art supplies. At times, what is hidden in the stocking can be the best gift ever.
This season, fill your kids stocking with toys that are not only fun but also educational. As I stated in our Play and Learn Holiday Gift Guide, toys should serve a purpose and encourage growth and development. You can always find opportunities for children to learn while having fun in with the little items that fill their stockings!  Here are some suggestions for brain boosting stocking stuffers!
2020 Play and Learn Stocking Stuffer Guide
Pocket Brain Teasers (ThinkFun)

Flex those cognitive muscles with these fun and challenging Pocket Brain Teasers from ThinkFun. Kids and parents can play for hours trying to solve puzzles that offer 4 levels of difficulty. These puzzles are perfect for a brain break during virtual learning, road trips, and even rainy days at home. Each puzzle is under $10 on Amazon.
Wacky Packages Minis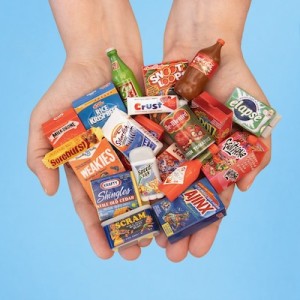 Wacky Packages Minis offers bite size fun for ages 8 and up. Each package comes with 5 mini surprise products that resemble your favorite food treats and household products along with 1 sticker. There are 60 minis to collect along with 6 rare styles. Wacky Packages can be found at Amazon and Walmart.
Crazy Aaron's Putty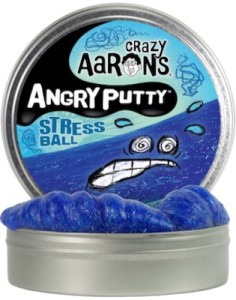 We could all use a little stress relief these days, especially kids. Crazy Aaron's Angry Putty offers just that. This unique putty that builds resistance as you play offers tactile feedback allowing you to decrease frustration and increase relaxation. Angry Putty comes in 3 varieties: stress ball, hot hero and drama queen. Crazy Aaron's Putty can be found on Amazon and at Target.
Minecraft Magnetic Travel Puzzle (ThinkFun)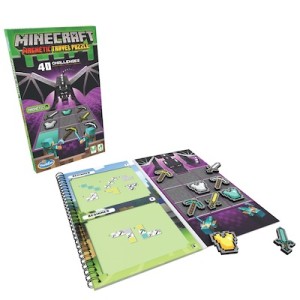 If your kids love Minecraft, then they are going to love this puzzle! With 40 challenges ranging from beginner to expert, this travel puzzle will keep kids busy for hours. While playing, kids will build their skills in deductive reasoning, problem solving, dexterity, and perceptual reasoning. Minecraft Magnetic Travel Puzzle is recommended for ages 8 and up.
Micro Action Figures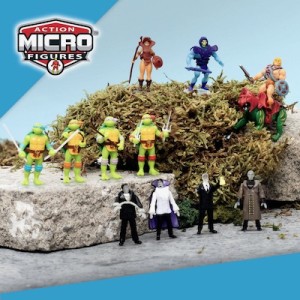 Check out the world's smallest action figures (only 1.25 inches tall)! They might be tiny, but they offer BIG fun. These detailed retro action figures offer hours of pretend and imaginary play. Each figure comes with a replica of the original blister card. Micro Action Figures can be found on Amazon for under $10.
Pixel Stars Dreamhouse (Skyrocket)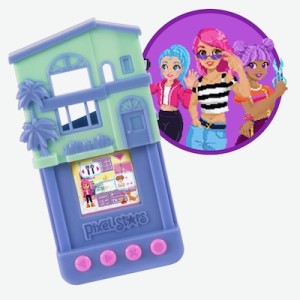 This holiday, give your kids the power to create their own digital dreamhouse! First, they choose their dream job: celebrity chef, fashionista, or social media star. As they play, they earn coins so they can "buy" cool stuff and unlock new items. With over 32 rooms, more than 450 items to collect, over 800 outfit combinations, and 1000+ things to do, kids will play for hours creating their own dream world. Internet is not required to play. Pixel Stars Dreamhouse is recommended for ages 6+ and can be purchased for under $30 on Amazon.
Tiny Arcades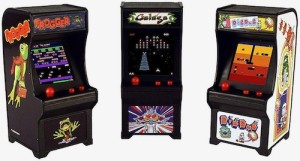 If your kids love playing arcade or video games, then they are going to love Tiny Arcades. These games may be super small but they pack a lot of fun! With a screen size of only 1.5 inches and tiny buttons, players will definitely enhance fine motor skills and hand-eye coordination while playing. Tiny Arcades come in a variety of classic games and can be purchased on Amazon for under $20.
World's Smallest Toys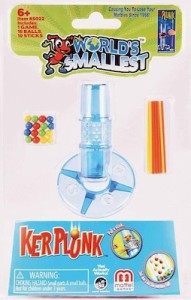 This unique line of classic toys will have kids learning through play for hours! World's Smallest Toys come in a variety of designs like Kerplunk, Slinky Dog, and Pictionary. You can even get the World's Smallest Elf on the Shelf! While playing, kids will build visual motor, problem solving, and fine motor skills. Check Amazon for more options!
Bendyfigs (The Noble Collection)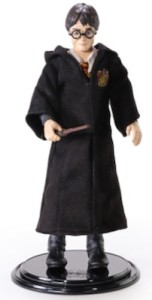 Bendyfigs are detailed 7 inch tall collectible figures your kids will LOVE! Since they are bendable, they can be posed in various positions allowing for even more pretend play. They also make wonderful display figures as each one comes with a display stand. Bendyfigs come in your favorite characters including Harry Potter, DC, Lord of the Rings, and Star Trek. Learn more on their website.
National Geographic Kids Books

National Geographic has released a line of kids books that are perfect to expand young minds! From insects and animals to space and travel to cool architecture around the world, Nat Geo books will teach kids about endless topics. Books like Brain Candy 2 will get kids excited about learning. This book offers stunning pictures and images along with incredible facts. 
Ravel Tales (Sunny Days)

If you are looking for a unique gift this year, then Ravel Tales should be on your list! As kids unravel the ball, small toys and items will be revealed. There are 12 small surprises in all which can include stickers, DIY activities, accessories and a collectible plush. Ravel Tales are recommended for ages 5 and up, and a 2-pack can be purchased on Amazon for under $25 or a single pack for under $10 at Kohl's.
Glow in the Dark Shrink Fun (Creativity for Kids)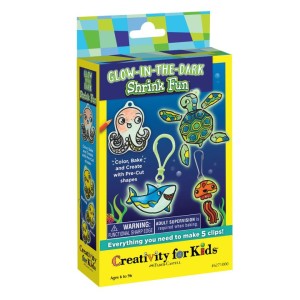 Shrink Fun always captivates kids' attentions as they love to watch what they colored become miniature in the oven and now this kit adds to the fun as the Shrinks are glow in the dark! This box has an aquatic theme filled with sharks, turtles and more! After they are done with the shrinks, they can attach them to their backpacks or use as keychains. Priced on Amazon for less than $10, this a great addition to any stocking!
Silly Poopy's Hide and Seek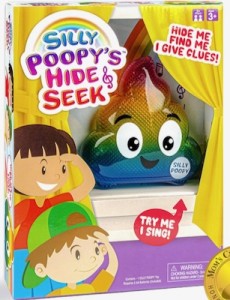 What kid wouldn't want to play hide and seek with pretend poop? This fun and unique game gets kids up and moving around. Silly Poopy is a colorful toy emoticon that kids can hide. Once found, Silly Poopy will play a fun song as a reward. This toy will keep kids entertained for hours! Silly Poopy can be found at Target and Walmart.
Cutetitos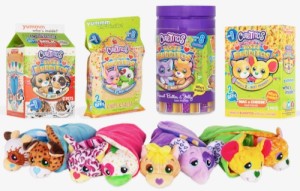 Engage all your senses with adorable Cutetitos! These cute and snuggly plush gift sets come in a variety of styles including Babitos, Budditos, Fruititos, and Pizzaitos. Each Cutetito is cleverly wrapped in a soft and colorful fabric. Some are even scented. They are perfect for encouraging pretend and imaginary play.
Whiskware Snacking Containers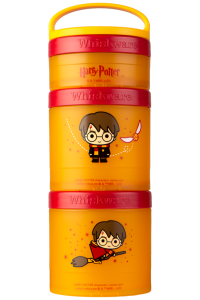 We love the feel of these stackable snacking containers that offer several compartments that kids can carry using the handle. Stack one section with goldfish, another with fruit, and the third with yogurt to dip fruit! There are so many possibilities for this fun travel pack that reduces using plastic bags. Your kids will love the cool designs available that range from Harry Potter to Marvel to Star Wars to DC Universe. Priced at $12.99 they are available at Whiskware website or on the Amazon website.
Owala™ FreeSip® Bottle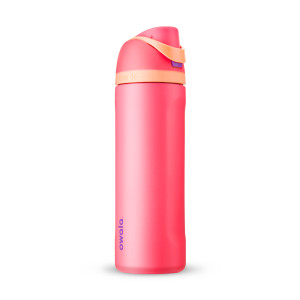 Stay hydrated this season! With a built-in straw, the Owala FreeSip Bottle gives you the option to sip or swig. The push-button open lid and integrated carry loop makes it convenient to go with you whether on an outdoor hike or by your side for virtual meetings. The bold, bright colors make it attractive and a perfect gift for the tween (or yourself) in the home. Priced on Amazon for less than $25, it is not only a healthy choice for gift giving this year but one that will last.
Friends Forever Bracelets (Creativity for Kids)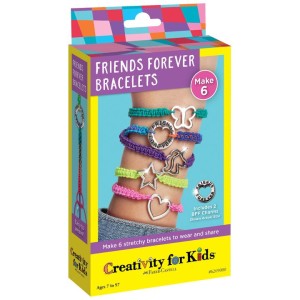 Young kids love to make their own crafts and share them with their friends. That is why the Friends Forever Bracelets kit from Creativity for Kids is a wonderful stocking stuffer. Included in the kit are 6 strands of elastic cord, 6 charms, 6 pony beads, needle threader, and illustrated instructions. Priced for less than $7 on Amazon, this kit is great for kids 7 years and older.
Avana® Ashbury Bottle
The Ashbury bottle is not only an innovative design that you will want to add to your home, but it is also beautiful. It has the patented FreeSip spout which allows you to either sip as the bottle remains upright through a built in straw or tilt back and swig. The choice is yours! The design has a double wall insulated stainless steel so what goes in cold stays cold for 24 hours, and if you want hot, it stays hot for 12 hours. On Amazon the 18 oz bottle is under $30 which makes for an awesome stocking stuffer for your tween!
You may also enjoy: