Get crafty this holiday season with DIY Ornaments! I love making crafts with my boys, especially during the holidays. Making ornaments are not only fun, but they also create a memory that can be passed on for generations. In this post, I am sharing some fun DIY ornaments I have made with my boys. They are not only fun to make, but easy and affordable as well. I have included Amazon affiliate links to make your experience easier. Happy Holidays!
DIY Christmas Ornaments
I Spy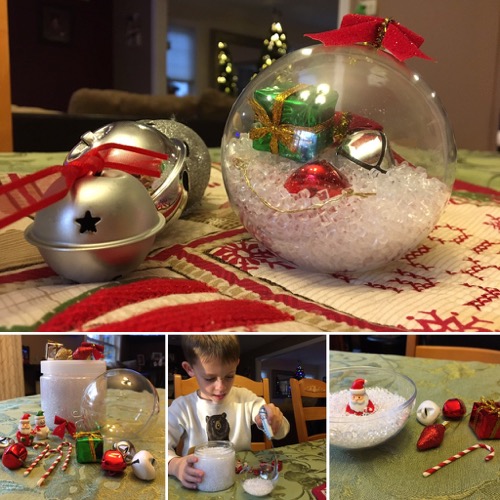 Looking for a unique holiday gift idea? Then these are for you! Families can work together to make adorable I Spy ornaments for teachers, coaches, grandparents and anyone else on your holiday list. All you need to make these ornaments are clear plastic ornaments, small bead filler and your choice of decorations such as mini candy canes, lights, nativity set, presents, bells, and bows. We purchased all our products at Michaels but you can also find them at other craft stores and on Amazon. To make the ornaments, just fill the ornament with the beads and decorations then seal it closed with clear tape or glue. You can also add a decorative sticker to the outside. It's that easy! For more information, check out the full post.
Model Magic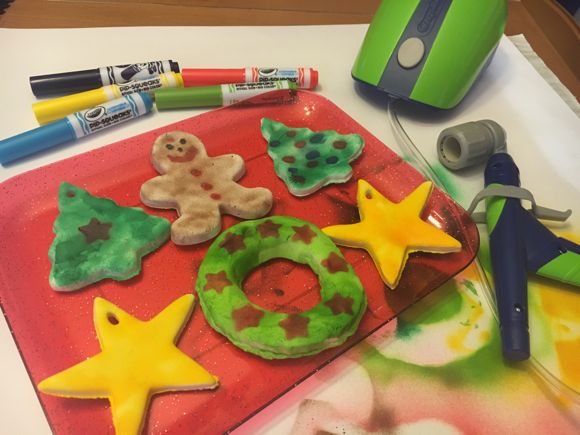 A fun holiday craft my boys and I enjoyed making was DIY ornaments using Model Magic,  Air Marker Sprayer, and holiday cookie cutters. Let your imagination run with this project but the most important aspect will be everyone working together. Don't be surprised if the ornaments reflect the personality of the individuals making them! Check out our post on how to make them here.
Golden Snitch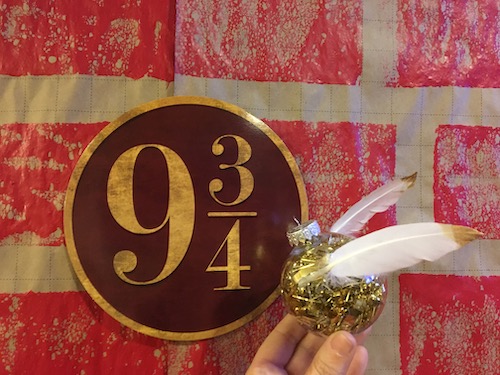 If you have a Harry Potter fan in your house, then you will LOVE these Golden Snitch ornaments. They are easy and affordable! All you need are clear plastic ball ornaments, gold filler (tinsel, pipe cleaners, pom poms), hot glue gun, and feathers. I chose feathers with gold tips but you can use any feathers you want. First, fill the ornament with gold filling. Then glue the feathers to the sides. That's it! Easy right?!
Hot Chocolate
A couple years ago my Cub Scout Pack made hot chocolate ornaments as a fundraiser. They were a big hit! All you need is clear plastic ornaments, hot chocolate mix, marshmallows, and ribbon. You can also use candy canes and chocolate chips if you want. Using a small funnel, fill the ornaments with hot chocolate mix. Then carefully add the other ingredients. It is important not to shake the ornaments because the chocolate will coat the marshmallows making the ornaments not be as pretty (still functional though). Last, add a pretty ribbon to the top. These ornaments make great gifts for grandparents and teachers!
Cub Scout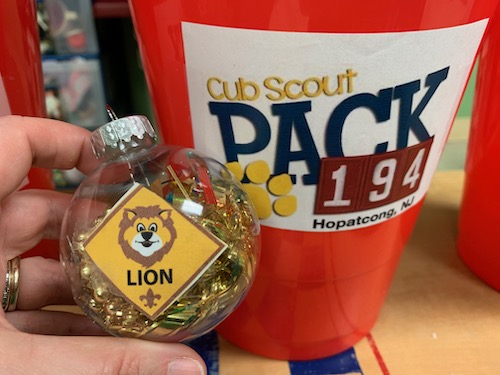 Last year for our Cub Scout holiday party, I had the boys make their own ornaments. Each scout was supplied with a clear plastic ornament that they had to fill with colors that correspond with their rank. I had supplies like tinsel, pom poms, pipe cleaners, and bead necklaces. When finished, the boys glued/taped their rank symbol on the front or put the emblem inside the ornament. It is a great way to celebrate scouts and the holidays!
Grinch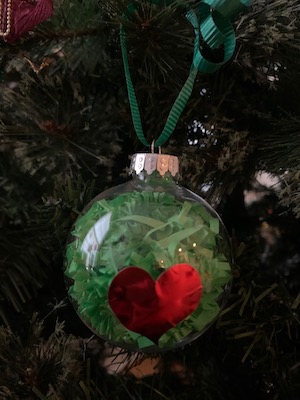 My son went to a fun Grinch themed party at his friend's house last year and came home with adorable DIY Grinch ornaments. One that was super easy to make required only a clear plastic ornament, green filler, and a heart sticker. If you don't have a heart sticker, you can use paint or construction paper. Just fill the ornament with green filler (paper, tinsel, confetti) and then put the heart sticker on the outside of the ornament. It's that easy! Cute right?!
Fingerprint Snowmen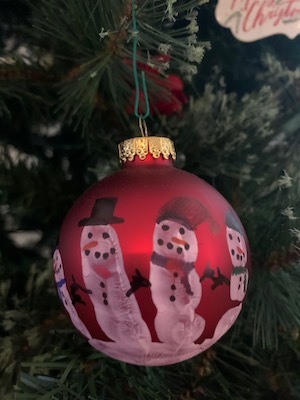 I absolutely LOVE this ornament because it captures a moment in time when our kids are so young and innocent. For this ornament, you need a ball ornament (any color), white paint, and colored markers. To create the snowmen, coat your child's fingers with white paint and have them place them on the ornament. Once dry, add the snowman details using a marker (or paint). This ornament is perfect for grandparents!
Happy Crafting!
You may also enjoy: