We are so excited to bring you this year's Play and Learn Holiday Gift Guide. We are thrilled to partner with so many amazing and award-winning companies who provided many of the brain boosting toys on this list so we can share them with you this holiday season.
Since even before I was a parent, when I purchased a toy for a child, I made sure it had a purpose. For me, a toy has to encourage learning, development and growth in some way otherwise what is the point? Toys and games should stimulate the brain, make kids think and reason and/or spark the imagination. Children learn through play so we have to make sure that play is meaningful!
After careful consideration, and several Mommy University reviews, we have come up with a list of over 40 toys that you are sure to LOVE this holiday season. This list is broken down into 5 categories: STEAM/Academic, The Arts, Games, Pretend Play and Motor. Since EVERY toy chosen also encourages growth in the area of language development, a separate category is not needed for this area. Amazon affiliate links are included to make your gift buying experience easier!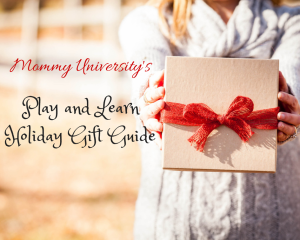 Academic and STEAM
The Big Life Journal

Give the gift of positive thinking and a growth mindset with the Big Life Journal. Different prompts offer 5-minute daily practice for young children to express their feelings. The big emotions our children experience can overwhelm them, especially during these times. Giving them the space to evaluate their world and reflect on joy and concerns can really help them.  Endorsed by psychologists and parents, the Big Life Journal is available on Amazon for less than $30 and it's benefits are priceless.
GraviTrax (Wonder Forge)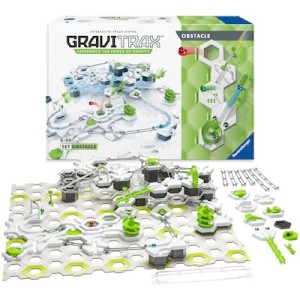 This fun STEM toy offers hours of learning through play. Using gravity based elements, kids can build endless obstacle courses and test scientific theories. After building each course, place a marble on the track and see what happens. You can also race up to 3 marbles as well as do marble tricks. This fun building set helps enhance problem solving, critical thinking, perceptual reasoning, spatial awareness, and visual motor skills all while having fun. GraviTrax is recommended for children ages 8+ and sets can be purchased on Amazon.
Code and Go Bumblebee (BRIO)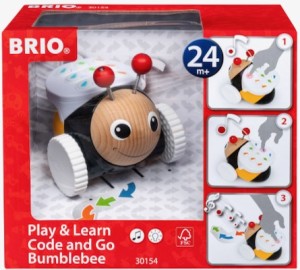 Even little ones can enjoy STEM learning! Recommended for ages 2 and up, the Code and Go Bumblee offers an early introduction to coding and STEM concepts. The durable bumblebee has easy to use buttons on its back that can be used to program up to 27 different movement patterns. It also has lights and sound adding to the sensory experience. This fun and engaging toy helps kids learn about cause and effect while also enhancing visual and motor skills. 
Space Science Kit (Crayola)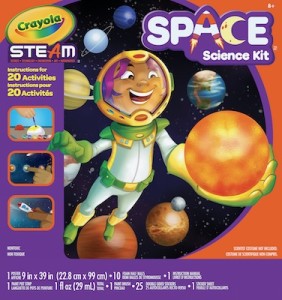 Crayola has introduced an amazing line of STEAM kits that kids will LOVE. The Space Science Kit comes with 20 ready to go experiments that teach kids all about the planets, stars, meteors, and more. The kit also lets kids create a full-scale solar system. The Space Science Kit encourages a love of science and art while also enhancing academic knowledge. The Space kit can be purchased on the Crayola website and Amazon for under $20.
Mega Cyborg Hand (Thames and Kosmos)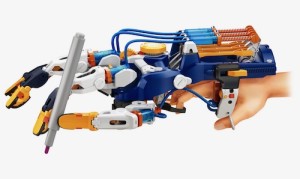 This is one of the coolest items on the list!! What kid wouldn't want to build their own hydraulic hand?! Using over 200 pieces, kids ages 7 and up can build and create their own cyborg hand. It is a great introduction to STEAM concepts including mechanical engineering and robotics. While building, kids will enhance fine motor, problem solving, and reasoning skills. Once built, the hand slips right onto your child's hand like a glove. Then let the fun and experimenting begin! Don't worry, it can fit a righty or a lefty. Mega Cyborg Hand is under $40 on Amazon.
K'Nex Architecture Line (Basic Fun)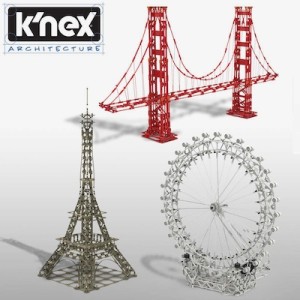 Do you have a builder in your house? Your future architect will love the Architecture line from K'Nex that allows kids to travel around the world from their own home. Of course building increases fine and visual motor skills, but this set also teaches kids about history and geography. While building, they will learn about important landmarks around the world and what makes them so unique. K"Nex Architecture comes in a variety of designs such as the Golden Gate Bridge, Eiffel Tower, and the London Eye. These sets are recommended for ages 9+ and can be purchased on Amazon.
Laser Pegs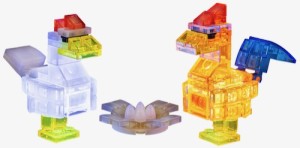 If your kids love building, then they will LOVE Laser Pegs. This innovative building toy adds a unique spin to building fun. Each set lights up! While building, kids learn STEAM concepts and enhance problem solving skills. Laser Pegs come in a variety of designs with many sets offering multiple building options. Sets can be found on Amazon.
Smarty JOJO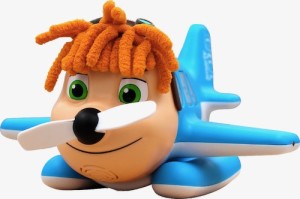 Smarty JOJO is more than just your typical airplane toy! Not only does it encourage pretend play, but it also enhances academic knowledge, language skills, emotional intelligence, and cognitive skills. There are over 150 actions and reactions that keep kids engaged and learning for hours. JOJO is also bilingual! This interactive toy is recommended for ages 3-5 and is the perfect size for small hands. Smarty JOJO can be purchased on Amazon for under $25.
Go Natural Deluxe Lip Balm Lab (SmartLab)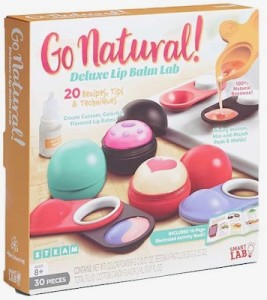 Using all natural ingredients, kids can create their very own lip balm with this Go Natural Deluxe Lip Balm Lab from SmartLab. This 30-piece set comes with a lab station, 3 sphere pods, 3 double-sided go pods, mix-and-melt silicone mold, all-natural beeswax pastilles, cotton candy flavoring, red mica colorant, measure-and-cut spoon, stir sticks, and a 16-page illustrated activity book. It also offers 20 recipes as well as tips and techniques for making lip balm. This set is a great introduction to chemistry while also encouraging creativity. The Go Natural Deluxe Lip Balm Lab is available for under $30 on Amazon.
National Geographic Kids Books
National Geographic has released a line of kids books that are perfect to expand young minds! From insects and animals to space and travel to cool architecture around the world, Nat Geo books will teach kids about endless topics. Books like the Coolest Stuff on Earth and Space Encyclopedia will get kids excited about learning. Each book offers stunning pictures and images along with incredible facts and timelines. 
The Arts
Hat Not Hate Quick Knit Loom Kit (Creativity for Kids)

HAT NOT HATE is an anti-bullying campaign founded in 2018 by Shira Blumenthal, a victim of childhood bullying. The goal of this campaign is to raise awareness by making, wearing and sharing blue hats. The color blue represents solidarity and support of bullying prevention. Creativity for Kids has partnered with Hat Not Hate to offer this new Quick Knit Loom kit. Each kit provides everything you need to make, wear, share and accessorize two hats including 180 yards of chunky blue Lion Brand yarn, a reusable 9″ loom, loom hook, tassel and pom-pom maker, two faux leather Hat Not Hate tags and easy to follow instructions. It can be purchased on Amazon for under $25.
Chocolate Pen (Skyrocket Toys)

Have your kids ever wanted to create art out of their food? Well now they can with the Chocolate Pen from Skyrocket Toys. This unique and innovative kit lets kids write, draw and create using delicious chocolate. You can use one of the many molds included in the set or use your own creativity to make chocolatey treats. Designs can be placed on cupcakes, cookies, cakes, or any treat you want to work with. It hardens in minutes meaning no one has to wait to eat their creations. The Chocolate Pen kit comes with 40 molds, chocolate in 4 colors, warming tray, drawing tip, charging cable and instructions. It can be purchased at Walmart, Target or Amazon for under $25.
Scribble Scrubbie (Crayola)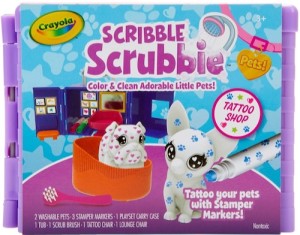 Crayola is known for offering bold colors and innovative art products that encourage creativity. The Scribble Scrubbie line of toys is no exception! Kids will want to play for hours decorating their adorable pets then rinsing off the color to make an entirely new creation. These sets also encourage pretend and imaginary play. It is a fun introduction to the science of color. Scribble Scrubbie Pets Tattoo Shop (pictured above) can be found on the Crayola website and Amazon along with other fun designs such as Pet Salon, Vet Set and Scrub Tub Set. You can also purchase additional pets, markers and accessories.
Hydro Dip Custom Skate Studio (Creativity for Kids)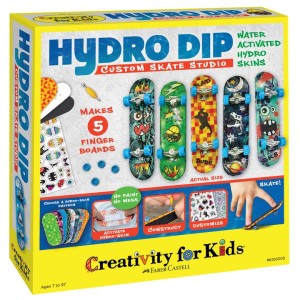 Children can build and decorate their own finger skateboards! The Hydro Dip Custom Skate Studio kit includes five mini skateboards and all the supplies needed to decorate using the hydro dip technique. This is great for the child who prefers putting things together and taking things apart while encouraging an appreciation of art. Priced on Amazon for less than $15 this kit is designed for children ages 7 and older.
Etch-It Workshop (Creativity for Kids)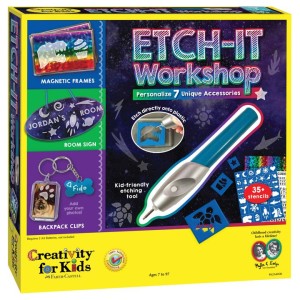 Equip your kids with their own etching tool so they can customize keychains, picture frames or ornaments! Designed for kids ages 7 and older, Creativity for Kids has made another awesome art kit that encourages creativity and imagination with a classic activity. Priced for less than $20 on Amazon kids will have an etching pen, 35 stencils, and supplies to get started with a new hobby!
Once Upon a Pancake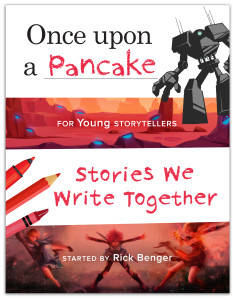 Once Upon a Pancake is a hands-on book full of unfinished stories for children of all ages. Each book (ages 3-5, 6-8 and 9-12) contains 20 stories with writing prompts that kids and parents can write and draw together. Young kids can write about superheroes, princesses and trucks, while older kids can write about saving the galaxy, sports and more! This is a great screen-free option for kids to get creative and enhance their reading and writing skills. Teachers, parents and grandparents are loving these books, and they make a great keepsake. This unique book can be purchased on their website and Amazon for under $15.
Snapstyle Printable Face Masks (Skyrocket)

Stay safe and show off your unique style at the same time by making your very own face masks with Snapstyle! The entire process only takes 5 minutes so you can be ready to go in no time. To create your own mask, just take or download a picture and upload it to the Mask Creator app to design your mask. Using an inkjet printer, you can then print your design on Snapstyle's game-changing fabric printing material. The masks meet all guidelines set forth by WHO. Snapstyles Printable Face Masks can be purchased for under $20 on Amazon.
iLY Pura Loom Bracelet Maker (WeCool Toys)

This holiday season give your kids the gift of bracelet making! Your future designer can create their own beautiful masterpieces to wear themselves or give to friends and family. What makes this bracelet making kit so unique is that kids can make bracelets 3 different ways: knot, twist or weave. The set also comes with beads and charms. iLY Pura Loom can make over 20 bracelets. It is recommended for ages 6+ and can be purchased at Target and Amazon for under $20.
Glitter Dots (Crayola)

Glitter Dots offers a fun and unique way to create beautiful art! These innovative dots can add some sparkle to any art project with ease. Plus, you don't have to worry about getting glitter all over your house because each dot is specially coated to keep the glitter contained to the dot. How cool is that?! Glitter Dots come in a variety of sets such as Sparkle Charms, Ornament Craft, and Sparkle Signs. Sets can be purchased on the Crayola website and Amazon.  
Spirograph Scratch and Shimmer (PlayMonster)

Let your budding artist create dozens of unique designs with the Spirograph Scratch and Shimmer set from PlayMonster. The set comes with a drawing stylus, non-slip ring, 6 glitter wheels, 8 sparkly scratch sheets, sparkly and rainbow sticker sheets, 8 rainbow scratch sheets, storage tray, and a guide book. While getting creative, kids will also be building important fine motor skills. The Spirograph is recommended for ages 8+ and can be purchased for under $15 on Amazon.
Fashion Plates (PlayMonster)

Do you have a fashionista in your house? Then they will love Fashion Plates from PlayMonster. With this set, your future designer can put together their own unique and stylish designs. Fashion Plates comes with paper, colored pencils, rubbing crayons, a crayon holder, a rubbing tablet, carrying case, and idea guide. The Superstar Deluxe Set and Classic Styles can both be purchased for less than $25. A travel set is also available!
Big Gem Diamond Painting Kit (Creativity for Kids)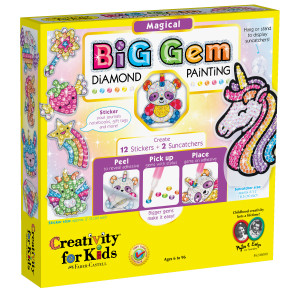 Creativity for Kids encourages a love of art and the Big Gem Diamond Painting Kit does just that! Children are equipped with a wand that they dip in wax and stick gems to decorate stickers and suncatchers. It promotes fine motor skills as well as creativity. Priced on Amazon for under $15, this set will have little hands busy while having fun!
Motor
Snap Ships

If your kids love to build, then they will LOVE Snap Ships. There are a ton of different ship designs with all the parts being interchangeable. While building, kids are enhancing important fine and visual motor skills. They are also improving dexterity and hand-eye coordination. These skills are important for academic success. Once built, kids can enjoy endless fun using their imagination. Snap Ships are recommended for ages 8+ and can be purchased on Amazon.
Stomp Rocket

Get the kids outside to enjoy some interactive science fun with Stomp Rocket. See how high you can launch a rocket just by stomping on it. Stomp Rocket Stunt Planes come in 3 designs that offer unique tricks like gliding and looping. Stomp Rocket Ultra lets kids (and kids at heart) launch rockets up to 200 feet high. How awesome is that?! For both sets, the rockets are made of foam so they are not only fun but also safe. Designed by scientists, Stomp Rocket will allow for hours of outdoor fun!
Wubble Rumblers

I am sure you have heard of the Wubble Bubble, the awesome ball that offers hours of learning through play. Well Wubble has done it again with Wubble Rumblers. Kids can build gross motor skills and exercise all while having fun. Rumblers come in 4 designs: wrestler, ninja, karate chop, and wrestler fist. Rumblers are 400x more elastic than typical inflatables making them more durable and long-lasting. Wubble Rumblers can be found at Target.
Pom Pom Pictures (Creativity for Kids)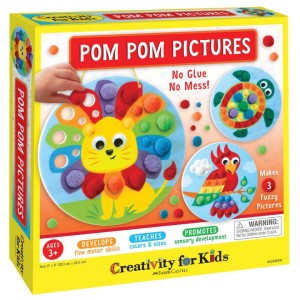 If you are looking for an art kit for small hands then Pom Pom Pictures is a wonderful set for your toddlers. Pom Pom Pictures includes pictures with pre-cut holes that your child will fill with matching colored pom poms. This kit encourages fine motor skills, visual spatial skills, color matching and more! Priced for less than $13 on Amazon it is a fun activity to help them get ready for kindergarten while having fun.
Games
Back to the Future Dice Through Time Game (Wonder Forge)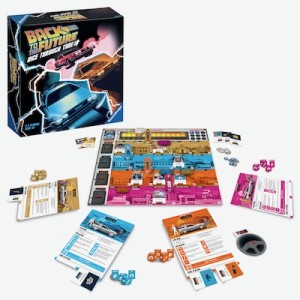 Step into the plot of everyone's favorite 80's trilogy, Back to the Future, with this fun new game from Wonder Forge. In the game, Biff stole the DeLorean which disrupted events and scattered items all throughout space and time. Players have to help Doc and Marty repair the space time continuum before it's too late! This immersive cooperative game has 3 levels of play depending on how challenging players want it to be. It can be played with 2-4 people and is recommended for ages 10 and up. Back to the Future Dice Through Time game can be purchased at Target.
Disney Hocus Pocus The Game (Wonder Forge)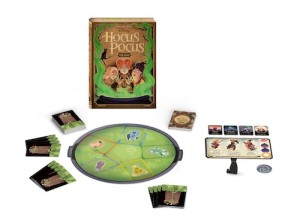 Keep the Halloween spirit going all year long with the Hocus Pocus game. Players must work together to stop the Sanderson sisters before the sun rises. By using the ingredient cards, players have to ruin the witches' evil potion but be careful! There are also spell cards that can disrupt your progress. Binx is there to help out too so keep your eye out for the black cat. Hocus Pocus is recommended for ages 8+ and can be purchased on Amazon for under $20.
ProjeX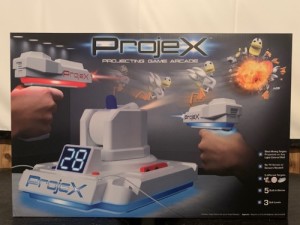 ProjeX is an easy to use interactive gaming system that does not require a television, device or even WiFi. All you need is 3 AA batteries and a blank wall in a dimly lit room and you are ready to play. ProjeX comes with a portable projector, 2 laser blasters and 3 target cartridges that offer 5 built-in games each! Although ProjeX is recommended for ages 6 and up, with supervision, even the youngest family members can play. The blasters are easy to hold and use, and the varied difficulty levels makes ProjeX fun for all ages and skills levels. While playing kids increase motor planning, visual motor, problem solving and strategic thinking skills all while having fun. ProjeX can be purchased at Target.
What's Wrong with Grown Ups Game (Authentic Agility Games)
Looking to connect with your kids? Play a game! What's Wrong with Grown Ups is the perfect game to get parents and kids talking, playing, and connecting again. With 100 cards featuring 500 questions, players will get to know each other in a new way. While playing, kids will build social, life, and communication skills, while parents will get to learn more about their children. This game is also great as an ice breaker and/or conversation starter. What's Wrong with Grown Ups is recommended for ages 6-106 and can be purchased on Amazon for under $25.
5 Second Rule (PlayMonster)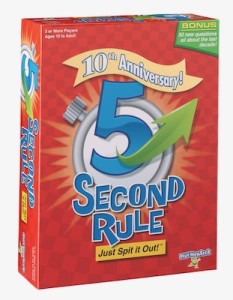 If you are looking for a great game for family game night then 5 Second Rule is for you! This fast-paced, interactive game offers hours of fun for ages 10 and up. There are over 150 cards of tasks to complete within 5 seconds. This fun game helps enhance language skills, problem solving, and cognitive flexibility. Who will win in your family? 5 Second Rule is under $15 on Amazon.
Gel Blaster Surge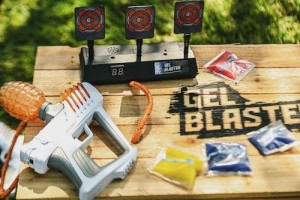 Get ready for some serious family fun with Gel Blaster Surge! The Gel Blaster SURGE shoots biodegradable, non-toxic, water based Gellets™ that explode on contact and immediately begin to disintegrate, leaving no mess behind. Plus it has a range of over 100 feet! The set comes with safety goggles, 5,000 Round Orange Gellet™ Pack, 5,000 Round Blue Gellet™ Pack, charging cable, and interchangeable fins/tips. The Gel Blaster Surge can be purchased on Amazon for under $70!
Pokemon Trading Card Game Battle Academy

If you have a Pokemon fan in your home, then this is the game for your trainer! While kids love to collect these cards most of them don't know how to play with the cards. This new board game not only teaches kids how to play the cards but it also teaches them other skills such as turn taking, math skills, and problem solving. While the game does come with sets of cards, your child can also use cards from their personal collection. Designed for children ages 6 and up it is priced on Amazon for less than $25.
Monster Truck Championship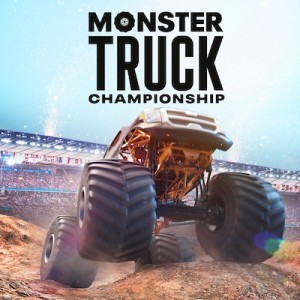 Monster Truck Championship is a new action-packed, family friendly game for Nintendo Switch. It is the first Monster Truck simulation video game that will make players feel like they are a part of a stadium show. The game offers 16 customizable trucks, over 50 customisable elements, 25 arenas, and 3 leagues. Monster Truck Championship can be purchased at Gamestop, Best Buy or on their website.
Pretend Play
Disney Junior Minnie Mouse Party and Play Puppy (Just Play)

Little ones will want to play for hours with this adorable set from our friends at Just Play. Kids can help Minnie teach her puppy Phoebe how to bark, dance, and spin. Minnie also talks and sings. Together they can also take Phoebe for a walk using the included leash. This fun set helps kids use their imagination while also learning important life and social skills. Minnie Mouse Party and Play Puppy is recommended for ages 3+ and can be purchased at Amazon, Walmart and Target.
Colorforms

I am so excited that Colorforms are back! It is a toy from my childhood that I loved, and I am so happy my kids can enjoy it now too. Colorforms comes in a variety of designs like Snoopy, Barbie, Care Bears, and Ninja Turtles. Each set comes with peel and stick Colorforms pieces that can be attached to a scene over and over again. Kids can create endless new scenes and pretend adventures. While playing, kids build fine motor and visual motor skills while encouraging creativity and imaginary play. Colorforms can be found on Amazon for under $10.
Mad Mattr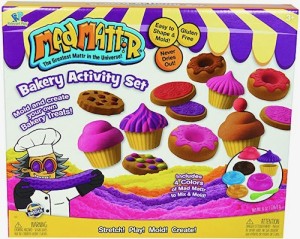 Mad Mattr is a unique and innovative dough offers so many ways for kids to learn through play. While molding and sculpting the dough, kids will enhance fine and visual motor skills as well as foster a love of art. Mad Mattr also encourages pretend and imaginary play with kits like the Bakery, Ice Cream, and Burger Activity Sets. Each set comes with molds and tools as well as 3-5 colors of Mad Mattr (but other Mad Mattr colors and sets can be used with the molds as well). Mad Mattr is gluten, casein and wheat-free so all children can play and learn! Mad Mattr sets can be found on Amazon.
Disney Junior Doc McStuffins Wash Your Hands Singing Doll (Just Play)

I absolutely LOVE this new Doc McStuffins doll from Just Play. For several years, they have released a fun Doc toy but I think this one is my favorite because of its current relevance and need. Doc will help kids feel more comfortable about wearing a mask by teaching them the importance of being healthy and safe. She also teaches kids all about washing their hands in order to prevent the spread of germs to others. Together, they can sing the "Wash Your Hands Song" while washing their hands. What's even more amazing, Just Play and Disney will be donating funds to Feeding America. How amazing is that? Doc McStuffins can be purchased at Walmart.
Maxx Action (Sunny Days)

If your kids love trucks, then they are going to LOVE playing with Maxx Action! There are 2 trucks in the series: Long Haul Vehicle (which includes 4 additional pick up trucks) and Long Hauler Excavator. Each truck is equipped with sounds, lights, ramp, and friction rev motor allowing for hours of pretend play. It is recommended for ages 3+ and can be purchased for under $20 at Kohl's, Target and on Amazon.
Blume

Blume dolls offer an innovative way for kids to play and learn. Just water your "seeds" and watch your doll grow right out of the flowering pot. Each doll is unique making it even more exciting to collect them all. Blume dolls each have a  fun and unique hairstyle and come with mix and match outfits, a handbag, mini friend and sticker book. You can buy solo dolls but also check out Blume Rainbow Sparkle Surprise that comes with 3 unique dolls. Blume dolls are recommended for ages 5 and up and can be purchased on Amazon.
Pound Puppies

I was beyond excited when I found out Pound Puppies were coming back. They were one of my favorite toys from my childhood. These adorable stuffed pups are ready to be adopted and loved by children of all ages. Each puppy comes with its own official adoption papers and care sheet. The pups also come in their own carrier-shaped package so your little one can take him/her everywhere. Pound Puppies can be found on Amazon for under $20.
Disney Doorables (Just Play)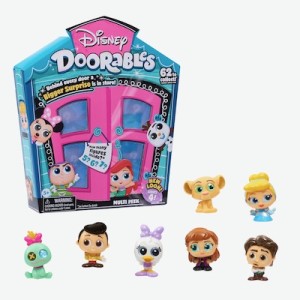 This holiday give your kids the ultimate Disney unboxing experience! Behind each door kids will reveal a fun surprise including adorable Disney characters. Each character is 1.5 inches tall. They may be small but they offer BIG fun! Series 4 offers 62 characters to collect from a variety of your favorite Disney movies. Disney Doorables can be purchased at Walmart, Target and Amazon.
Reindeer In Here

Check out this year's new holiday tradition! Each night the reindeer shares your child's wish with Santa and on Christmas Eve they put Reindeer in Here under the Christmas tree so Santa can take him to the North Pole. Reindeer In Here is proud to celebrate that being different is normal. The cuddly reindeer has one antler that is smaller than the other, meant to represent the uniqueness of every child. As children are missing their friends and family this holiday season, the Reindeer is a cuddly and plush presence to boost the spirits of your child. Reindeer in here is available on Amazon for $29.99
We hope you enjoyed our Play and Learn Gift Guide for 2020! Keep checking back because we may be adding more amazing gifts soon!
You may also enjoy: