When the world stopped and most families huddled indoors during the winter for remote learning as their parents attempted to work indoors, there was a common theme being expressed: too much screen time. I have specific rules about how much screen time my kids can have; however, when the quarantine began in New Jersey most of those guidelines I spent years cultivating were thrown out the window with my sanity.
Now that we are returning to a hybrid schedule, my kids still have a lot of screen time as their eyes are glued to their Chromebooks throughout the day so I am bringing back at home brain breaks. My kids' schedules include a long lunch so instead of letting them slip into the virtual realm, I am rotating different activities that just give them a break. A break from looking at the numbers on the screen and seeing friends behind a glass and using their senses to experience things thus taking a break. Here are some suggestions that have worked in my home:
At Home Brain Boosting Breaks
Builder's Challenge
Each day invite your kids to complete a builder's challenge where they are asked to create a new structure or design using their imagination with building toys. Depending on your children's age, you can ask their ideas in a brainstorming session. Then place all the ideas in a jar and pull one out each day. Children can build a spaceship, boat, house, vacation home, hotel, and so much more. While Lego bricks are traditionally used, you can also use Magformers, Magnatiles, or a variety of other objects. If you need ideas check out our post on Building Toys here. 
Sensory Bins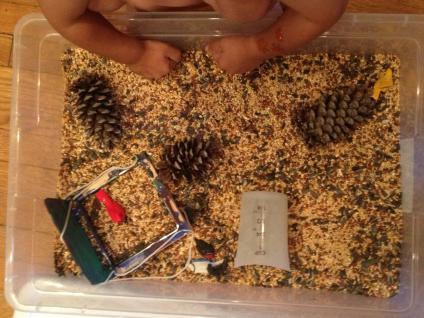 We love sensory bins at Mommy University! They are wonderful for children who need sensory input as well as a great opportunity to encourage open ended and pretend play. Sensory boxes are also an opportunity to reinforce themes that children might be learning in school. For instance, you can throw magnetic letters in a bin of rice, and kids can then use a magnet to go fishing for the alphabet. Just be mindful to not leave kids unattended especially if they have been known to put things in their mouths. 
Take a Nature Walk
Get outside and explore nature! Taking a nature walk or going on a hike is a wonderful brain break during the school day. It can even meet a physical education requirement. At home, challenge your kids to find signs of wildlife such as animal tracks or eaten leaves. You can arm them with a scavenger hunt list you find online or make one yourself. Another fun idea is to provide them with different colored paint chips to see if they can match the colors to nature. There are so many options available but just remember the act of going outside for a walk helps kids become grounded and is great exercise.
GoNoodle
Children sitting on the computer screens for long periods of time can lead to boredom. Teachers are trying their best to keep engaged but it's difficult for little ones to sit for minutes after minutes, so throw on a GoNoodle video to get them moving! They have options for dancing, body self-awareness, breathing exercises and plain silly fun.
Have a Dance Party
A fun way to take a break is to throw a music channel on your Google or Alexa and dance the sillies away! You can also put on Kidzbop or whatever music makes your family move. Challenge your kids to show off their moves or have a fun game of freeze dance! If you have older kids, you can even do a TikTok dance challenge.
Move It!
While my daughter loves the idea of a dance party, my son would need a bribe to participate. A fun way to get kids moving is to have them brainstorm different activities for each letter of the alphabet. For example, the letter A could be ten jumping jacks, and the letter B could 15 push ups. Write all the activities down for each letter, and then have the kids do the exercises that spell their name. The next day spell a different word using physical activities. This is a fun break that enhances language arts skills too!
Yoga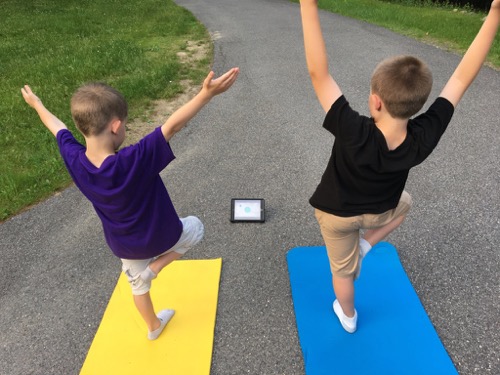 Kids love Yoga! Plus, it helps children become mindful. It is also a great activity to help calm their nerves. A few kids toys that promote yoga are Mindful Kids by Miniland and Yoga Spinner by ThinkFun. You could also put on various YouTube channels to guide children in different breathing exercises like Cosmic Kids Yoga. 
Build a Fort
In between classes or after school, let your kids play with a bedroom sheet and some pillows to make their own fort. Then, later that day, let them use the space for story time. Sometimes a small disruption like this is the perfect interruption to the repetition of getting on the screen.  
Make Paper Airplanes
Kids don't make paper airplanes as much as they used to but this activity challenges kids to use their imagination and fine motor skills as well as encourages them to think about engineering. You can even get into the activity by building a plane and then have a competition. See whose plane crosses the finish line the fastest or whose plane can travel the farthest. You can even go outside and see whose plane can go the highest. Once they are successful with their plane, ask them to think about modifications and experiment with those modifications.
Chalk the Walk

Want to get creative, move around and get outside? Chalk the Walk! Sidewalk chalk is one of those childhood toys to always have stocked because you never know when it's the perfect day to get outside and draw some pictures. You can write inspiring messages or have fun tracing outlines of different objects and people.
If you like this post, you might enjoy!