"The arts can be a home that brings us together as we celebrate the stories and tales we have shared for generations, as well as introducing new cultures, ideas and thoughts to our young people." ~ Steve Fredericks, Founder and Executive Director
After 7 long months, the Growing Stage has finally opened their doors to audience members, and they are offering a show like no other! Snow White tells the classic story of Snow White and the Seven Dwarfs but with a twist. The show is performed by only 2 actors. Yes, you read that right. This innovative production uses just 2 incredibly talented actors to play EVERY character from this beloved story. How cool is that?! What a fun and unique way to kick off their 39th season. 
Directed by Stephen L. Fredericks and written by Greg Banks, Snow White is an upbeat, witty, and funny show that will keep you thoroughly entertained for the entire production. It is the perfect show for all ages. My boys are 8 and 11 and they LOVED it. We were laughing and smiling throughout the entire show. It was a fast paced production which kept audience members engaged and intrigued. 
We all know the story of Snow White but you have never seen it told like this! I won't give anything away but there is definitely a twist. Aycka Lima and Garrett Gallinot did an amazing job playing EVERY character in the show. They even took turns playing each character which added to the fun. Emily James, the on-stage musician and Musical Director, also added elements of humor to the show. Together, the 3 performers presented a magical, whimsical and memorable performance.
As with every show I have seen, I loved the set, especially all the little details that helped make the story come to life. Although the set did not change throughout the show, the clever use of props and costumes allowed audience members to feel like they were moving from place to place and scene to scene. With each flip of the cape or tip of the hat, we could truly see the transformation into each character despite being played by the same person.
At the end of the show, my son and I were interviewed by the staff. We were asked what our favorite parts of the show were. My son loved the beginning while I really enjoyed watching Garrett rapidly and flawlessly transform into each dwarf. I was also incredibly impressed by Aycka. She was so believable as both the caring and endearing Snow White AND the wicked, sassy and narcissistic Evil Queen. She also had me laughing hysterically when she played the egotistical Prince. Her ability to transform from character to character and be able to embody each one was amazing to watch. 
Snow White is one of the most unique shows I have ever seen, and it was the perfect reintroduction into the world of theatre. Snow White ended its in-person run but it is back by popular demand online. For only $25 families can purchase unlimited streaming for this amazing show November 26-29. Visit the website for more information.
Know Before You Go
The Growing Stage also did an amazing job of providing a safe and comfortable environment for audience members. They followed every guideline and precaution. Here is some information regarding their current safety guidelines:
Masks are required during the entire performance.

Temperature will be taken.
Tickets are electronically scanned.
Hand sanitizer is available upon entrance.
Seats are assigned.
Seats are grouped by party and spread out at least 6 feet apart.
There is reduced capacity.
Seats are slightly further from the stage than past productions.
The program can now be found online instead of having a paper copy.
There is no meet and greet after the show BUT children will have activity guides on their seats that are already autographed.
There is no intermission or concession stand.
Audience members will exit through the side doors of the theatre after the show.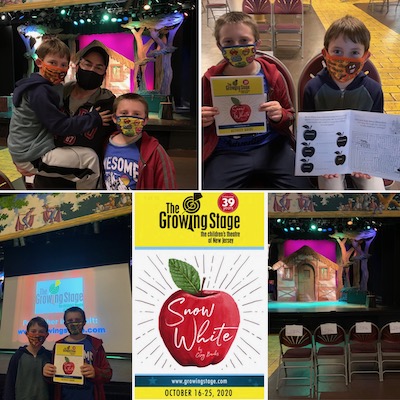 I am so excited the Growing Stage is open again and offering quality performances that the entire family will love. I can't wait to see what their next show will be!