With so many days inside our homes, New Jersey is determined to move around! Talking to colleagues, researching online, and brainstorming with friends, there is a focus to be outdoors as we still struggle with a global pandemic. As parents, we wonder what allows our families to be safe as we visit destinations but at the same time there is a need to relax and have some fun.
Wild West City in Netcong, NJ offers families the opportunities to travel back in time with safety measure in place and the best part is that families are having fun while being outdoors. We have written about living historical characters, identified brain boosting experiences, as well as highlighted civil war encampment experience. In this post, we want to review the safety measures implemented at Wild West City following CDC Guidelines and the Department of Health.
Face Coverings Must Be Worn
Wild West City has a lot of outdoor open space so most times, when you can maintain social distancing outside, face coverings are not required (at the time of this post). When approaching the admission gate, going inside the buildings, or when social distancing cannot be maintained face coverings are required. Since most cowboys wear bandanas this is a wonderful opportunity to reinforce wearing a face covering while incorporating into pretend play. The employees will be wearing masks and gloves as well. The actors will be wearing masks when in close contact with guests outdoors.
Sanitizing Common Areas
High touch areas will be sanitized throughout the day. As well, plexiglass has been installed at indoor admission counters.
Reduced Capacity of Indoor Spaces
Outside are signs posted requesting one family at a time when visiting indoor spaces. The General Store where souvenirs are sold is limited capacity. Make sure to grab your gun early in the day so the kids can participate in the posse to grab the bad guys! The Golden Nugget Saloon and Frontier Frank's Prairie Pizza is open for food and beverages to take out and eat outdoors. Wild West City has a good amount of picnic tables where your family can enjoy eating outdoors.
Keep One Horse Away
Throughout the park is clear signage encouraging guests to follow CDC Guidelines but of course it contains a Wild West twist. Everyone has focused on six feet of distance but just point out the horses to your children and encourage them to keep one horse in between others.
What is Open?
Not only is the Golden Nugget Saloon open but so are the rides and experiences. Your family can still ride on the train, a pony. or the stagecoach. Kids can play mini golf or look for gold. Select living history stations will be open and of course they have modified certain shows so there is no contact. And of course, every 15 minutes are live shows the re-enact the Wild West.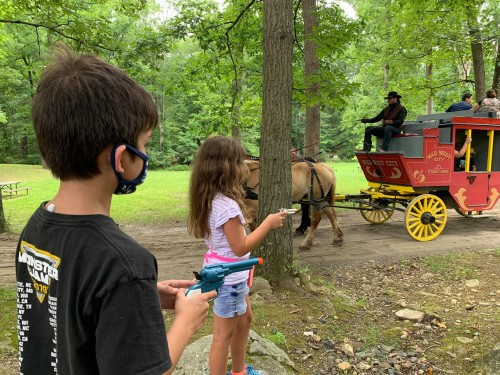 The cowboys, mountain man, Marshall, and towns folk of Wild West look forward to welcoming you back!
Wild West City is conveniently located at 50 Lackawanna Drive in Netcong. Admission is $24/adult, $20/children ages 2-11, $18/seniors and children under the age of 2 are FREE. There is an additional fee of $4/person for the train, pony ride, and mini golf while the stagecoach is an additional $6/person due to the additional cleaning that must be done between rides.
Check out our a tour of Wild West City from last season:
You might enjoy this!