Like many of you, I had been waiting on the edge of my seat for the opening of Hersheypark to be announced. Not only was I excited to return to the Sweetest Place on Earth, I could not wait to see Hershey's Chocolatetown and ride their new roller coaster, Canydmonium. As soon as the reservation system opened, I signed up for the first pass holder day which took place on July 1. The park officially opened to the public July 3.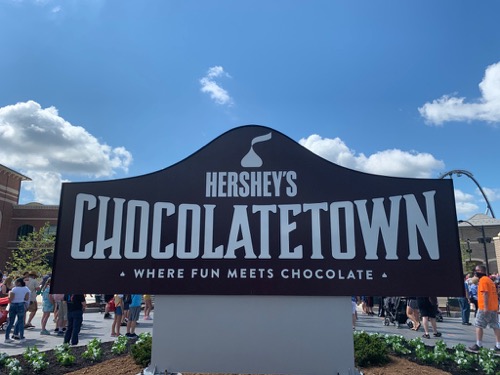 Like myself, many Hersheypark fans have been wondering how the park will handle our new COVID normal. Will we feel safe? What precautions will they take? I had received a press release listing the safety measures but I knew I wouldn't truly be able to understand until I experienced it for myself. I have to say, I am quite impressed with how Hersheypark has handled our new normal.
In this post, I am going to share some things you should know before you take your next trip to Hersheypark. In addition, to fun new experiences, the park has implemented excellent safety measures all throughout the park. I have highlighted these precautions in this post. If you have any questions, please put them in the comments section below!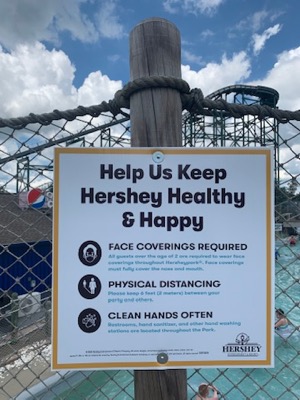 Hersheypark: Know Before You Go – Safety Measures
Make a Reservation
At this time, guests can't just arrive at the park. You MUST reserve your arrival date via their new reservation system. Hersheypark is opening at reduced capacity so make sure to check the calendar as some days may fill up, especially weekends. The system is very easy to use, and you will receive a confirmation email within minutes. It is important to note that season pass holders do NOT need to make reservations.
Staying at a Hersheypark resort? Then you do NOT need to make a reservation. You are guaranteed entrance (with a park ticket of course). The resort reserves the day(s) for you.
Temperature Checks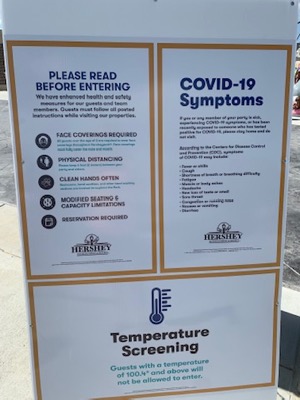 Before entering the park, EVERY guest has their temperature checked. It is an easy and quick process. The staff members are friendly and respectful. Anyone with a temperature above 100.4 will not be permitted in.
Mask Up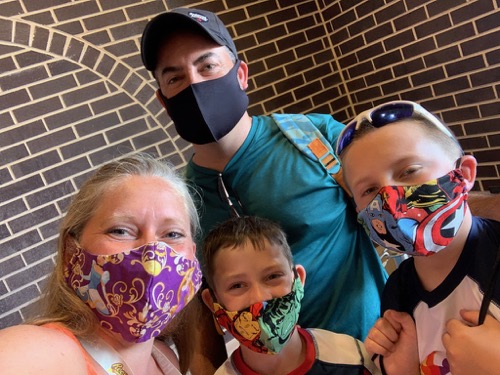 Masks are REQUIRED for ALL guests over the age of 2! From the moment you arrive at the temperature checks, guests are required to wear masks. I have to say, this made me feel even safer while waiting in line. Although it was hot, my family's safety overrode any discomfort I felt wearing my mask. 
When can you take the mask off? Masks are not required in the waterpark area. In fact, it is unsafe to wear a mask when in the water (but you already knew that). Masks can also be removed while eating or drinking. In addition, guests are allowed to take off their masks for certain rides. For example, my boys and I took them off on the Coal Cracker since it was a water ride. Plus, for this ride guests sit in their own boats which are already socially distant from other guests/boats. 
Hand Sanitizer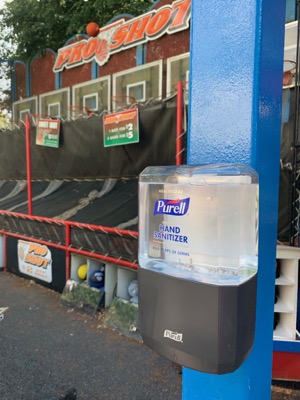 I brought a small bottle of hand sanitizer with me but I NEVER needed to take it out. Why? Because Hersheypark has more hand sanitizer stations than I have ever seen in my life (including on a cruise ship). They really did a great job placing them around the park. Hand sanitizer can be found by every ride, eatery, game, and bathroom, as well as just scattered around the park. I think I used one every 5-10 minutes (because I am a little fanatical). 
Be Prepared to Wait
Due to reduced capacity, you may experience some wait time and lines. For rides, especially coasters, they are not filling each seat. This may cause the lines to move more slowly. Also, areas such as the wave pool and lazy river are working at reduced capacity to allow for social distancing so the lines can get a little long on a hot day. I recommend arriving early or going later in the day because lines are usually shorter then.
Social Distancing
Hersheypark has signs ALL OVER the park encouraging social distancing (and other safety measures). They also have decals on the ground at each ride where guests should stand to stay 6 feet (sometimes more) apart. To also assist with social distancing, chairs and tables are spaced out. This is especially evident near the wave pool. The chairs are in groups of 4 (or less) and separated from each other. The chairs are attached to each other so guests are not able to separate or move them. Although this allows for less seating, I think it was a great idea. We were easily able to find seating during our visit and we arrived at the water park a little later than we usually do. Since the park is at reduced capacity, I don't think this will be a big problem. If concerned, you can always rent a cabana for the day!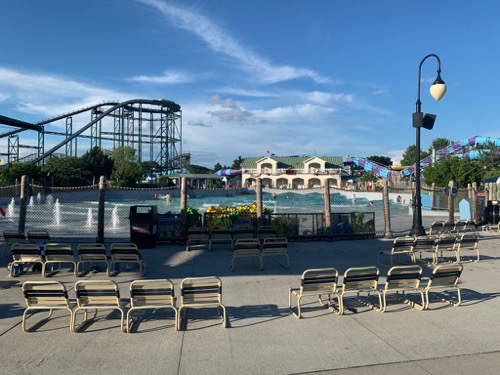 Ride Cleaning
Rides are thoroughly cleaned throughout the day. While on line for Fahrenheit, we observed the process in action. The attendant put the harness bars up and sprayed each seat with a special cleaning solution. Then the car went through the track empty. When it came back, she then sprayed all the tops of the harnesses. This allowed for every inch of the seat and handles to be sprayed. Then the car went through the track again. We were the next ones on the coaster so we definitely felt safe! I also witnessed the lazy river cleaning procedure. After each person got out of a tube, the tube was sprayed with a solution then turned over in the water to be rinsed with the chlorine water.
Characters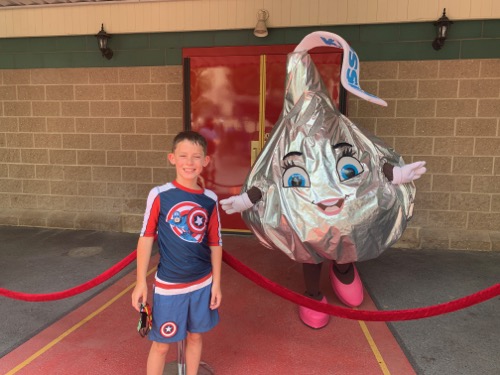 Don't worry, guests can still enjoy seeing their favorite Hersheypark characters! The only difference is they will be located behind a rope. Guests can take pictures with the characters by standing in front of the rope. You can even take your mask off and give a big cheesy smile! (I asked a staff member if it was okay.) During our stay, the characters were in front of the Music Box Theatre, and we took pictures with Kisses and Kit Kat.
Ride Closures
It is sad, but true. Some rides will be closed during your stay in order to adhere to social distancing and other safety measures. Make sure to download the Hersheypark app to stay up-to-date with ride closures, wait time, and even dining options!
Drink Plans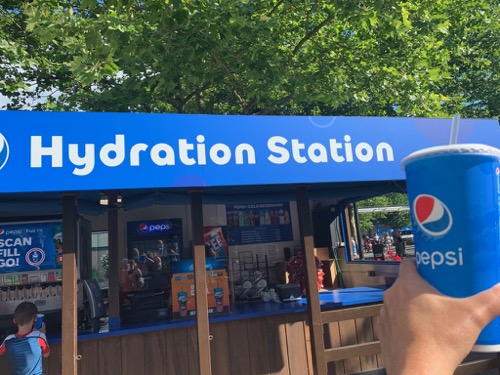 For those of you who have purchased or would like to purchase the souvenir drink cup, here is what you need to know. Hersheypark continues to sell the drink cups; however, staff will NOT refill the cup for you. You will be provided a paper cup and then you can pour the contents into your refillable cup (if you want). This is to help ensure safety and cleanliness. I was also VERY happy to see a hydration station by the pirate ship where we were able to get cups of water for FREE!
I hope this has helped answer any questions you may have about Hersheypark's safety measures. Please visit their website for more information!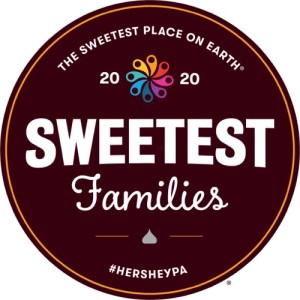 You may also enjoy: