While we have loved visiting sunflowers in New Jersey, we realized that there are other floral experiences in the garden state. Known for so many health benefits, lavender was a favorite scent of the original blue eyes himself Frank Sinatra, and it really does have a lovely rich scent. From cooking to therapeutic purposes, lavender is appreciated across many cultures. Whether you want to enjoy a new experience, photograph a unique moment, or appreciate New Jersey farms, there are quite a few lavender farms in our state. Here are a few we have compiled!
Amazing Lavender Fields in New Jersey
Happy Day Farm, Manalapan
Happy Day Farm is known for its photo opportunities and pick your own experiences which includes viewing the Lavender Fields. Open from June 12 – 30, from Wednesdays until Sunday, you can relax by the flowers or take a tractor ride. There is a $10 cash entry fee which allows you to walk through the Phenomenal and Hidcode variety of lavender.
Hidden Springs Lavender Farm, Skilman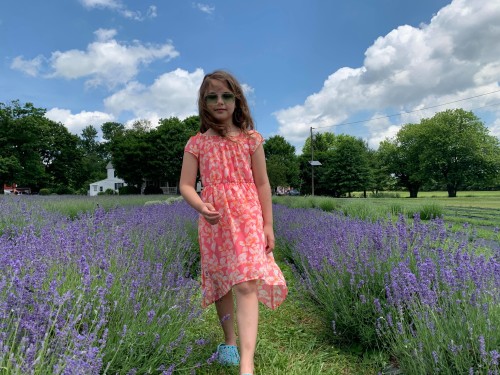 For over a decade Hidden Springs Lavender Farm has been offering lavender to suit a wide variety of needs from cooking to bouquets and more! This farm is open all year with the days and hours open to the public varying by season. At this time, with lavender in bloom, they are open to the general public on Saturdays and Sundays from 10 am to 4 pm. It is FREE to visit but you may want to bring cash to bring the products they make onsite and to feed the alpacas ($1 for feed)!  You can watch the video of our trip below:
Mad Lavender Farm, Milford
Getting its name as a nod to Lewis Carroll, the Mad Lavender Farm was established in 2012 with over seven varieties of lavender. With 10 acres of farm land, Mad Lavender hosts workshops that range from lavender picking to wand making. What also makes this farm a distinctive location, is their offering of goat yoga! Check their website for different events as well as confirming the bloom season which appears to occur during mid-June to July.
Orchard View Lavender Farm, Port Murray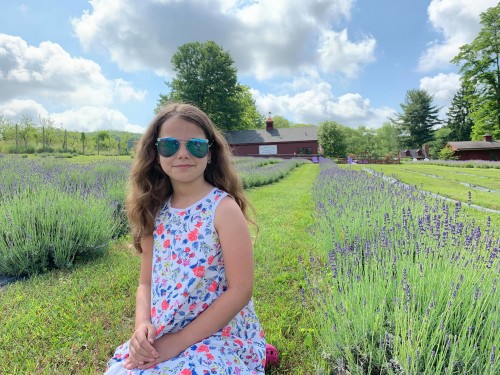 Established in 2015, Orchard View is located in Warren County where visitors are welcome on Fridays, Saturdays and Sunday from 10 am – 5 pm. This tranquil location hosts events throughout the year, but if you are interested in seeing lavender flowers make sure to follow their social media to see when it is in bloom. It is FREE to visit and parking is onsite. Check out our video for a quick tour!
Pleasant Valley Lavender Farm, Morganville
On ten acres filled with English and French lavender, Pleasant Valley Lavender Farm is open to the public to cut their own lavender bundles. You can also pick up their products or plants!  Upick tickets are currently available to purchase for late June to July.
Princeton Lavender, Princeton
Guests are invited to visit Princeton Lavender to purchase some bundles of lavender, spend time with their goats (you can purchase feed for them at the shop) and enjoy a picnic.  Hours are Saturdays from 10 am- 4 pm and Sundays from 12-4pm.  Weekend farms visits require a $10 purchase per adult and $5 per child at the farm stand.  However the sound of Cold Brew Lavender Coffee and Homemade Vanilla Ice Cream with Candied Lavender Flower does sound delicious!
If you like this, you might enjoy!