From the moment the weather got nicer and the parks reopened, my family was out the door and ready for adventure. Despite all the fun places we have been, hiking was not something we had done much of, until now that is! In one of the NJ hiking groups I belong to, I learned about a great trail in Sussex County that was not far from my house. Tillman Ravine looked picturesque and perfect so I knew we had to check it out.
Located within gorgeous Stokes State Forest in Branchville, NJ, Tillman Ravine is the perfect day trip destination. Tillman Ravine can be accessed by taking Tillmans Trail. This trail is not located at the Stokes State Forest main entrance but you can find directions and map at the main office. Tillmans Trail is located 4.5 miles up Struble Road which is off Route 206. There is a small parking lot and restrooms at the trailhead. 
From the moment we entered the trail, we were in awe of the forest. I loved looking up seeing the sunlight glistening through the trees. It was truly magical. Tillmans Trail is a dirt trail filled with adventure from start to finish. My boys loved walking through the water and jumping from rock to rock. Tillmans Trail takes guests to Tillman Ravine which is breathtaking. After exploring the ravine, we took the Teacup trail out to the road. We then turned around headed back to the parking lot taking the same route. Our hike was a little over 2 miles. If you are looking for more adventure, you can head up the road to Buttermilk Falls. We are hoping to do that one soon!
Here are some more activities you can enjoy on your hike!
3 Activities to Enjoy at Tillman Ravine in Stokes State Forest
Explore the Water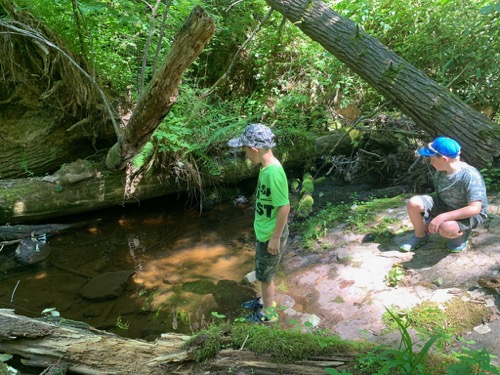 What we loved most about this trail is that guests are able to explore the water. In addition to the ravine,there are small streams and pools of water hikers can enjoy. My boys even climbed off a bridge to walk through the water. I recommend bringing a magnifying glass so the kids really examine the water.
Take the Upper and Lower Trail
Tillmans Trail offers a lower and upper trail. The lower trail takes you along the water while the upper trail is more of a forest view. We took the lower trail going in and out because my boys loved the water, but I would like to try the upper trail next time.
Look for Wildlife and Plant Life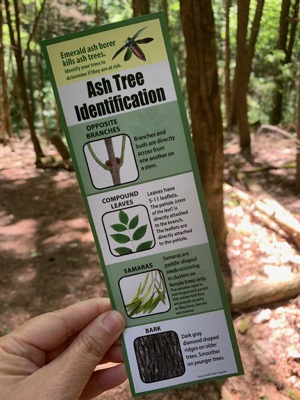 Stokes State Forest is rich with plant life. If you stop at the Stokes main office before heading to the ravine, you can pick up an Ash Tree (Ash Tree Look-a-Likes) Identification brochure. This can add to the learning fun. The forest also has unique creepy crawly critters like beetles eating sap on a tree, interesting spiders, and snakes!
Things to Know
The entrance to the trail is not at the main Stokes State Forest entrance; however, I recommend a stop there so you can pick up FREE maps and a plant life guide.

Wear water shoes! As stated above, there are several places to explore the water so I definitely recommend wearing water shoes.

Although you can explore the water, swimming is NOT permitted.

There is a restroom at the entrance to the trail. Although the sign says "closed," the doors were not locked.

Dogs are allowed but make sure to clean up after them and do not leave poop bags in the park.

There are no picnic tables along this trail.

With any hiking experience, make sure to wear bug spray and a hat to protect yourself from ticks.
Bonus: Jumboland Diner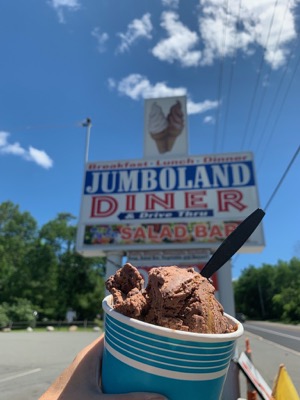 After a long hike, treat yourself with some delicious ice cream at Jumboland Diner. Serving guests for over 60 years, Jumboland is conveniently located just down the road from the forest on Route 206. After enjoying a delicious cheeseburger or hot dog, order some incredible hard and soft ice cream. They have picnic tables so you can enjoy your meal outside.
You may also enjoy: