"Entrepreneurs are the only people on Earth that can actually change the world!" ~ Russell Brunson
Take a moment to think about that statement. When we think about changing the world, we often think about things like world peace, saving the oceans, and spreading kindness. The first word that pops into our heads is not "entrepreneur." When I read this line in Russell Brunson's book Traffic Secrets: The Underground Playbook for Filling Your Website and Funnels with your Dream Customers, it made me really think about what an entrepreneur is.
According to Wikipedia, an entrepreneur is "someone who designs, launches, and runs a new business." So how does someone who runs a business change the world? They create something amazing, that's how! They create something that makes your life easier, better, or more satisfying. Without people who risk it all to start a business or create a product, where would we be?
Russell Brunson makes it clear, however, that without understanding the art and science of getting traffic, the business will fail. Sadly, this happens to thousands of entrepreneurs every year (maybe even every day). The key to success is to make sure consumers are able to find you. As stated on the back cover, "This book will help you find YOUR people, so you can focus on changing the world with the products and services that you sell." 
For those that don't know, Russell Brunson is the CEO of the $100M software company ClickFunnels. Launched in 2014, this company has helped millions of entrepreneurs. He is also the Best Selling author of DotCom Secrets which is referred to as "THE playbook for how to build sales funnels." Russell added to his success by writing Expert Secrets. Traffic Secrets is the 3rd installment of his successful program to help business owners not only succeed but thrive.
I am currently participating in a 30 day challenge with Russell Brunson. As I read each chapter and complete various activities, I am learning the key secrets/strategies to increasing traffic in order to build my business. This book has captured my interest and attention since the moment I started reading the Foreward. Since my background is not in business, I have been completely intrigued by what I have learned so far. Russell Brunson offers incredible insight into this amazing world. What I love is that I am able to use my background in psychology to understand and apply a lot of the concepts he teaches.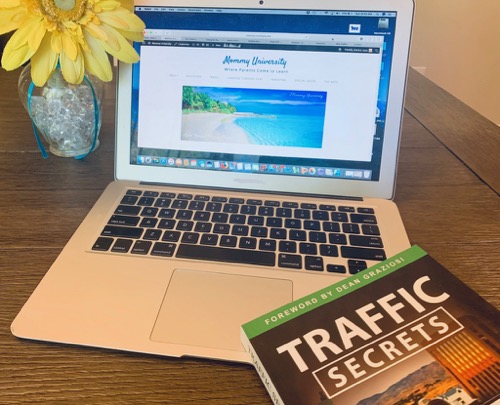 Since Mommy University is a blog and not your typical business model, I am able to apply Russell's Traffic Secrets in unique ways. I am able to use his strategies to not only increase my traffic but to also find partners who want to purchase sponsored content. Traffic Secrets has also encouraged me to really delve into my business and understand its purpose. Each day I have to think about what my goal is and who I want to reach, or in my case help. Here are some of what I learned so far:
Know Your Niche
As a blogger, there is endless competition. There are thousands of parenting blogs out there so I have to figure out what makes Mommy University unique. This is true for any business. If you sell clothes or jewelry, what makes your product special? What do you offer that others don't?
Understand Your Customer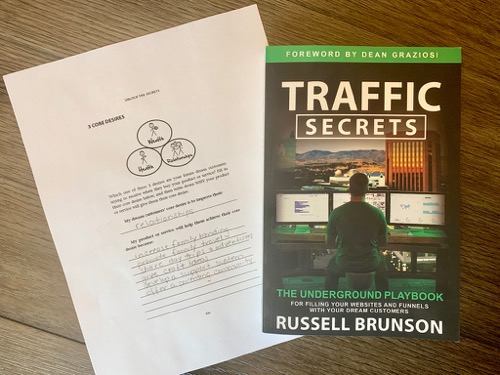 In order to build traffic and a customer base, you have to understand your audience. Russell Brunson shared that everyone is seeking one of 3 core desires when they visit your website: wealth, health, or relationships. Understanding which desire your business focuses on will help build your traffic. It's also important to understand your customer's struggles, goals, and motivation. Empathy and relatability is key to increased traffic and success.
Hook, Story, Offer
Once you understand your customer (or reader in my case), it is easier to grab their attention. It is important to connect with the customer on a personal level. Hook, Story, Offer is a key strategy that Russell Brunson discusses in Traffic Secrets. It is one of the best secrets to increasing traffic and sales. What I learned is that offers have different meanings to all businesses, and it's important for an offer to be unique and add value to the product. At Mommy University, we offer parenting tips, advice, and ideas but with a twist. What makes us unique from other parenting blogs is that we not only share fun places to visit and explore, crafts to make, or activities to do at home, but we add an educational piece to each experience. Our goal is to help parents make learning fun and easy. When kids love to learn, their confidence grows which leads to a successful future! 
Develop a Relationship
Once you have your customers or readers, it is so important to develop a relationship with them. Whether it is someone who shops with you once a month or once a day, they need to feel heard and important. The same goes for readers of a blog. Every like, comment, and share is important to me, and I do my best to develop that relationship by responding or thanking the reader for their support. I also work hard to develop relationships with sponsors such as toy companies and travel destinations. Having a reciprocal relationship increases success.
Stay Positive and Never Give Up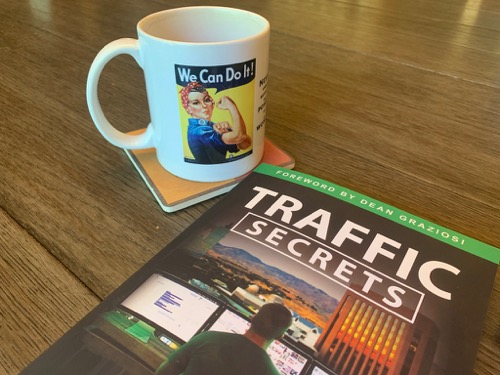 Okay, this isn't an actual "secret" in the book, but it is something I have learned along the way. Just by reading this book I can easily conclude that Russell Brunson is one of the most dedicated, hard working, and optimistic business owners in the world. Through all his ups and downs, he never gave up and that is the true message in this book. 
I am about halfway through my 30 day challenge and I cannot wait to learn more from Russell Brunson's book Traffic Secrets: The Underground Playbook for Filling Your Websites and Funnels with Your Dream Customers. Please follow my journey on Facebook, Twitter and Instagram. Also, please take a moment to subscribe to the MU newsletter to stay up-to-date on all our exciting brain boosting adventures!