From the moment the weather got nicer and the parks reopened, my family was out the door and ready for adventure. Despite all the fun places we have been, hiking was not something we had done much of, until now that is! I had heard so many amazing things about Hacklebarney State Park so we had to check it out.
Located in gorgeous Long Valley, NJ, Hacklebarney State Park offers over 1000 acres of exploration and adventure. The park has several trails to enjoy making each visit unique. For our first adventure, we decided to take the Red Wallaby Riverside Loop to the Blue Collar Loop to the White Trail. It was around 2 miles of amazing hiking. For our second hike, we did Red to Blue Jeans to White. This loop was closer to 1.7 miles. The Red Loop takes hikers all along the freshwater Black River. While the inner loops are open and mainly flat, the Red Loop takes you along somewhat rugged terrain of rocks, fallen trees, and water. Depending on the weather, you will most likely encounter some mud as well.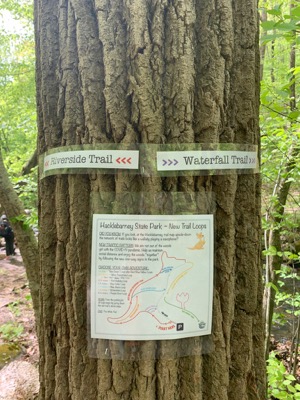 During our walk, we loved stopping to check out the scenery, including waterfalls. There are plenty of places to stop, rest, and explore during the hike. Besides picnic tables, there are also benches throughout the trails. The kids even stopped and dipped their feet in the water. We did not go swimming but we did see some people in bathing suits. Here are some more activities you can enjoy on our hike!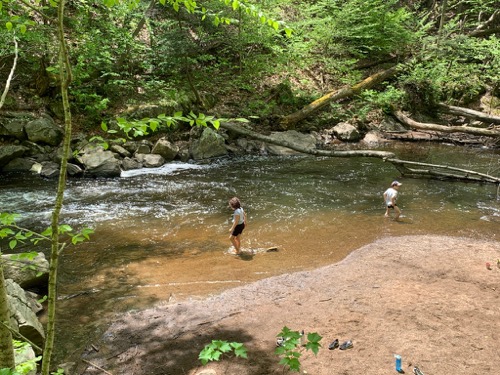 3 Activities to Enjoy  atHacklebarney State Park
Eat Some Donuts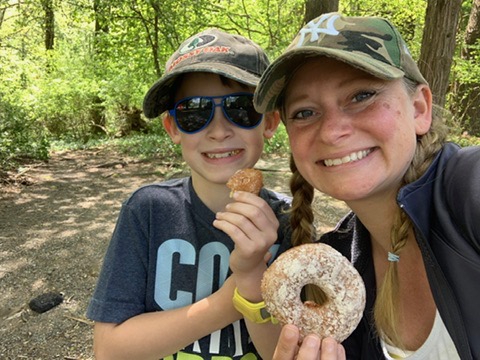 Before heading to the park, make sure to stop at Hacklebarney Cider Mill for delicious cider donuts. We picked up a dozen donuts and ate some of them during our hike. They were delicious and gave us energy for our adventure.
Go Fishing
The Black River is stocked with trout so fishing is a great way to spend your day at Hacklebarney State Park. You can pick one spot for the day or explore the river. During our trip we saw several people fishing, even fly fishing.
Explore the Waterfall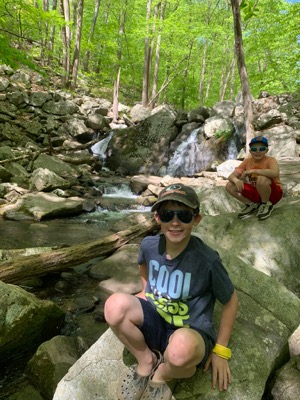 We encountered 2 waterfalls during our hike. Towards the beginning of the Red Loop is a large waterfall. You have to go off the trail to explore it but there are stairs you can take. This is a beautiful spot to sit and relax, take pictures, take in the views, and explore nature. We spent a good amount of time here going from rock to rock. There is another waterfall by the bridge near where the Red and Blue Jean Loops meet. We all had a blast climbing the rocks and exploring the falls.
Things to Know
On nice days and weekends, Hacklebarney State Park reaches capacity quickly. I recommend going early in the day.

There is a restroom at the entrance to the park.

Due to COVID-19 regulations, the loop is only one-way at this time. I actually preferred this because you pass less people.

Dogs are allowed but make sure to clean up after them and do not leave poop bags in the park.

There are many picnic tables so you can bring food but remember to take it with you and remember that bears are in the area.

With any hiking experience, make sure to wear bug spray and a hat to protect yourself from ticks.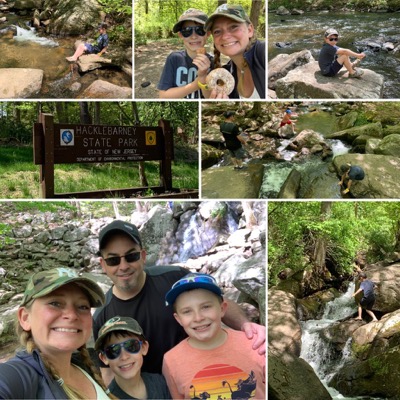 Hacklebarney State Park is located at 119 Hacklebarney Rd., Long Valley, Chester, NJ.
Bonus: Taylor's Ice Cream Parlor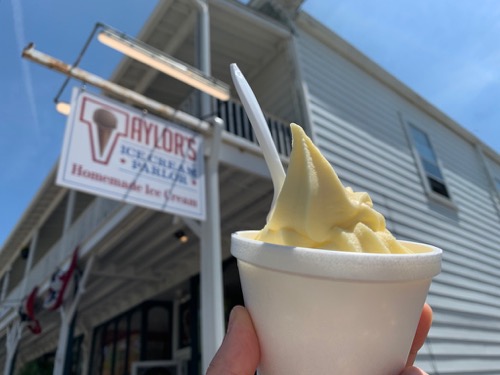 After a long hike, treat yourself to some delicious ice cream at Taylor's Ice Cream Parlor in Chester. Taylor's offers over 40 flavors of homemade ice cream. For my Disney fans out there, they also serve Dole Whip, and it's magical! 
You may also enjoy: