Get Outdoors!
Now more than ever, getting outdoors and inhaling some fresh air has never been more paramount to our mental health. Absorbing Vitamin D from the sun has always helped improve my mood after a wet and dreary spring, yet hiking through the woods to smell, touch, and see nature can help restore balance in our lives that has been heavily saturated with screen time in work and education. There are plenty of benefits to hiking, but what do you do when you have young kids?
Bringing young children on a hike isn't always easy especially in the beginning as you may hear moans and complaints. However, there are simple activities you can use to make it a game or fun for them. Here are some fun ways to enhance you next hiking trip with the family. (We included Amazon affiliate links to make planning and shopping easier.)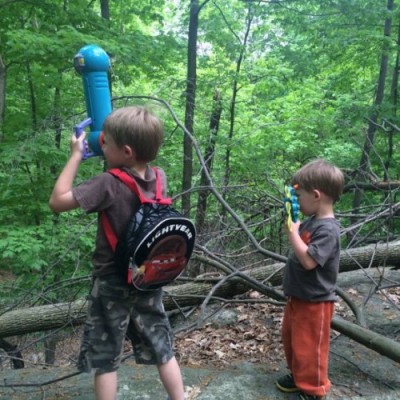 Questions & Activities to Enhance Your Trip
Imagine What You May Find
Before embarking on the hike, ask what they might imagine encountering on the trip. For young children, this is a great exercise to help develop their critical thinking skills. After the walk, you can compare their original to list to what they did encounter. Was it what they thought would find? If there was something they didn't expect, how did that make them feel?
Play I Spy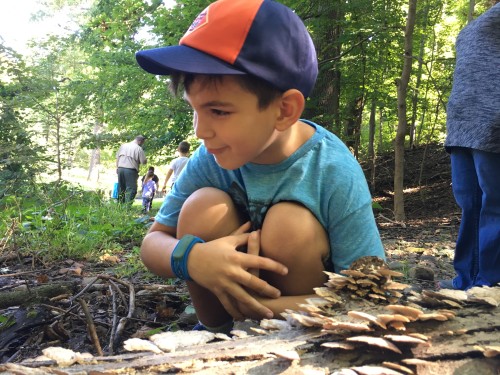 This is a classic and go-to game that little kids love even if it means hearing the same thing over and over (just remember younger children learn through repetition). Begin with "I Spy with my little eye …" and go from there. You can start with colors but also do shapes or other descriptive features.
ABC Scavenger Hunt
Take I Spy to the next level by having to find something on the trail that starts with each letter of the alphabet. You can come up with your list before your hike or make it up as you go along. Not only does this keep young minds busy while walking, it also helps increase vocabulary and language arts skills.
Identify Trees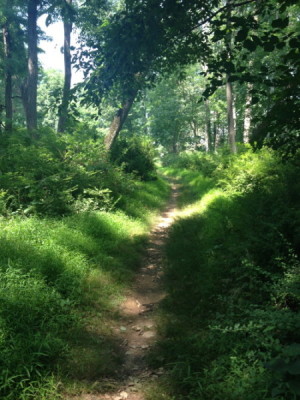 A hike is a great time to introduce kids to Dendrology, the study of wooded plants. There are several ways to accomplish. You can bring the Field Guide like Field Guide to Eastern Trees: Eastern United States and Canada or The Tree Book for Kids and Their Grown-Ups to identify trees as you see them. You an even use the book to create a check list of the trees you might see. Another idea is to take some leaves home that you found on the trail, and then research online to match what tree you came across.  
Leaf Match
If finding trees is a little too difficult, you can also do a leaf match activity. For little ones, they can just find matching trees along the trail, while older kids can bring a picture list and match the leaves they found to the list. Another idea is to match the leaf on the ground to the tree it came from. The same concept can be done with pinecones too!
Bring a Camera
Equip your children with a small disposable camera and let them take pictures of what they find! Taking photos works great especially if you can't take home what you find. It also enables them to explore their creative side. You might even be surprised by their photos and print some to put on the fridge!
Observe Birds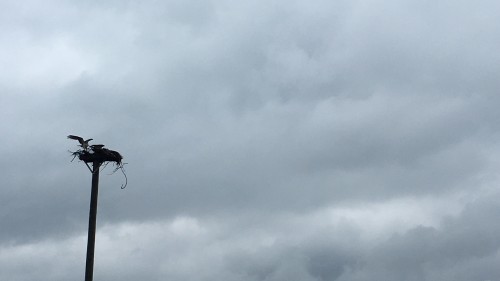 Teach kids to appreciate the original tweet! Bird watching is a relaxing activity that can be done anywhere. I recommend getting a field guide like the Peterson Field Guides and you can write the dates they find birds. We currently have my father's field guide with his notes, and now that he is not with us, my children treasure this even more.  
Bring Some Field Equipment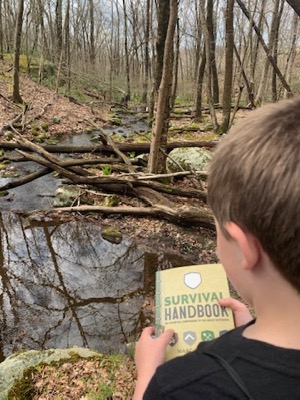 Let the kids play scientist for the day by bringing certain "essentials" on the hike. Ever since Jessica's son became a scout, he has loved bringing his compass and survival book with him whenever her family explores nature. You can also have them bring binoculars and a magnifying glass. One trip, we even brought a periscope!
Find a Rainbow
While it may seem as though I am recommending to find a physical rainbow, think of this as a colorful scavenger hunt. Each person is challenged to find items that match a color in the rainbow. Extra points for the person who finds the most unique items in their rainbow.
Keep a Journal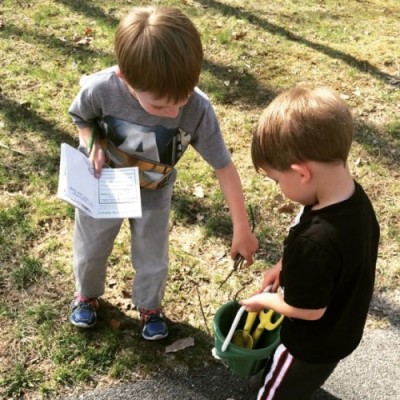 Encourage your kids to bring a small nature journal and pencil where they can write what they find and even sketch drawings. For little ones, have them bring a bag or bucket to collect items so they can write and draw when they return home. This activity incorporates writing and art while documenting their adventures! 
Look for Animal Tracks
When hiking, my kids love looking for animal tracks. We try to guess what animal they came from and where that animal is going next. You can also bring a printout of animal tracks (or get The Scouting Guide to Tracking) and check off the ones you find. If you want to get even more creative, you can make a cast out of the animal track.
Go Fishing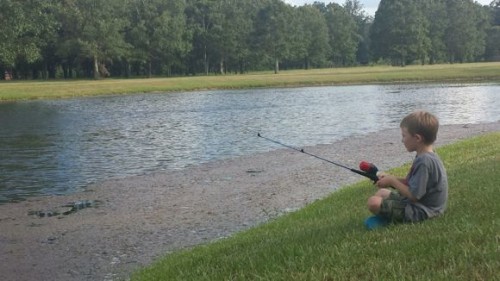 Make sure to pack your fishing pole and bait during your next hike! Many hiking trails offer spectacular stops for fishing. Make sure to check with the park and read the map before embarking on your adventure.   Your kids can learn so much from fishing!
Pick Up Trash
While exploring nature, make sure to help with conservation efforts as well. Bring a bag and some gloves with you, and collect trash along the way. This allows your kids to engage in some community service while helping the planet!
Breathe!
Don't forget the best part of hiking is the journey! Breathe the air in and use all your senses to understand what surrounds you.
Questions to Ask
What animals do you hear? What sounds do you hear?

What do you smell?

What do you see?

What does the bark feel like?

What insects can you find?

What do you think caused that…. (fill in the blank)?

Why do you think that grows there? (for example moss needs moisture and most flowers need direct sunlight)

What do you think that does?
Those are some fun ideas we have! What activities do you enjoy while hiking? Share them in the comments section below and maybe we will add them to the post!
If you like this post, you might enjoy!