During this new normal of learning at home, I have been trying to find fun ways for my kids to learn that goes beyond what their teachers have sent. Although that work is important, I have found that they also need things that interest them and where they feel they can connect with others. That's why I was so excited when I found the Marine Science Lessons through Reef Relief!
According to their Facebook page, "Reef Relief is a nonprofit membership organization dedicated to improving and protecting our coral reef ecosystem." Located in Key West, Florida, a few of the main goals of Reef Relief are:
Educate the public about conservation.
Increase the awareness about the importance of coral reef ecosystems.
Increase scientific understanding and knowledge about coral reef ecosystems.
Help design, develop and implement ways to protect these ecosystems.
Throughout the year, Reef Relief normally offers incredible educational programs such as summer camps, school programs and volunteer programs. They also enhance learning at their Key West Marine Park and Reef Relief Environmental Center. Since the implementation of social distancing, Reef Relief has continued their efforts in educating the world about coral reef ecosystems through their Marine Science Lessons on Facebook.
How It Works:
Every Monday, Wednesday and Friday, individuals of all ages can tune into the Reef Relief Facebook page at 10:30am (EST) for a LIVE Virtual Marine Science Lesson. Each lesson lasts 30-45 minutes long and includes fun worksheets, activities, quizzes, experiments and more. Don't worry if you miss the LIVE lesson, they are available on YouTube after the LIVE lesson has been presented. Each week or day, has a theme. So far we have learned about mangroves, sharks, whales, sea turtles, oceanography and so much more.
Prior to each lesson, Reef Relief releases a schedule for the week as well as links to worksheets, activities and experiments. Don't worry, answer sheets are also provided! Before each lesson, you can print the corresponding worksheets and complete them while following along with the lesson. Some lessons offer crafts, games and experiments at the end. One even offered a LIVE fish dissection which the kids loved to watch!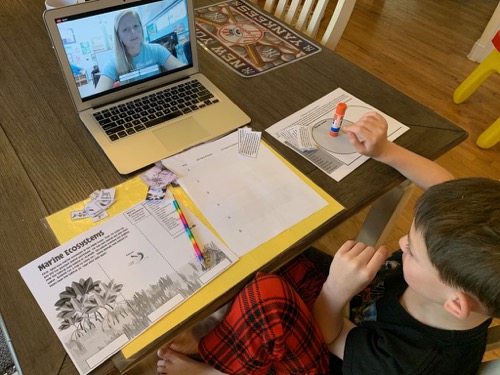 For each lesson, the teacher starts by reviewing what was taught the lesson before which I LOVE! This is a great way to engage kids from the start. She offers quizzes on the screen that kids can answer in real time. My son gets so excited when he gets the answers right! Throughout the lesson, additional questions are posed allowing kids to make predictions and show any prior knowledge they may have on the current subject area being discussed. At the end of most lessons, the teacher walks viewers through a fun craft or experiment.
There are so many reasons to LOVE the Marine Science Lessons offered by Reef Relief. Besides being FREE, they are fun, engaging and filled with educational benefits. Here are just some of the endless reasons we won't miss a lesson!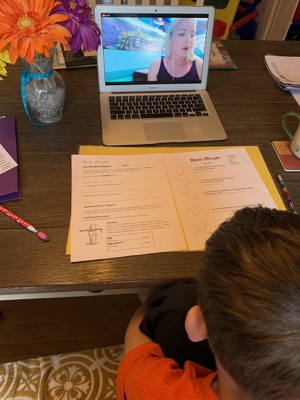 Why We LOVE Reef Relief Marine Science Virtual Lessons
A Substitute for School Science Lessons
As soon as I found the Reef Relief lessons, I reached out to my son's 2nd grade teacher. We made an agreement that he can watch the lessons and complete the worksheets in lieu of Science lessons sent by his teacher. I send her pictures of my son watching the lessons as well as the worksheets he has completed. I will also turn in the work when school resumes. My son loves the lessons so I am not "pulling teeth" to get him to participate and complete work.
Increases Awareness
One of Reef Relief's goals is to increase awareness of coral reef ecosystems, and these lessons do just that! Since we live in NJ, coral reef systems are not something we encounter much so these lessons have allowed us to learn all about these incredible ecosystems and understand their importance.
Allows Kids to "Travel"
The Reef Relief Virtual Lessons allow my family to "travel" to see not only coral reefs but also "visit" with incredible sea creatures. By engaging in these lessons, we are able to escape our home, even if it's just for a little bit, and explore the world.
Lesson Enhancements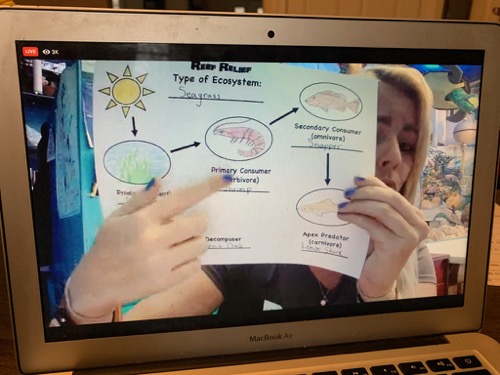 For each lesson, Reef Relief offers fun activities, crafts or experiments to enjoy once the lesson is over. The teacher reviews the worksheets during the lessons as well as conducts fun experiments. They also offer printouts with step-by-step instructions to recreate the experiments at home. My son's favorite activity was making an edible coral polyp out of candy!
Offers Multi-Sensory Learning
Kids learn best by using all of their senses. They need to be engaged in order to understand and grasp concepts, especially Science. Reef Relief Marine Science Virtual Lessons allow viewers to learn through sight and sound during the LIVE lessons while the enhanced worksheets and activities (discussed above) let kids touch, taste and smell while learning. By making crafts and engaging in experiments that align with the lessons, my boys are truly able to grasp the concepts covered during each lesson.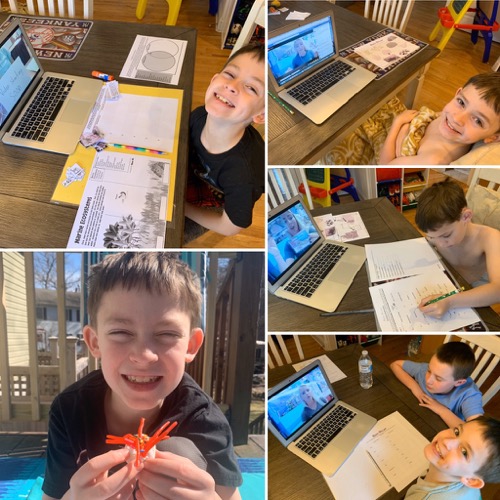 To learn more and to join the fun, please visit the Reef Relief Facebook page!
You may also enjoy: