Lately, my boys have been glued to their devices. It is always a fight to get them off and engage with the family. That is why I was so excited when I learned about ProjeX and was offered the opportunity to review this innovative toy. This fun and exciting interactive gaming system lets my boys play games while also spending time with their family. It turned our basement into the ultimate gaming arcade!
For those that have not heard of ProjeX yet, it is an easy to use gaming system that does not require a television, device or even WiFi. All you need is 3 AA batteries and a blank wall and you are ready to play. ProjeX comes with a portable projector, 2 laser blasters and 3 target cartridges that offer 5 built-in games each!
How Does It Work:
To play, you need a blank wall in a dark/dimly lit room. The wall should be light colored to see the targets better. We used a portable movie screen but you can use just a light colored wall, the side of your house, garage door or even just a plain white sheet. It is best if the wall does not have any patterns or images on it already. The projector needs to be set up on a low table about 5 feet away from the wall. Once you start, you can adjust the projector to your liking. The room should be dark for best results. You can also play outside at night!
ProjeX can be played solo, head to head or co-op. Each cartridge comes with 5 built-in games and 3 difficulty levels. Players can choose from: targets, UFOs or ducks. My 10 year old loved the UFO game the most while my 8 year old enjoyed the targets. Each cartridge offers endless opportunities to play as a family.
At Mommy University, we are always looking at the educational benefits that each toy offers our kids. ProjeX is no exception. Besides being easy to set up, ProjeX allows families and friends to learn as they play. There are so many wonderful benefits and here are just a few.
Benefits of Playing ProjeX 
Enhances Visual Scanning Skills
Visual scanning and tracking are important cognitive skills needed to be successful in school and in life. ProjeX is a fun way to enhance these important skills. During each game, no matter the difficulty level, players have to quickly scan the playing area to find the target. Then each player must point the laser precisely on the target to blast it. This involves a great deal of visual skills including visual scanning and tracking as well as motor planning. This is a fun way to enhance tracking skills especially for athletes who play tennis, baseball and football.
Involves Quick Thinking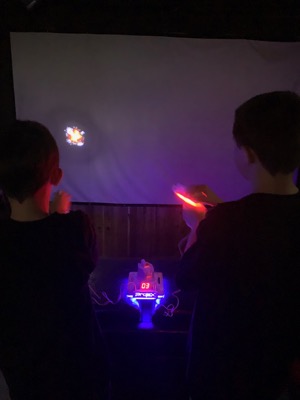 As the targets move quickly across the wall, players must think quickly to move and act if they want to win. You never know where the target might end up so you have to transition quickly to blast it. This helps build problem solving and perceptual reasoning skills as well.
Everyone in the Family Can Play
Although ProjeX is recommended for ages 6 and up, with supervision, even the youngest family members can play. The blasters are easy to hold and use, and the varied difficulty levels makes ProjeX fun for all ages and skills levels. I loved playing against my kids, and they really didn't like when I won!
Increases Strategic Thinking
There are some games that involve strategic thinking and planning. For instance, for one game, players have to make sure the target never hits the bottom of the wall. If it does, the game is over. Players can work together to keep it from falling. This form of game play encourages kids to use strategy and problem solve in order to defeat the game.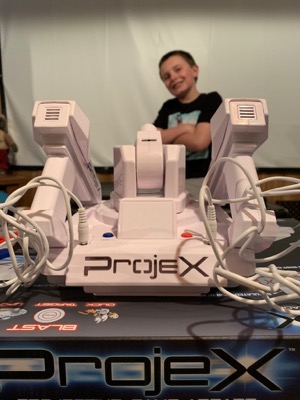 ProjeX can be purchased for under $50 at Walmart or Target. To learn more, visit the ProjeX website.
You may also enjoy: