Whether it's to enhance learning after school, over the summer or during an unexpected school closing, there are so many fun ways to help kids continue to learn at home especially when it comes to writing. Since my kids were old enough to hold a crayon, I encouraged them to scribble, draw and write. Now that they are older, I continue to encourage a love of writing at home. Here are some fun ways you can enhance writing skills at home. (I included Amazon affiliate links to make planning and shopping easier.)
 Fun Ways to Enhance Writing Skills at Home
Salt or Sand Tray
Using sand is an essential multi-sensory tool for the Orton Gillingham method when teaching kids to read so why not use it at home too? It is cost effective and easy to do every day. Just add some salt or sand to a plate, small tray or cookie sheet and let the learning begin. There are several ways to use this method. For little ones, have them practice writing letters. They can start by copying letter cards or modeling you. As they become more aware of letters, you can simply say the letter and have them write it from memory.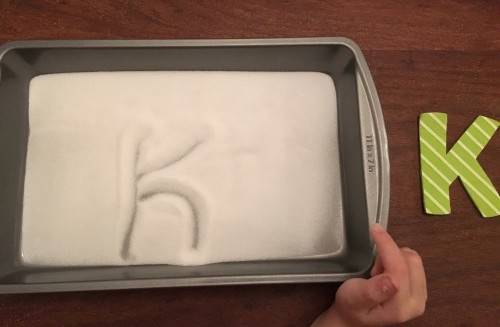 The tray can also be used to enhance an understanding of letter sounds. Simply say the sound of a letter and have your child write the letter that matches. You can then move into sound blends like /th/ and /bl/. Once your child has mastered sounds and blends, you can move to words. This helps enhance spelling and phonics skills which is needed to be a good writer.
Outdoor Chalk
Get the kids outside and learning with outdoor chalk! My kids have loved using chalk outside on our driveway since they were toddlers. The thickness of the chalk pieces make them perfect for children learning to write. Have your kids start with lines, shapes and scribbling. When ready, write their name then have them copy it. As they become more comfortable, have them write their name independently. Next, have them write the alphabet. As my boys got older, I had them write their spelling words and sight words with chalk.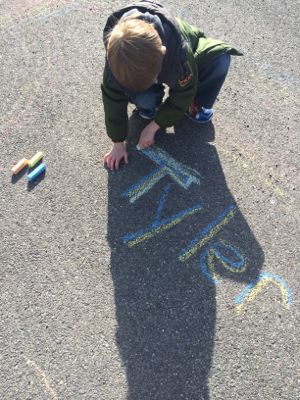 Tracing
Tracing is a great way to help kids learn how to write. For little ones, start with lines and shapes, then move to letters and numbers. There are so many ways to trace, and you have to find what works best for your child. You can purchase workbooks, wipe clean books or even make your own worksheets. Using dots or dashes is a traditional tracing method, but using a highlighter has also been shown to be very effective in the classroom. To save on paper, you can make a tracing sheet and have it laminated so your child can practice over and over.
Fill-in-the-Blank and Sentence Starters
If your child is struggling with writing sentences independently, having them fill in already created sentences is helpful. You can leave blanks in the beginning, middle or end of the sentence. Once they master filling in blanks, you can just use a sentence starter. For example, you can write, "Today in school, I ____________," or "When I grow up, I want to __________."
Picture Prompts
To help encourage writing, give your child a picture prompt. The picture can be a drawing or cut out from a magazine. Your child can then use the picture to develop a story or informational paragraph. Another fun prompt is a squiggle prompt. On a piece of paper, draw a squiggly line or shape, then have your child create a drawing out of that squiggle. Once they finish their drawing, have them write a story about it.
Journal
My favorite way to encourage writing is having my kids write in a journal. This is something we usually do over the summer or when on a big vacation. I have them write about what they did each day including talking about how they felt about each adventure. Journals are perfect for not only getting kids to write, but encouraging them to express their feelings. If your child has trouble, coming up with something to write about, give them a question to answer such as, "Where will you be in 20 years?"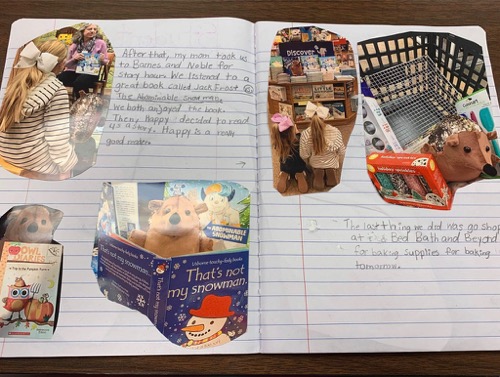 Write a Letter
A fun way to get kids writing is to have them write a letter to someone. They can write to a family member that lives far away or a friend they don't see that often. Another option is to write to someone in the military, hospital or nursing home. This not only enhances writing skills but also makes someone's day brighter.
Write a Book
My son LOVES writing his own stories and books. He is even writing chapter books. If your child likes to write, encourage them to expand their writing by creating longer and more involved stories. There are some great kits on Amazon to help kids make their story books!
Learning Toys
There are so many amazing toys that encourage learning through play, and a lot of them help enhance writing skills. The LeapFrog Scribble and Write Tablet was a favorite in our house for years when my kids were learning to write their letters. The VTech Write and Learn Creative Center is also a tool we used frequently when my boys were increasing their writing skills. Other great toys for little ones are: Fisher-Price Think & Learn Alpha SlideWriter and LeapFrog Mr. Pencils' ABC Backpack. Another great learning tool for school aged kids is Speak & Spell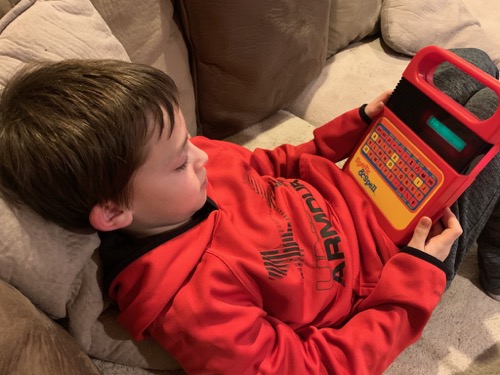 Have more ideas? Share them in the comments section below. Happy writing!
You may also enjoy: