Ever wonder if the dinosaurs really do come to life when you sleepover at a museum? Well, you have to experience a Night in the Museum at The Academy of Natural Sciences to find out. This unique experience is open to guests ages 6 and up, and it is the perfect adventure for families, couples, friends and scout groups. Located in Philadelphia, The Academy offers endless opportunities to explore, play and learn especially after the sun goes down!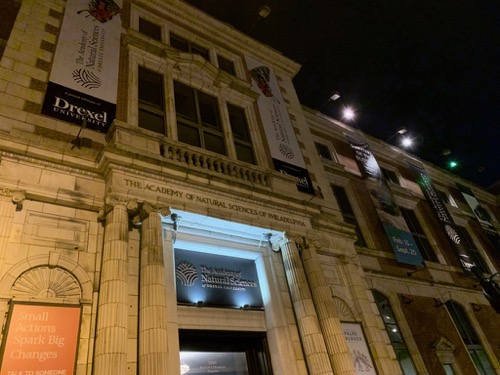 How It Works:
Guests must pre-register for a Night in the Museum event. You can register online or by calling 215-299-1060. The event costs $60/members and $65/nonmembers. There is also a VIP package for $89 if you want to sleep in Dinosaur Hall. Check-in begins at 6:30pm. If you arrive early, you can wait in the Ground Floor Lobby, but they will not allow you to register until exactly 6:30pm at the main entrance. The event ends at 9am the next morning. At that time, all gear must be removed from the building; however, guests are allowed to return to the museum at 10am when it opens to explore all day. The event includes a light snack at night (pretzels, fruit, water, lemonade and coffee) and breakfast (cereal, milk, fruit, bagels and coffee).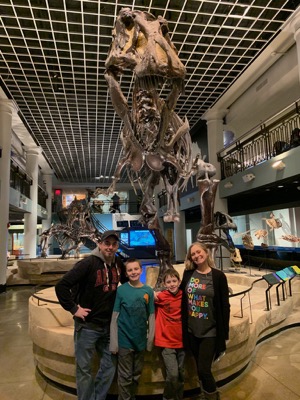 Each guest/group is assigned an area to sleep. We were assigned to the North American Hall. Upon arrival, you will place your items against the wall in your area. In order to leave room for exploring and walking, bed set-up is not until 10:30pm. The Commons Room located on the Ground Floor is open all night for those that have trouble sleeping or just want to talk and hangout. Emergency lights are on all night so the museum is not pitch black.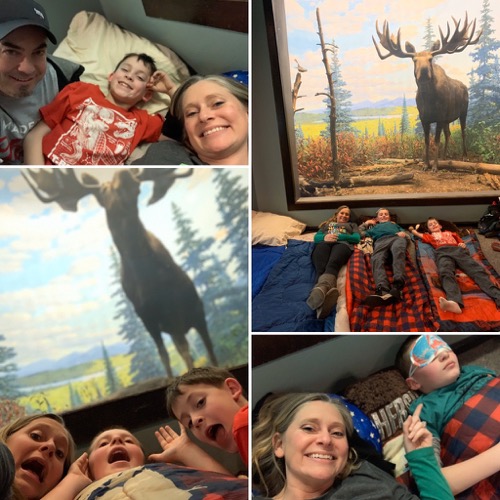 What To Bring:
Sleeping bag and pillow. (The floor is hard so you are also welcome to bring a sleeping pad or air mattress. I recommend bringing a yoga mat to place under your sleeping bag for extra cushion.)
Toiletries: toothbrush, toothpaste, hair brush, etc.
Refillable water bottle. Although water is available throughout the night, bringing your own water bottle decreases the amount of times you have to walk up and down to the Commons Room.
A flashlight is optional. Since the museum is not pitch black, we did not feel it was necessary.
Wear comfy clothes to the event. Although you can pack a change of clothes, I recommend just wearing your pajamas or sweatpants there so you are ready for the night.
What To Expect:
Upon arrival, you will receive a schedule of events. After putting your supplies down in your assigned area, there is a brief orientation in the auditorium. Guests are then invited to explore and play. Light snacks are available 8-9pm in the Commons Room, and bed set-up is at 10:30pm after the Live Animal Show at 10pm. For those that can't fall asleep, there is a short movie at 11:05pm in the auditorium.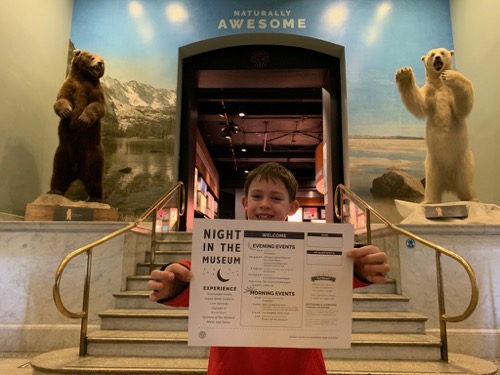 The lights go on around 7am the next morning, and guests are invited to the Commons Room for breakfast which is available through 8am. I recommend cleaning up your gear at that time, and then leave it against the wall while you enjoy your last 2 hours in the museum. From 8-9am, the gift shop is open and several exhibits are open for exploration. Guests can also purchase patches and Night in the Museum t-shirts at the Ground Floor Lobby.
There is so much to do during your Night in the Museum. My family made it a point to enjoy every activity and adventure offered. We had so much fun and made memories to last a lifetime. Here are the activities you can enjoy throughout the night:
Flashlight Scavenger Hunt
To kick off our night, we worked together as a family to complete the Flashlight Scavenger Hunt in Dinosaur Hall. Guests are provided a flashlight, list of questions and an answer sheet. You have to find the exhibit that answers the trivia question, then shine the flashlight on a small black box in the exhibit which then reveals a letter. You have to write the letter next to the corresponding trivia question number. Once you solve the code, you receive a small prize.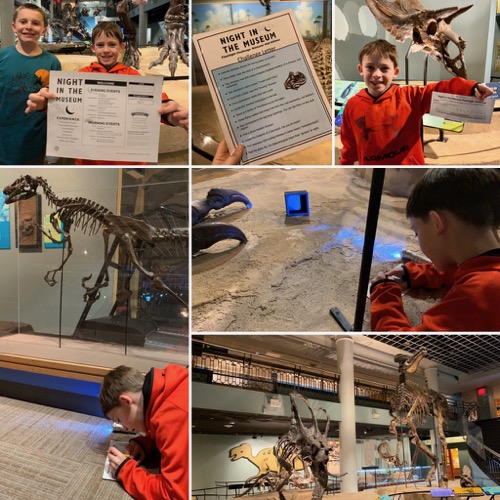 Explore Exhibits
The Academy of Natural Sciences offers incredible exhibits that guests can explore throughout the night. These include: Dinosaur Hall, Butterflies, Dioramas (37 to be exact) and Outside In (described in more detail below). Guests also have the opportunity to explore the temporary exhibit. For our stay, we were able to explore Survival of the Slowest, a unique exhibit highlighting some of the slowest animals (and plants) on the planet. This exhibit is usually an additional fee, but it is included in the price of your Night in the Museum ticket. We were able to explore this awesome exhibit with less crowds allowing for more opportunities to engage in the hands-on activities, read about all the animals/reptiles and take lots of pictures!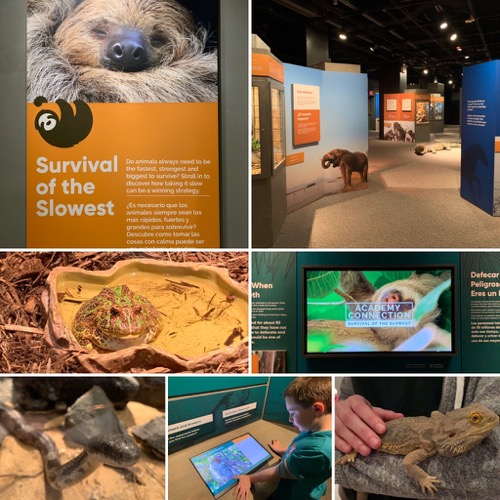 Outside In
Every time we visit The Academy of Natural Sciences, we spend a good portion of our day in Outside In. This unique space brings outdoor adventures indoors. For example, kids can enjoy playing in sand, sifting for shark teeth and playing in a giant bird's nest. During the Night in the Museum, this space is not crowded allowing kids to really explore, play and learn. My boys even made a new friend. Throughout the night, staff members also take out small animals and reptiles that the guests can pet. Learn more about Outside In in my review post.
Crafts
We love crafts so we were so excited to see so many options at the Night in the Museum. In the room across from Outside In, there are several crafts set up for the kids to make. My boys loved making a moveable dinosaur and door hanger. There were also coloring crafts to enjoy.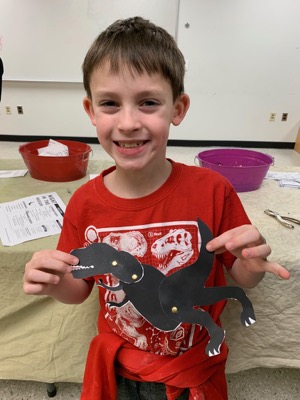 Our favorite craft was decorating sleep masks. Each guest could choose a sleep mask and then decorate it in their own unique way. It was not only a lot of fun, but this craft also proved to be very useful at bedtime!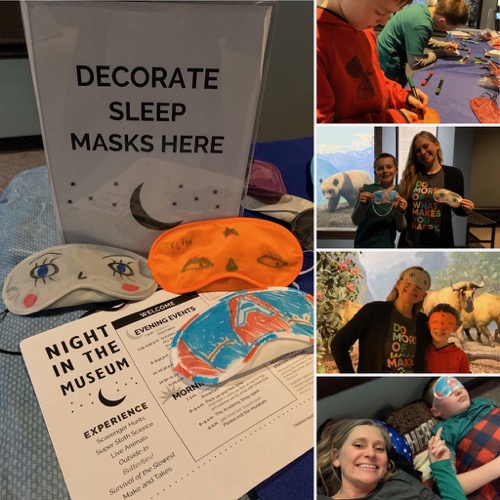 The Big Dig
My boys LOVE The Big Dig station at The Academy. In fact, they enjoyed it several times during our Night in the Museum. At The Big Dig, each guest is provided a brush to assist with finding dinosaur bones/fossils. It is a fun hands-on learning experience that kids (and adults) of all ages will love. While digging, guests will learn about the art and science of paleontology as well as enhance their skills in dinosaur identification.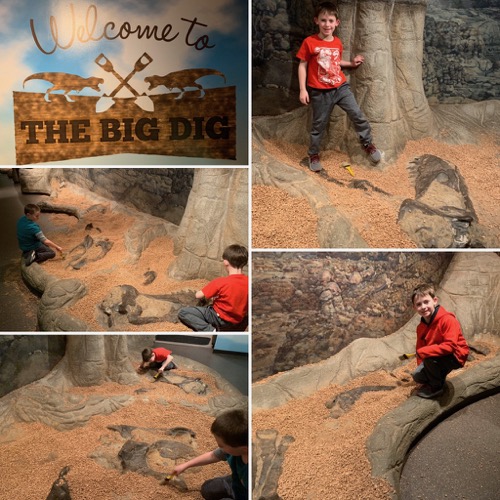 Serengeti Scavenger Hunt
A fun learning experience during a Night at the Museum is the Serengeti Scavenger Hunt which takes place at the Serengeti Diorama. Guests have to explore the diorama carefully in order to answer the questions on the laminated scavenger hunt sheet. Once complete, you get a prize. Also, available in this space was a Cart of Curiosity which offered a look at some giant bugs.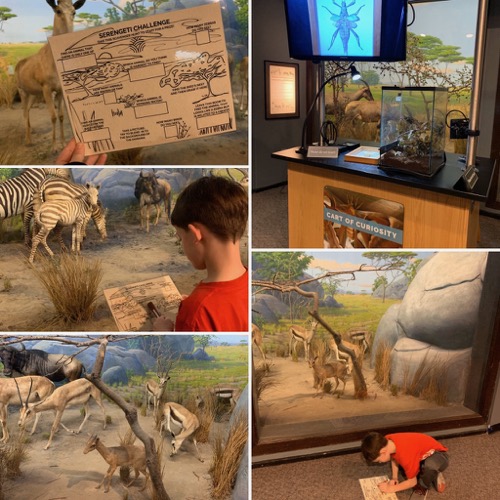 Live Animal Show
The last adventure of the night is the Live Animal Show which takes place in the auditorium. Presented by a knowledgeable and enthusiastic staff member, this live show is fun and interactive. We were able to get up close and personal with an owl and snake. The presenter asked the audience questions as well as allowed the children to ask questions. It was a wonderful learning experience.
Late Night Movie
Can't sleep? No worries! The Academy offers a late night family-friendly movie at 11:05pm. Our movie was an educational documentary about squirrels which was very informative. For instance, did you know that chipmunks and groundhogs are squirrels? My older son fell asleep the second his head hit the pillow so my younger son and I enjoyed the movie together.
My family and I have stayed overnight at several museums, and our stay at The Academy was definitely one of our favorite experiences. We loved a Night in the Museum and so will you! Visit The Academy website for more information and to register for the next event!
You may also enjoy: