Have you ever wondered what you would do if you suddenly had super powers? Now imagine being a 12 year old boy with powers! Well that's what happens to Peter in the world premiere play, Bunnyboy!
Featured at The Growing Stage, Bunnyboy is the winner of the Laurie Award from the 2019 New Play-Reading Festival. It is written by Philip Kaplan and directed by Stephen L. Fredericks. Together, along with the rest of the production staff, Bunnyboy was brought to life in an uplifting, heartwarming and comedic way. This wonderful show possesses all the pieces of a great superhero story!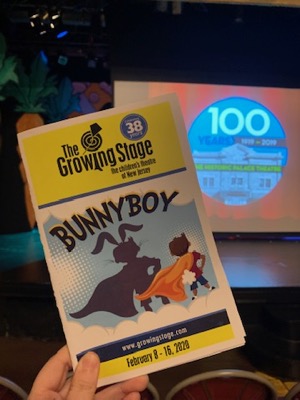 What Makes Bunnyboy a Great Superhero Story?
Accidental Powers
Most superheroes are not born with special powers. They often gain them accidentally which was the same case for Bunnyboy. I won't ruin the story for you by sharing how Peter, an average 6th grader, gained his powers, but it is definitely in a unique way. Davis Cameron Lemley, one of our favorite Growing Stage actors, does an amazing job playing Peter.
Sidekick
Every good superhero has to have a great sidekick right? Lucky for Bunnyboy, his best friend, Skip, is up for the challenge. Played by Jason Pumarada, Skip is not only Bunnyboy's helpful sidekick, he also plays the role of the narrator. Karen, played by Olivia Clavel-Davis, also steps up as a friend and sidekick offering witty and helpful commentary.
The Costume
Of course you have to have an awesome disguise as a superhero so you can fight crime without anyone knowing who you are! Peter enlisted the help of his mom to create the perfect superhero costume; however, things did not go exactly as planned. Let me just say that Bunnyboy was not Peter's original superhero name!
The Struggle
Trying to find a balance between being an everyday student and a superhero is hard especially for Peter. He often struggles with cashing in on his new powers versus helping others. In Bunnyboy, we follow Peter on his journey of discovering who he really is and what it means to be a hero. 
The Villain
When you have good, you will always have evil! That's how it works in every superhero story anyway, and Bunnyboy was no exception. The villain in this story is a researcher turned super villain who blames her demise on Bunnyboy. As a result, she seeks revenge on him. Bunnyboy struggles with his role as a superhero and requires the support and help of his friends to find his strength within. Will Bunnyboy save the day? You will have to see the show to find out!
Bunnyboy is a wonderful show that presents important life lessons in a fun and playful way. Through the incredible acting by the 6 Professional Equity Artists, audience members go on an adventure with Peter and his friends that highlights the importance of hard work, friendship and believing in yourself. Bunnyboy is a great show for kids as it helps them understand that no matter what powers or talents you have, it's confidence and the support of others that makes you truly super!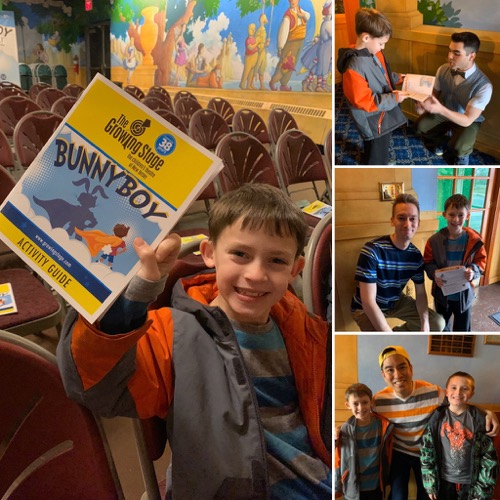 Bunnyboy has only 2 more shows: Saturday, February 15 at 4pm and Sunday, February 16 at 2pm (sensory friendly performance). Visit The Growing Stage website for more information and to purchase tickets.
You may also enjoy: