We love everything about celebrating Christmas in the sweetest place on Earth. Each holiday season the excitement and the adventures get even sweeter and more magical. It's partly because my kids are getting older so we are able to stay out later and experience more together as a family. It's also because Hershey is always surprising us with new experiences such as new rides, shows and games. Each holiday season Hersheypark offers a new adventure and opportunities to make amazing new memories.
For those who have not yet had the pleasure of visiting Hershey during the holidays, Hersheypark is transformed into a holiday wonderland called Christmas Candylane. Open until January 3, Hersheypark offers an exciting way to kick off the holiday season. Young and old alike will create sweet memories to last a lifetime!
10 Magical Family Experiences at Hersheypark's
Christmas Candylane
NOEL Holiday Light Show
My favorite holiday event at Hersheypark is NOEL (Nights of Extraordinary Lights). Families will be in awe as they watch over 200,000 lights dance to the beat of some of their favorite Christmas songs. Shows start at 5pm and take place every half hour. There are a variety of shows so each experience is unique and breathtaking.
NOEL takes place along the waterfront between The Hollow and Kissing Tower Hill. The show can be observed from one of the bridges that cross the waterway, the seating set up by the Sweet Swing or even from some of the rides. If you time it just right, you can enjoy a spectacular view of NOEL from The Kissing Tower, Monorail or Skyview. While at NOEL, make sure you also check out the Hersheypark Kissmas Tree. It is a magnificent sight and makes for amazing pictures. The Kissmas Tree also plays an important role in the holiday light show! Check out our Youtube video of one the amazing shows (see above).
Santa's Stables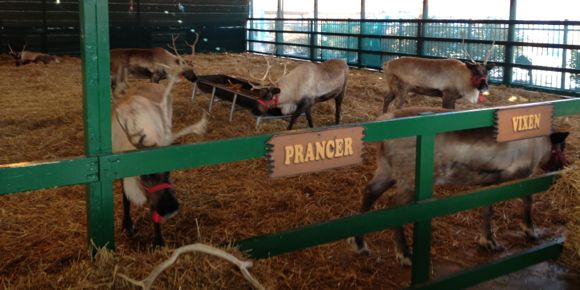 Did you know that you can see REAL reindeer at Hersheypark this holiday season? Head over to Santa's Stables in Pioneer Frontier to meet Santa's 9 reindeer including Rudolph. Families will get to watch them prance around and play while they get ready for the big day. Guests will also have the chance to touch a real antler. It's a fun experience for the entire family!
Visiting Santa (of course!)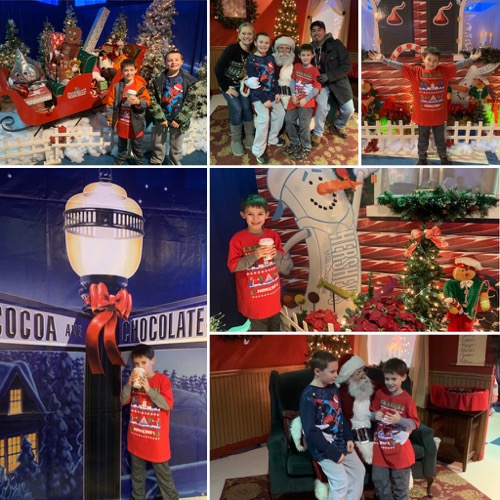 Santa's Candy Cottage is conveniently located next to the Overlook Arcade and across from the Character Photo Stop. It's not only a great place to warm up, but also the perfect spot to take pictures and meet the big man himself. Kids will love sitting on Santa's lap and telling him what they want for Christmas. Families can take their own pictures or purchase ones from the staff photographers. 
Christmas Character Photo Stop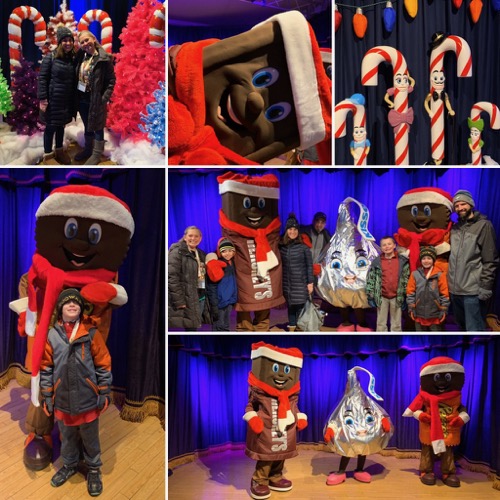 From 5pm-9pm, guests can head over to The Cookie Workshop building in Kissing Tower Hill to meet their favorite Hershey characters. This indoor space is not only warm and cozy, but it offers tons of great photo opportunities. Besides meeting Hershey's Bar, Reese's and Kiss, families can take pictures in front of festive backdrops and props. 
Holiday King Size Shake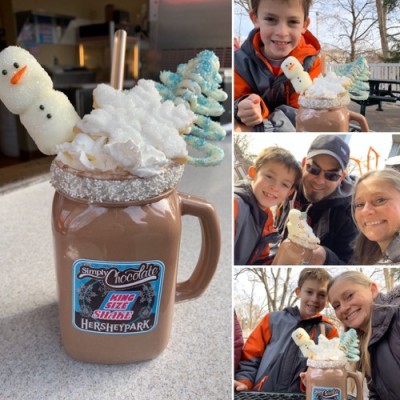 It doesn't matter how cold it is outside, the King Size Shake cannot be passed up this holiday season! We absolutely LOVED the Hot Chocolate shake. It was the best shake I have had so far in Hersheypark (and trust me I have had A LOT). A hefty amount of hot chocolate mix is added to the already delicious chocolate shake. Then served on top is a sugar cookie, chocolate covered pretzel and chocolate dipped marshmallows. I am still dreaming about this shake!
 Holiday Prizes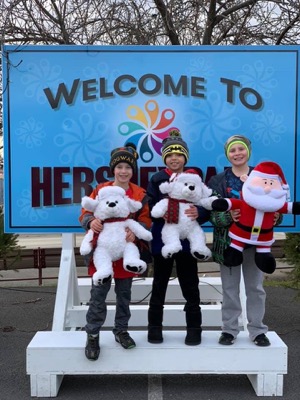 No trip to Hersheypark is complete without playing some fun carnival and arcade games. What I love about Christmas Candylane is that most of the prizes are holiday themed including the ones in all the claw machines. My boys (and their father) had so much fun winning adorable holiday stuffed animals!
SooperDooperLooper
During your next trip to Hersheypark Christmas Candylane make sure you ride the SooperDooperLooper at night. This an experience like no other! It is so fun to ride this coaster in the dark while also getting to admire the incredible holiday lights. Since guests Reese's (42-48") and up can go for a ride, it is the perfect family coaster to enjoy together this holiday season!
Take a Stroll Through The Hollow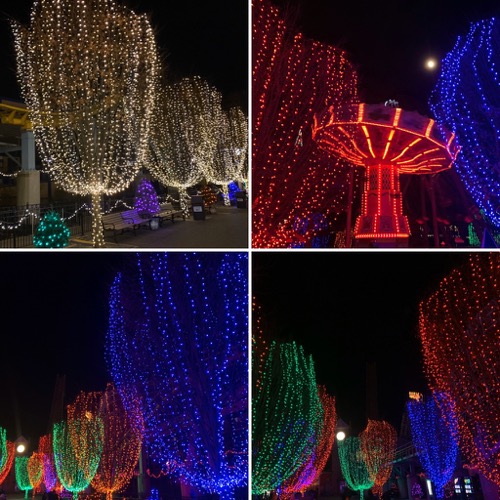 Although ALL of the lights at Christmas Candylane are spectacular, I found the lights along The Hollow to be completely mesmerizing. The trees changed from vibrant colors to a spectacular white and then back again. They even danced along with NOEL. I could have stood there all night in awe as my kids rode the Wave Swinger (which also offers a great view of the holiday lights). I recommend grabbing a hot chocolate from Simply Chocolate and taking a nice leisurely walk and just take in the magic.
Hot Chocolate
Speaking of hot chocolate. The gourmet hot chocolate choices at Simply Chocolate cannot be missed while enjoying Christmas Candylane. Varieties include: Simply Hot Chocolate, Peppermint Hot Chocolate, Reese's Extreme Hot Chocolate, Toasted Marshmallow Hot Chocolate and Caramel Hot Chocolate. Each one comes with not only a delicious cup of cocoa but yummy extras on top!
Christmas Candylane at Hersheypark is open daily now through January 1 (except Christmas Day). Make your trip even more exciting by purchasing a resort package! What magical experience are you most excited about?
You may also enjoy: