I have so many wonderful memories of staying at The Hershey Lodge as a kid. Did you know the Lodge used to have a movie theatre? I saw Harry and the Hendersons there during one of our trips. (I definitely just dated myself!) Although there have been many changes over the years, the Hershey Lodge has always offered a warm, inviting and kid-friendly atmosphere. It is even more amazing during the holidays! The roar and warmth of the fire, the twinkling lights that adorn the lobby and the gorgeous Christmas Tree all help transform the Lodge into a Christmas wonderland. Add some hot chocolate (or chocolate martini) and I can sit in the lobby my entire trip and be perfectly content!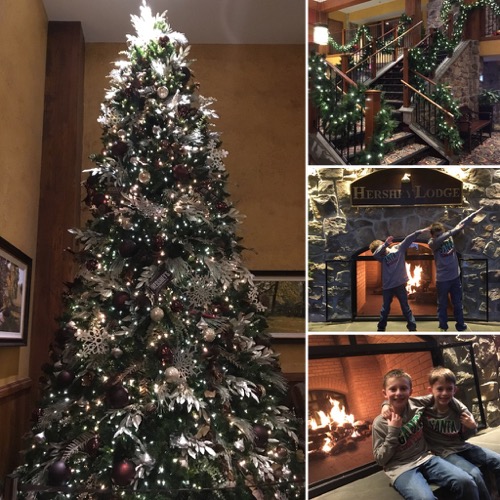 When people ask me where to stay in Hershey for the holidays, I always say Hershey Lodge. Of course The Hotel Hershey is spectacular and offers a 5-star experience but for a family of young kids, the Lodge is the place to be. We recently visited Hershey for my son's birthday which we have done for the past 5 years, and his birthday request was to stay at the Lodge all day and night. He was so excited to put on his holiday pajamas and hangout in the lobby (after swimming first of course). He said it was the BEST DAY EVER!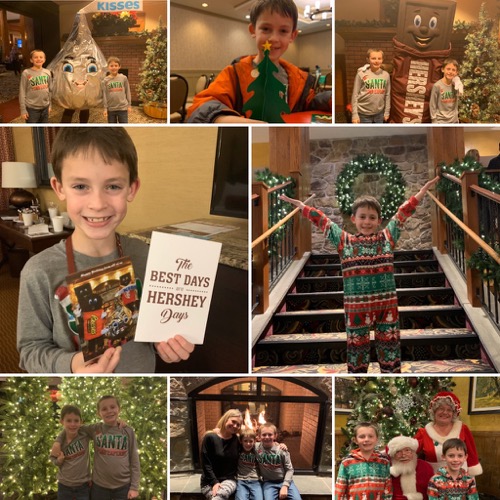 Staying at the Hershey Lodge is our favorite holiday tradition. We look forward to it every year and plan for it months in advance because we get so excited. Here are some reasons why YOU should make a stay at the Hershey Lodge your new holiday tradition too!
Why YOU Should Make the Hershey Lodge Your Holiday Tradition
Cozy and Warm
From the moment you enter the Hershey Lodge, you feel at home. It is so inviting, warm, cozy and comforting. It's as if the lobby wraps its arms around you and says, "It's okay to relax now!" I love that my boys can run and play which shows how much they feel at home too. The lobby is filled with families of all ages and everyone is having fun. There are parents laughing and talking, grandparents relaxing and kids playing and making new friends. You will even find business men and women socializing, and if you're lucky, you may see a bride and groom hanging out with their wedding party at the lobby bar. There is such a wonderful mix of people and everyone is having an amazing time.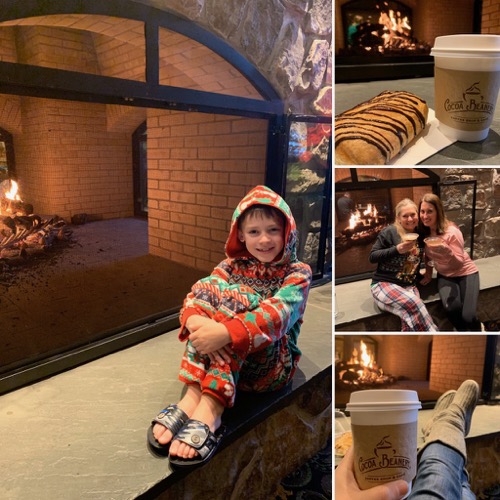 Indoor Waterpark Fun
Whether it's before, in-between or after going to the park (or maybe all 3), Hershey's Water Works will keep kids entertained and having fun during the entire trip. My boys absolutely LOVE everything about this unique indoor waterpark. From the Reese's Water Walk to Twizzlers Waterslides to dumping buckets to water basketball, there is so much for the kids to do. The adults can also play but I prefer to relax in the adults only hot tub. Did I mention you can also order food and drinks at the pool? 
Amazing Meals
The Hershey Lodge offers 6 dining options all of which are AMAZING! Our favorite spot is Fire and Grain which offers Happy Hour every day 4pm-6pm. During Happy Hour, all appetizers and flatbreads are half-off. There are also great drink specials. (I recommend getting a martini.) Fire and Grain also has a wonderful breakfast buffet that has chocolate butter (it's amazing).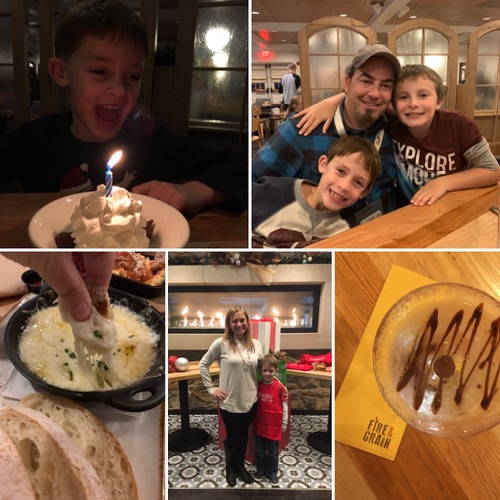 Another favorite restaurant for our family is the Bear's Den. It is a family friendly sports bar that offers a wide variety of meal options. There are also tons of televisions so you can enjoy the big game. For breakfast, we enjoy the Cocoa Beanery that offers breakfast sandwiches, muffins, croissants and coffee. We love taking our meals to go and eating them by the fireplace in the lobby. Other sit-down dining options include The Forebay (dinner only) and The Hershey Grill (breakfast, lunch and dinner), both offering delicious dining selections. If you are hanging out at the pool and get hungry, no worries! You can order salads, starters, sandwiches and drinks from the Cocoa Cabana.
Holiday Experiences
During the holidays, the Hershey Lodge offers so many fun ways to celebrate. There is a list of activities that are FREE to enjoy like holiday movies, crafts, BINGO, scavenger hunts and more. Guests can also see a tree lighting ceremony on Saturday nights which includes free cookies and hot chocolate. Plus, Santa and Mrs. Claus join the fun by arriving on a firetruck. Families can also take a picture with the famous couple. You can use your own camera and/or purchase a picture that comes in a unique ornament.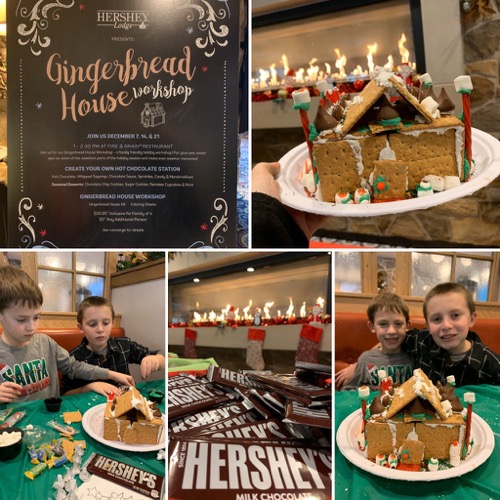 Another fun activity unique to Hershey Lodge is the Gingerbread Workshop. Taking place Saturday, December 7, 14 and 21, this holiday event is perfect for the entire family. For only $20.95 for a family of 4, you get everything you need to make the ultimate gingerbread house. This includes graham crackers, sprinkles, frosting and an abundance of delicious Hershey's candy. Guests can also enjoy cookies, cupcakes and hot chocolate while building. We have enjoyed this event 3 times and it is always a highlight of our Hershey vacation.
Incredible Photo Ops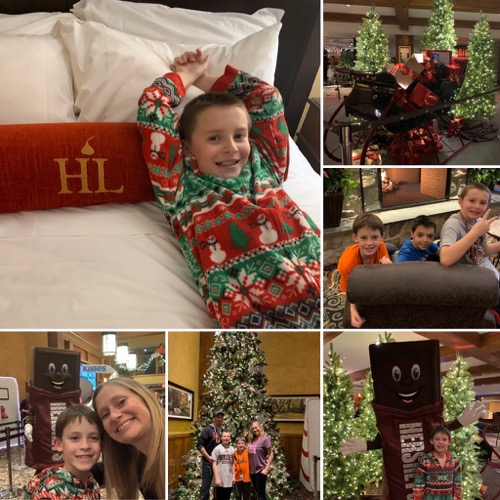 Everywhere you turn there is a perfect place to take a photo. Whether it's in front of the fire with a martini, standing by the sled or by the gorgeous Christmas Tree, there are amazing places to snap a picture or two (or twenty). Other great photo opportunities are with characters and Santa. I recommend getting the family matching pajamas and taking pictures on the stairs, in front of the fire and/or by the Christmas Tree!
Hersheypark, Hershey Story Museum, Hershey Gardens…Oh My!
Guests of the Hershey Lodge can also celebrate the holidays by taking the FREE transportation over to Christmas Candylane at Hersheypark. Packages are available that include passes to the park or you can purchase discounted tickets in the lobby. Guests of the Hershey Lodge also receive FREE tickets to both the Hershey Story Museum and the Hershey Gardens. Both offer endless holiday fun for the entire family!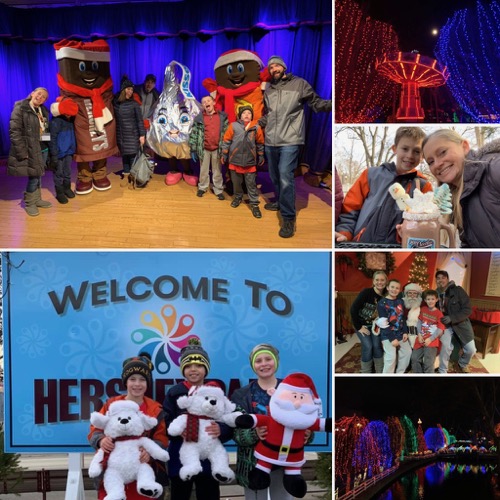 These are just some of the reasons we make spending the weekend at Hershey Lodge our family tradition. Now it's your turn. Book your Hershey Lodge family vacation now by visiting their website and checking out their amazing holiday packages! 
You may also enjoy: