The holiday season is not complete without seeing the movie Elf at least once. Who am I kidding? You have to watch it at least 10 times! Since being released in the theaters in 2003, Elf has captured the hearts of people of all ages all over the world. It is a lighthearted Christmas tale that uses humor to share a story about love, family and Christmas spirit.
For the few that don't know, Elf is a story about a human (named Buddy) who was raised as an Elf after crawling into Santa's bag one Christmas Eve while Santa was visiting the orphanage where Buddy lived. When Buddy finds out he is human, he sets off on a journey to find his dad in New York City. His dad, however, is not as "Sparklejollytwinklejingly" as Buddy. In fact, he is on the naughty list! Buddy, with the help of music and humor, tries to make his dad and his new girlfriend believe in Christmas spirit again. It is a wonderful story about embracing family, accepting each other's differences, finding joy in life's simple moments and spreading holiday spirit.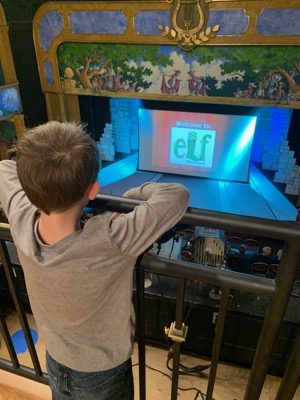 Elf was transformed into a musical stage production in 2010. With a book by Thomas Meehan and Bob Martin and music by Matthew Sklar, Elf the Musical became an instant classic and a MUST see show during the holiday season. It is slightly different from the original movie but still possesses all the fun, wit and love. Plus, it adds more of one of Buddy's favorite things…singing! The Growing Stage has taken this wonderful family show and added their own magic, flair and unique style, and I absolutely LOVED it!
"I just like to smile. Smiling's my favorite."– Buddy
Elf the Musical at The Growing Stage had my entire family smiling from ear to ear during the whole show. Every time I looked over at my boys they were laughing and smiling along with Buddy and the other characters. Connor McKenna truly embodied the essence of Buddy the Elf. He was upbeat, energetic and definitely jolly!
"The best way to spread Christmas cheer is singing loud for all to hear."– Buddy
I was blown away by the talent in Elf the Musical at The Growing Stage. Buddy offered a child-like presence while Ryan Hall who played Michael Hobbs, Walter's son and Buddy's half-brother, offered a level of maturity in his singing and acting despite portraying a child. This gave additional depth and believability to his character. Lisa Winkler who played Emily Hobbs was also mesmerizing. Her on-stage relationship with Walter and Michael were relatable on so many levels, and her voice was incredible. The character that left me in total awe, however, was Jovi played by Olivia Clavel-Davis. My jaw literally dropped when she sang. It was absolute perfection!
"SANTA! Oh my God! Santa, here?! I know him! I know him!"– Buddy
This Is my favorite line in the movie and the musical! It is probably one of the most recited lines from any Christmas movie and there is a reason why. It is because that is exactly what we all feel when we see Santa. Whether it's at the mall, on the streets of New York with a bell or at a holiday party, we all feel like we really know Santa. He brings adults back to childhood. A time when life was simpler. But the thing is, we really do know Santa. He is the spirit of Christmas that we hold dear to our heart. He is the belief that there is good in this world. Elf the Musical possesses the spirit of Santa Claus in every scene and every character. Oh and you get to actually meet Santa at the end too!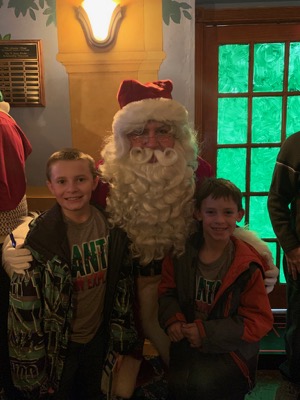 "I planned out our whole day. First we make snow angels for 2 hours and then we'll go ice skating, and then we'll eat a whole roll of Tollhouse cookie dough as fast as we can, and then to finish, we'll snuggle."– Buddy
Don't we all wish we could spend a day like and not just during the holidays? We all get so caught up in the hustle and bustle of the holidays that we forget to take a break and just enjoy time together as a family. This holiday season, make sure to bake some cookies (and eat them), snuggle with your kids, play in the snow and, of course, go see Elf the Musical at The Growing Stage!
Elf the Musical is playing every Friday, Saturday and Sunday at The Growing Stage in Netcong, NJ through December 22. To purchase tickets, visit their website.
You may also enjoy: