We are so excited to bring you this year's Play and Learn Holiday Gift Guide. We are thrilled to partner with so many amazing and award-winning companies who provided many of the brain boosting toys on this list so we can share them with you this holiday season.
Since even before I was a parent, when I purchased a toy for a child, I made sure it had a purpose. For me, a toy has to encourage learning, development and growth in some way otherwise what is the point? Toys and games should stimulate the brain, make kids think and reason and/or spark the imagination. Children learn through play so we have to make sure that play is meaningful!
After careful consideration, and several Mommy University reviews, we have come up with a list of over 40 toys that you are sure to LOVE this holiday season. This list is broken down into 5 categories: Academic/Cognitive, The Arts, STEAM, Pretend Play and Motor. Since EVERY toy chosen also encourages growth in the area of language development, a separate category is not needed for this area. Amazon affiliate links are included to make your gift buying experience easier!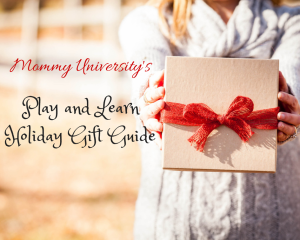 Academic/Cognitive
Speak and Spell

When I was a child, I loved my Speak & Spell because it offered a fun and easy way to learn. I am so excited for the return of this educational toy. Did you know it was the first computerized educational toy to help kids learn to spell? With a variety of challenges and play modes, kids will have a blast learning to spell hundreds of words. With this toy, they will be winning spelling bees in no time! Speak & Spell is recommended for ages 7 and up and can be purchased for under $25 on Amazon.
K'NEX Dragon Revenge

Build, create and play this holiday season with the new K'NEX Dragon Revenge Coaster Building Set. While building, kids will gain important academic and cognitive skills such as perceptual reasoning, spatial organization, problem solving, various scientific concepts and more. This set comes with 584 pieces and a motor that powers the dragon and chain-link coaster car lift. Children ages 7 and up will enjoy hours of fun building and then playing with their new creation! This set is available on Amazon for under $40.
Disney Color Brain (Spin Master)

Challenge the Disney fans you know in this unique epic trivia battle. Players are given color cards they need to use to answer trivia questions. Do you know the color of the feather in Captain's Hook hat or the color of Elsa's eyes? To earn points someone needs to make an incorrect answer. The 250 questions covering 20 films for children ages 8 and up is perfect for Family Game Night. Priced on Amazon for less than $15, this is a game to challenge the Disney fan in your home.
Mad Mattr (Relevant Play)

It was hard to decide what category to put Mad Mattr into as this unique and innovative dough offers so many ways to play and learn. Kids are enhancing fine and visual motor skills while molding and sculpting Mad Mattr as well as engaging in pretend play. Mad Mattr also encourages a love of art. I chose Academics/Cognitive though because Mad Mattr offers so many ways for kids to learn. This amazing dough comes in so many colors that children will definitely enhance color recognition. They can also enhance shape recognition as they make their own shapes. Mad Mattr can also be used to make letters, numbers and words. In addition, by using the brick makers, kids can build and create which enhances important cognitive skills. Mad Mattr is available in Unicorn Sparkle, Galaxy, Quantum Packs and Super Pack.
Pull Along Color Snail (Dolce)
 
This adorable Pull Along Color Snail from Dolce is the perfect holiday gift for your little one. Dolce which stands for Develop, Observe, Learn, Create, Educate offers toys that encourage multi-sensory play. The Pull Along Color Snail is no exception. Little ones will develop their sensory skills as they touch and feel the textured fabric. They will also develop an understanding of cause and effect as they play. This bright and colorful snail will also encourage movement. Pull Along Color Snail is available on QVC and at Walmart for under $40.
Lettersaurus (LeapFrog)

Children ages 1 and up will LOVE playing with this adorable dinosaur! The colorful letter buttons help kids learn letter names and sounds while the tail teaches kids numbers. Lettersaurus also offers fun songs to enhance learning. He is also a pull-toy so kids can bring him anywhere. Lettersaurus is available at local retailers like Walmart and Target as well as Amazon.
Dig it Up! Dinosaur Skeletons (MindWare)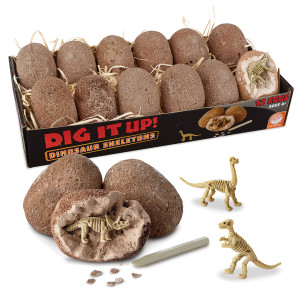 The budding paleontologist in your life will be fascinated with the MindWare Dig It Up! Dinosaur Skeleton set. It includes 12 eggs that contain various dinosaur fossils. After being soaked in water, kids can chisel out the dinosaur. After the prehistoric creature has been revealed, children can compare it against the included guide to learn more about it. The Dig It Up! Series is a family favorite because it requires patience, promotes fine motor skill development and enhances academic knowledge. Priced at less than $25 on the MindWare website, this toy is designed for children ages 4 and older.
The Logo Game (PlayMonster)

Test your knowledge of everyday Logos and symbols with this fun game from PlayMonster. With 1600 new questions on 400 cards, The Logo Game will test your visual skills and long term memory. You will also learn some interesting facts along the way. The Logo Game is perfect for family game night! It is recommended for ages 12 and up and can be purchased for under $25 on Amazon.
Full Circle (PlayMonster)

This exciting game will have the entire family learning together while having fun! Players have to spell words along the rim of the board using the provided letters. Each player has to build off of the last player's word. The player who earns the most points wins! This is a fun game of strategy that also strengthens spelling skills and vocabulary. This game is recommended for ages 8 and up but if your little one wants to play too, let them! You can find Full Circle on Amazon for under $20.
The Arts
Blinger

Everyone likes to show off their style! With Blinger, kids can get blinged out and show off their inner sparkle on the outside. Blinger comes with a Glam Styling Tool that allows you to add some bling with just one click. You can add sparkle to your hair, clothes, shoes and accessories. The Deluxe set comes with 150 gems and can be found on Amazon for under $25. You can also purchase the Brilliance refill set that comes with 180 gems in a variety of colors.
smART Sketcher Projector

smART Sketcher has a long line of amazing art products that encourage kids to draw and create. The smART Sketcher Projector is no exception! This innovative tool allows kids to grow and enhance their drawing skills right at home. The Projector comes with over 50 step-by-step activities that help build fine motor skills, visual motor skills and hand-eye coordination as well as spark creativity. Expansion packs are available too for even more drawing fun. The smART Sketcher Projector can be found at retailers such as Michaels, Walmart and Target as well as on Amazon.
World Color EcoPencils (Faber Castell)

Faber Castell produces high quality art supplies which are perfect to put under your child's tree this year! They released the World Color EcoPencils which encourages your kids to embrace diversity and celebrate equality. Available in sets of 15 and 27, the World Colors sets contain 3 blendable duo toned pencils that were developed by make-up artists. Little (and big) artists can blend the colors to make their own skintone and the skintone for their friends. The sets can be purchased on Amazon.
Crayon Melter (Crayola)
Get creative with the new Crayon Melter from Crayola. My son loves the original crayon melter which allows kids to make new crayons. This new and innovative melter gives an entirely new life to crayons. Artists insert an unwrapped crayon into the melter, and when ready, the melter is used like a pen to make new textured creations. Kids can decorate canvas, wood, pottery and more. It is perfect for school projects or even making crafts for a craft fair. The possibilities for creativity are endless. The Crayon Melter can be found for under $25 on the Crayola website and Amazon.
Rainbow Sandland (Creativity for Kids)

Do you have a unicorn fan in your home? Rainbow Sandland invites children ages 6 and older to create their own fantastical world with sand art! Inside the kit are all the tools you will need including tubes so that it's no mess and glitter to make everything sparkle. Children can create their own design before adding the unicorn figurine and decorating with stickers. This toy is part art and part imaginary toy which is why it won the 2019 Good Housekeeping Best Toy Award. Priced on Amazon for under $20, it will delight your child!
Peg Brite (Quercetti)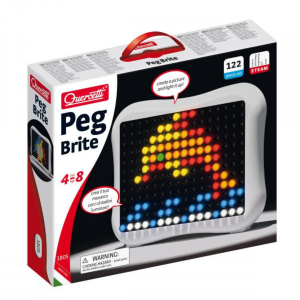 Light up your child's room with a toy that taps into creativity that can be used over and over! Children can create designs that pop with colored pegs. When the pegs are placed on the flat board, they will be lit from an LED light.   Priced on Amazon for less than $30, this is a classic toy that is designed for children ages 4 years and older. It invites children to develop their fine motor skills while using their imagination. 
Big Gem Diamond Painting Kit (Creativity for Kids)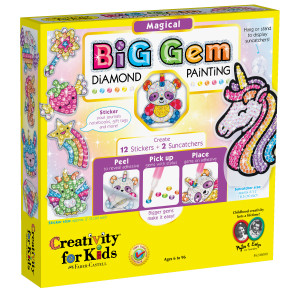 Creativity for Kids encourages a love of art and the Big Gem Diamond Painting Kit does just that! Children are equipped with a wand that they dip in wax and stick gems to decorate stickers and suncatchers. It promotes fine motor skills as well as creativity. Priced on Amazon for under $15, this set will have little hands busy while having fun!
Scribble Scrubbie Pets (Crayola)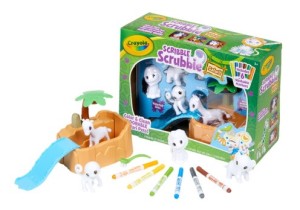 Crayola is known for offering bold colors and innovative art products that encourage creativity. The Scribble Scrubbie line of toys is no exception! Kids will want to play for hours decorating their adorable pets then rinsing off the color to make an entirely new creation. This sets also encourage pretend and imaginary play. My son and his friend had so much fun mixing colors to see what they would get. It is a fun introduction to the science of color. Scribble Scrubbie Safari (pictured above) can be found on the Crayola website along with other fun designs such as Pet Salon, Vet Set and Scrub Tub Set. You can also purchase additional pets, markers and accessories.
Motor
Playhut Pinkfrong Baby Shark Explore4Fun Tent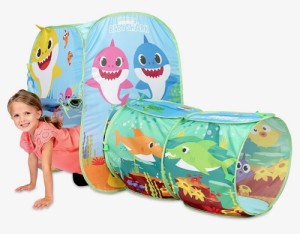 Your little one will LOVE crawling in and out of their new Baby Shark pop up play center. This playset offers 3 structures: two 3-foot tunnels and a pop up tent. They can be connected together or played with separately allowing for hours of fun. By crawling through the tunnels, kids will build important gross motor, visual motor and perceptual motor skills. This playset also offers opportunities for pretend play and even academic learning since the tent can be used as a reading nook! The Baby Shark Tent can be found on Amazon for under $35.
Jenga Giant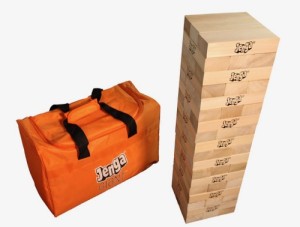 We all know that the classic game of Jenga. It brings people of all ages together for a fun and exciting game night. We also know that Jenga helps enhance problem solving skills but it also enhances visual motor, fine motor and motor planning skills. Jenga Giant brings this game to an entirely new level (literally) of play and learning. Gross motor skills are also enhanced as this set has oversized pieces that build up to 5 feet tall. Jenga Giant can be found on Amazon for under $120.
Coilz (Relevant Play)

Kids will enhance their visual motor and fine motor skills by playing with the new and exciting Coilz. You can bounce it, roll it, flick it and toss it. The play possibilities are endless. Coilz offers over 10 challenging games but kids can also make up their own. Series 1 offers 50 Coilz to collect, and they can be purchased in a starter pack, super pack or Coilz Cup.
Bellz (Spin Master)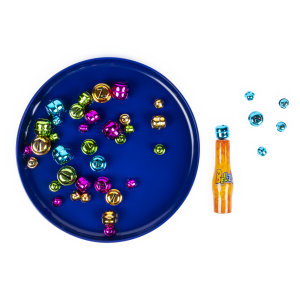 Bellz is a simple game to learn the rules, but challenging to win as players are tasked with collecting the most amount of bells. With three different sized bells, each player is assigned a color. The player to collect the first ten is the winner! This game is great for family game night and because of its small size this is perfect for a travel game. Priced less than $10 on Amazon, this is a wonderful gift!
Latches and Doors Busy Board (VTech)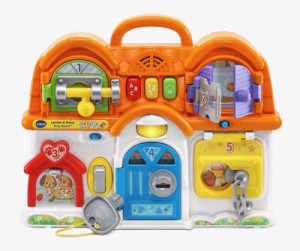 Little ones ages 12-36 months will be engaged for hours with the new Latches and Doors Busy Board from VTech. Known for their educational toys, VTech did not disappoint with this fun multi-sensory toy. This adorable activity board offers tons of ways to play with latches, doors, windows, colorful buttons, songs and more. While playing, little ones will build important fine motor, visual motor and hand-eye coordination skills. Kids will also enhance academic and language skills while playing. The Latches and Doors Busy Board can be found at local retailers like Walmart and Target as well as on Amazon for under $25.
BizyBeez MagStix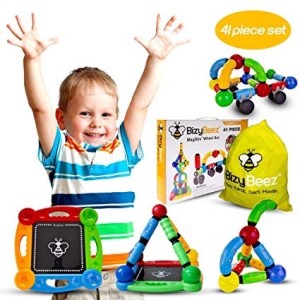 Build, create and play with BizyBeez MagStix, an innovative new building toy. The easy to grip and squeeze MagStix makes this toy perfect for little hands. Plus, they offer tactile sensory feedback. While playing, kids are building fine motor and visual motor integration skills. Building also encourages creativity while enhancing problem solving skills. BizyBeez MagStix set comes with 41 pieces including a portable playboard and travel bag. It is recommended for ages 3 and up, and is a wonderful option for children with special needs as it offers sensory stimulation that helps kids calm down and focus. BizyBeez MagStix can be purchased on Amazon for under $80.
Butts Up (PlayMonster)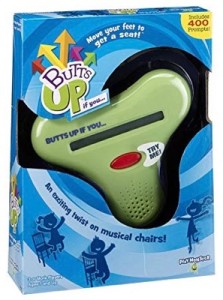 Get your kids up and moving with Butts Up, a fun game that is perfect for family game night, a scout meeting or even your classroom. To play, all the players except for one sit in a chair. The person standing reads the prompt on the Butts Up device (i.e. "Butts up if you have gone ziplining.") If the prompt applies to you, then you have to get up and move to another empty seat. The person left without a chair becomes the reader. Not only does this game involve gross motor play but it also involves reading, comprehension and following directions. Butts Up can be found on Amazon for under $20.
Disney Puzzles (Ravensburger)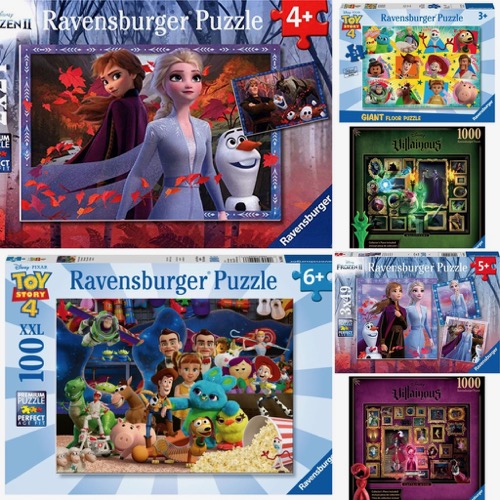 We all know that puzzles help build important cognitive skills but they are also wonderful for enhancing fine and visual motor skills along with spatial awareness. Ravensburger is well-known for their incredible puzzles and the new Disney puzzles are no exception. Disney fans will LOVE the Toy Story 4, Frozen 2 and Villianous puzzles. Each one offers a challenging but fun learning experience that ends with a gorgeous puzzle. I recommend framing your puzzle when you're done and hanging it on the wall! Here are the links to the puzzles pictured above:
STEM/STEAM
Gumball Machine Maker (Thames and Kosmos)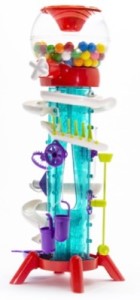 Take STEAM fun to the next level with the new Gumball Machine Maker from Thames and Kosmos. Not only can kids build and create their own machine, it can also hold gum! This kit helps kids learn physics concepts such as motion, force, momentum, energy transfer and even Newton's laws. Kids will also learn problem solving skills as they build their own track where gumballs can do cool stunts and tricks. The Gumball Machine Maker is recommended for ages 6 and up and can be found on Amazon.
Ooze Labs Soap and Bath Bomb Lab (Thames and Cosmos)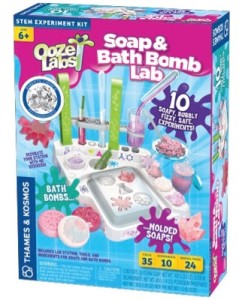 With 10 experiments to try, the Ooze Labs Soap and Bath Bomb Lab is a fun way to introduce kids to the world of chemistry. Kids can use the tools in the laboratory to use various scientific concepts to make soap and bath bombs. Play with the ingredients to change the color, smell and texture. The learning can even be expanded to cosmetics knowledge with the understanding of the biology of skin care. This lab is recommended for children over the age of 5. It can be purchased for under $35 on Amazon.
Build-a Bot (Relevant Play)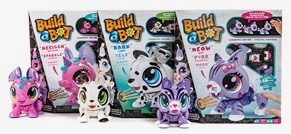 Build-a-Bot takes robotics to the next level by letting kids build and personalize their very own pet! Children ages 4 and up can choose from a dalmation, kitten or unicorn OR they can mix and match pieces to create a unique robotic pet. Build-a-Bot encourages creativity and imagination while building an understanding of scientific concepts. Each robot is easy to make and design. Build-a-Bot can be found on Amazon for under $30.
Tech Will Save Us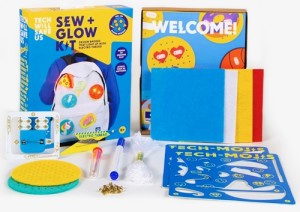 Let your kids add some extra bling and style to your backpack and clothes this school year with the Sew & Glow Kit. Not only will kids get to add some style to their bags, but they will also be learning all about science as they put together real circuits to create their light up patches. This kit lets kids use electro thread to create their very own glowing badges. They will also have FREE access to Club Make for more crafting ideas. This kit is under $20 on Amazon.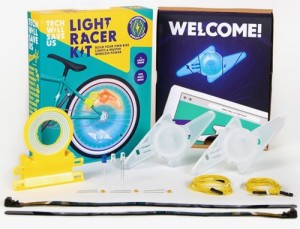 Kids can bling up their bikes too with the Light Racer Kit! Using the kit, kids can put together circuits to build bike lights that flash when they ride them. While building with capacitors, led lights and wireless coils, they will learn about wireless technology. What a fun way to encourage a love of science while also fostering creativity. The Light Racer Kit is also under $20 on Amazon.
Blipblox

If your little one likes music, then Blipblox is the MUST HAVE toy this holiday season. Kids as young as 3 years old can start building their DJ skills by using this fully functional synthesizer-beatbox. They will learn how to create sounds, understand tempo and produce their own music. The bright colors and easy to use knobs and buttons makes this introduction to sound engineering fun for all ages. Blipblox teaches kids all about music production by offering twelve unique oscillator modulation schemes, low pass filter, 2 envelope generators and two LFOs. Blipblox also offers a multi-color LED light show, synchronized to the music. How cool is that? Blipblox will even connect to a professional sound system. Blipblox can be purchased on Amazon.
Color Chemistry Lab Set (Crayola)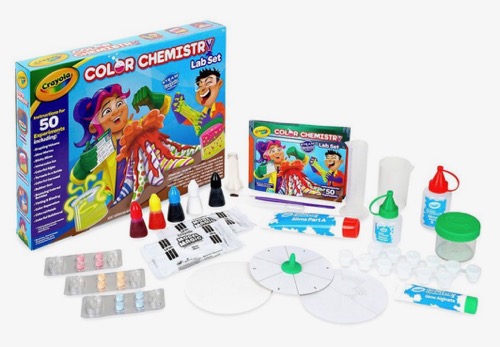 This exciting and innovative set from Crayola combines art and science for endless fun and learning. The set comes with materials to conduct 16 experiments right out of the box while the instruction booklet offers a total of 50 at-home activities the entire family will love! From an erupting volcano to gooey slime to colorful algae, your little chroma-chemist will love experimenting with color and science. The set is recommended for ages 7 and up and adult supervision is recommended. The Color Chemistry Lab Set can be found on the Crayola website and Amazon for under $25!
Pretend Play
Blume (Skyrocket)

Blume dolls offer an innovative way for kids to play and learn. Just water your "seeds" and watch your doll grow right out of the flowering pot. Each doll is unique making it even more exciting to collect them all. Blume dolls each have a  fun and unique hairstyle and come with mix and match outfits, a handbag, mini friend and sticker book. This unique doll combines imaginary play with art for hours of fun. Blume dolls are recommended for ages 5 and up and can be purchased on Amazon.
Pound Puppies

I was beyond excited when I found out Pound Puppies were coming back. They were one of my favorite toys from my childhood. These adorable stuffed pups are ready to be adopted and loved by children of all ages. Each puppy comes with its own official adoption papers and care sheet. The pups also come in their own carrier-shaped package so your little one can take him/her everywhere. Pound Puppies can be found on Amazon for under $20.
Hatchimals Advent Calendar

Hatchimals have been a popular holiday staple for gift giving and this imaginative world has now been transformed into unique figurines! The Hatchimals Advent Calendar enables fans of this fantastical universe to celebrate the holidays leading up to the big day. With each day, brings a new revealed item that can be used to create different scenes. Priced on Amazon for less than $25, that is a dollar a day!
Journey Girl Dolls

Journey Girl Dolls are beautiful 18 inch tall dolls each with their own unique style and personality. Their fashion is inspired by their travels around the world, and they love to share their adventures with their friends. There are several dolls to choose from each with their own background, style and ambitions. While playing, children will learn about different cultures while also gaining important life and social skills. Journey Girl Dolls are recommended for ages 6 and up and can be purchased on Amazon for under $35.
Disney Junior Puppy Dog Pals Awesome Care Bus (Just Play)

If your kids love Puppy Dog Pals, then they will LOVE the new Care Bus from Just Play. The action packed bus offers lights, sounds and multiple movable features including a puppy check-up and grooming station. This adorable Care Bus helps encourage imaginary and pretend play which will also foster language development. While playing, kids are also learning the basic skills needed to care for an animal. The Puppy Dog Pals Care Bus is recommended for children ages 3 and up and can be purchased for under $25 on Amazon.
HeroDrive Marvel Superhero Adventures Vehicles
 
Marvel fans young and young at heart are going to love the new HeroDrive vehicles. Available in 3 styles, Smash Squad, Mod Squad and Speed Squad, these vehicles offer hours of building, smashing, creating and playing. Each car is designed after your favorite superhero like Spiderman, the Hulk and Iron Man.
Orbeez Ultimate Soothing Spa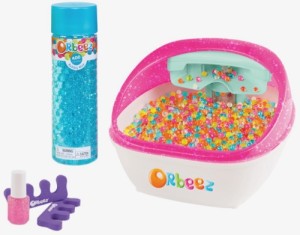 Pretend you are spending the day at the spa with the new Orbeez Ultimate Soothing Spa! This calming foot spa is perfect for a playdate or quality time with your daughter. Place your feet inside the spa and let the Orbeez fall on them creating the sensation that you are at the spa getting a pedicure. The spa includes 2000 Orbeez. The Ultimate Soothing Spa is recommended for ages 5 to 105 (well you know what I mean). This spa can be used by children and adults when relaxation is needed. You can purchase the spa at local retailers such as Walmart and Target as well as on Amazon for under $25. You can also purchase additional Orbeez refills packs in a variety of colors!
Creativity For Kids Sequin Pets

We are big fans of the Sequin Pets from Creativity for Kids. Each pet offers a multi-sensory experience that kids enjoy like movable sequins, soft texture and weighted bottom. Sequin Pets are perfect for kids who require tactile input during the day in order to decrease anxiety and overstimulation. Sparkles the Unicorn is the larger version while there are several options for the minis such as Twinkles the Elephant, Dazzle the Dinosaur and Hope the Hippo. Sparkles is under $20 on Amazon while the minis are under $10.
How to Train Your Dragon Hatching Toothless, Spin Master or Dreamworks Dragons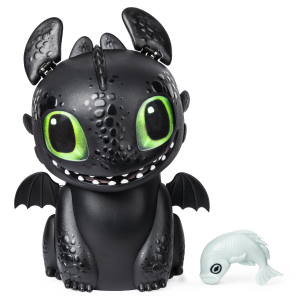 Children love to pretend they are nurturing their own babies and now they can pretend they are hatching their own dragon! And not just any dragon but the adorable and feisty Toothless. Your child can rock the egg to listen to him growl and tap on the egg (he taps back!) and soon enough he will emerge from his egg. The fun begins there as you can tap his belly to get his eyes to glow or feed him fish. This pretend play toy had endless hours of fun and play. Priced on Amazon for less than $50 this is an engaging imaginary play toy.
Dragamonz Ultimate Dragon Pack, Spin Master or Dreamworks Dragon
Unleash your dragon! Dragamonz is a unique game that involves pretend play, math, and motor skills. To reveal your dragon, your child smashes them out of their egg; however, it is not just about collecting up to 70 different dragons.  Included in each set are playing cards that help you build your army. Your child can keep track of their cards and figures with enhanced app but the coolest part is watching them battle. The ultimate pack comes with 6 dragons and dragon cards as well as 30 battle cards. Priced at $15 on Amazon, this set has everything needed to have a two person battle. 
Monster Jam Mega Grave Digger RC (Spin Master)

If your child loves Monster Jam, then think about adding the Mega Grave Digger to their holiday list this season! The 2 foot monster truck can be controlled from up to 250 feet away and since it's all terrain this is a great way to get kids outside and playing! With a replica design featuring functioning lights, your Monster Jam fan will love maneuvering this truck forwards or backwards! Priced for less than $90 on Amazon, it will certainly inspire your child to get ready for the next Monster Jam!
Ecoline Tipper Truck (Viking)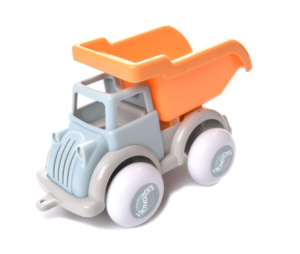 Made out of renewable sugarcane, Viking makes quality toys. The Tipper Trucks are perfect for the first truck for little hands. Thanks to its durable material and design, it will withstand the toughest drops.  Designed for children ages 1 year and older it can grow with them! Priced on Amazon for less than $20 add this big wheel toy underneath the tree this year.
Soft Body Doll (Miniland)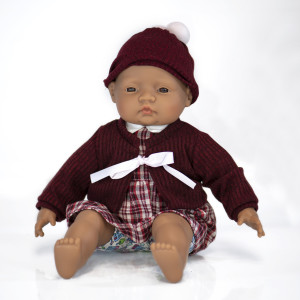 The soft body dolls from Miniland are not only anatomically correct but they can also be ordered in a variety of ethnicities which help build a child's social and cultural awareness. Dolls are wonderful for imaginative play as well as building storytelling skills. The dolls range in size from 8-15 inches and include Caucasion, Black, Asian, and Hispanic. On Amazon, price ranges based on size  from $15-30.
Hairdorables (Just Play)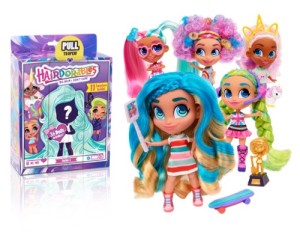 Unboxing toys has reached a new level with Hairdorables! Each Hairdorable includes several surprises that your child reveals before they find out which character they received. The Hairdorables collection consists of 12 unique characters each with their own personality reflected in their interests and tastes. Although there are a dozen characters, they have three options each which means there are actually 36 different dolls to collect! We currently own four of these and you can read about our review here. On Amazon they are under $15 but you can also find them at Target or Walmart.
We hope you enjoyed our Play and Learn Gift Guide for 2019! Keep checking back because we will be adding more amazing gifts soon!