Greetings from …
The stories told by the Walt Disney company have invited us to see the world! From France to England to China to Hawaii, if you have watched the Disney films you may have felt like you did see parts of the world. In each story, the setting helps us have a better understanding of the culture, clothing, and values we see in the films. Now, when you watch Disney On Ice, you can travel with Mickey and the gang to some of your favorite locations around the world to see characters from iconic movies with no passport needed.
At Mommy University we have watched a half dozen Disney On Ice shows! From gravity defying leaps to dancers suspended in the air, the show is always a worthwhile experience that your family will enjoy. The costumes and sets are beautiful. With Road Trip Adventures, Disney On Ice has entered a new era. Road Trip is visually awesome making it a show you just can't miss! Our readers agree as we shared photos on social media, those who had seen it were sharing similar praise. Road Trip Adventures innovates the Disney on Ice brand to a new level of entertainment. With that said, what can you expect to see?
Travel the World with Disney On Ice
London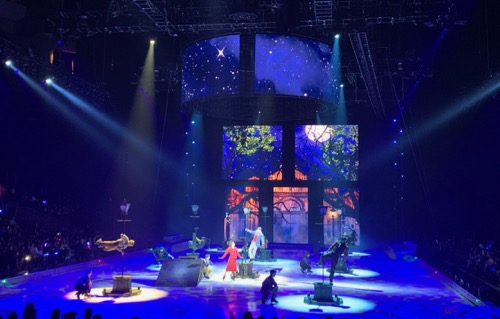 Road Trip Adventures opens with our favorite nanny arriving by, well, an umbrella from the sky. With a large chorus of skaters, this opening number had our kids gasping as skaters climbed the light poles and proceeded to spin around in the air. Immediately you will recognize that this show is a game changer.
Motunui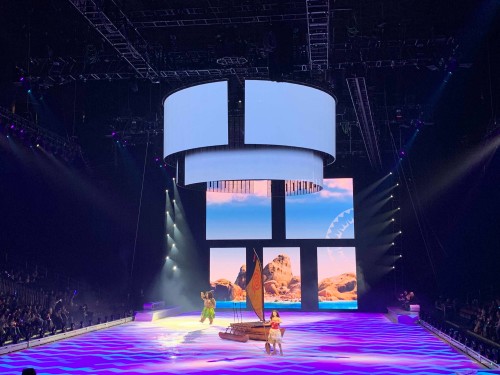 After traveling to London, Disney on Ice brings us to a small island where they share everything they make! Part of the fun of going to Road Trip America is watching your children guess which character will appear next. Several songs are performed from this family favorite with the opening number of "Where You Are." The setting for this segment is absolutely stunning making you wish you were sailing away alongside Moana to find Maui. Speaking of everyone's favorite demigod, Maui himself does make an appearance and don't be surprised when the entire audience breaks into "Your Welcome!"
Arendelle
Our travels aren't over yet as Mickey takes us to Arendelle to spend time with the magical Elsa, upbeat Anna, and the uplifting Olaf. Yes, Frozen is a feature of this show; however, unlike past shows, it includes a few key songs. The arrival of Olaf accompanied by flowers, bees and suns as they complete an ensemble skating piece for "Summer."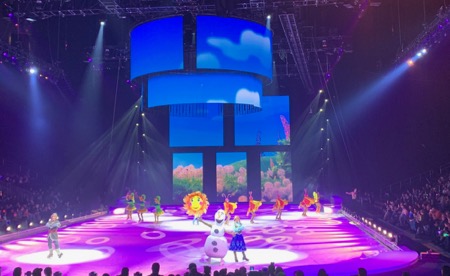 When Elsa takes to the ice, you may be a little tired of "Let it Go" which I thought (yes I admit it) but it's still delightful! When the snowflakes flurry around and the imagery changes, you will be singing along (just as I was). This piece takes on a more theatrical performance as dancers are suspended in the air. It's spectacular!
Pride Rock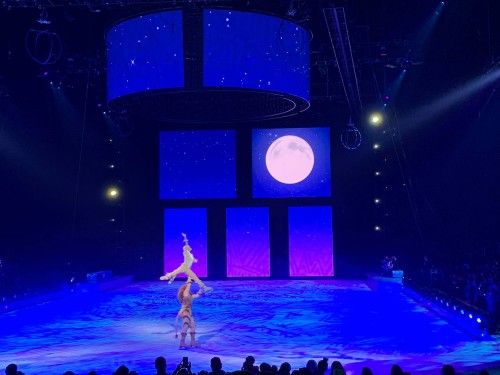 With the live action version of The Lion King released this past year, we were thrilled that the members of the Pride Rock joined Disney on Ice. As soon as Rafiki steps on the ice, the audience jumps up screaming! Monkeys appear in front of the audience as other animals emerge as well. Pumbaa and Timon are also part of this performance, but my favorite was the duo skating of Simba and Nala which was amazing. Disney on Ice knows the perfect balance of ensemble pieces with duo skating routines.
United States
Disney brings us to the United States to hang out with the characters from Toy Story 4 which includes Forky! While I can't identify the specific location of Toy Story, is it Ohio or California? We do know that the message of friendship is strong in  this story. This is one of the featured movies that does not have singing BUT it opens with Woody entering a country favorite. Can you guess what song it is? You will absolutely love this performance! The toys have everyone in the audience playing a game that gets everyone on their feet.
Agrabah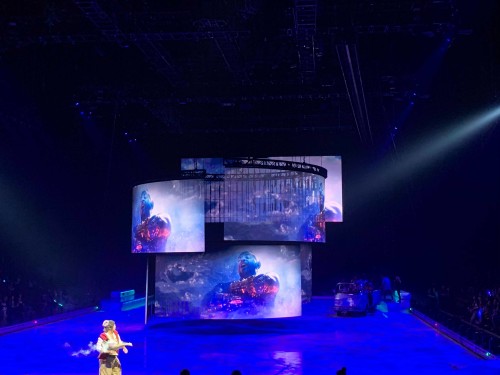 Aladdin is one of my favorite movies so I was thrilled that Aladdin had several different numbers included in Road Trip Adventures. Disney on Ice utilizes the live action version as Will Smith as the Genie is projected on the screen interacting with Aladdin. The coordination of the digital screens with the performers is impressive. Visiting Agrabah was amazing! We not only watched "Friend Like Me" but we loved the ensemble piece "Prince Ali" as a camel brings our transformed street thief to greet Jasmine. Of course, the Agrabah segment ends with "A Whole New World" where Jasmine flies through the air in an acrobatic dance.
There is no spoiler alert that we are fans of this new version of Disney on Ice! Road Trip incorporates elements of the newly released live action versions such as The Lion King and Aladdin which we really loved. So leave your passport at home, all you need is tickets to Disney on Ice to travel the world! To learn more and purchase tickets to a show near you, visit the Disney On Ice website.
If you like this post, you might like: