Children are scientists by nature. They observe, absorb, and analyze information at an astounding rate. Often times it is thought that children need to be a certain age or maturity to process scientific information. Liberty Science Center (LSC) has been dispelling that myth for over 25 years! Located in Jersey City, they can't stop growing. With over 300,00 square feet dedicated to hands on learning that engages all of the senses, they have converted every corner to a hidden learning opportunity.
Are they a museum? Are they a science center? Are they a playground? Is it fun? The answer is "YES" to all of these questions. Each exhibit has a philosophy that children learn best through play. While I have attempted to organize the spaces into themes, every exhibit appeals to sensory learners. Every exhibit has a component that makes you move your body. Every exhibit has facts and information. Every exhibit threads art into learning. All of the exhibits can take more than an hour, so we have attempted to highlight our experiences that has developed through partnerships over the past five years with LSC!
A Tour of Liberty Science Center
Move Your body
Infinity Climber (Permanent)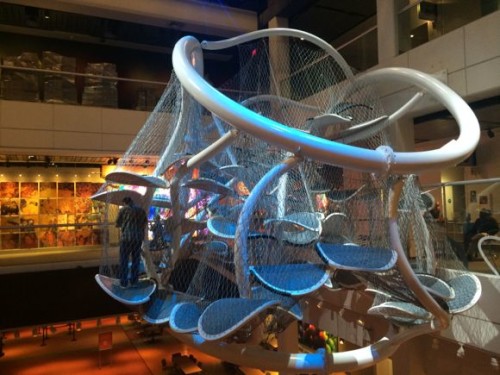 Have you played on a playground suspended 35 feet in the air? If not, you must check out the Infinity Climber. Guests have to navigate through the wired tunnels. It is a must do stop for our children during every visit. There is a minimum height to enter and for those who are not the most limber be prepared!
Block Party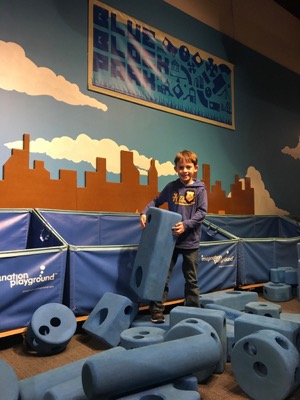 Building toys are a favorite at Mommy University for many reasons, however, LSC takes this developmental skill to a new level. The Block Party invites children to play with blue foam blocks that in some cases might be taller than your children. They can make whatever they want using their imagination. If there are several children, they will practice their communication and team skills to work together.
Sky Scraper
The Sky Scraper exhibit on the first floor is a testimony to the innovations of engineering. Children can build their own skyscraper design, test out mini construction machines, and, our favorite activity, strap on a harness and walk on a narrow steel beam. For the last activity, there is a minimum age (and if you have a daughter who is wearing a dress I recommend putting shorts underneath).
Wonder Why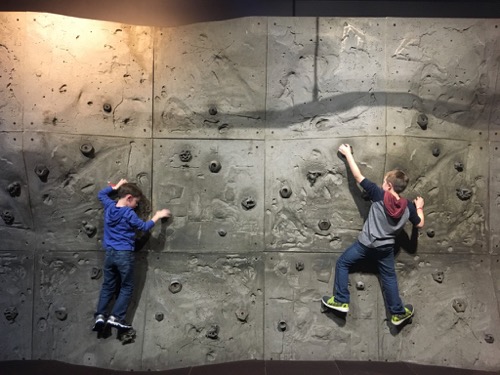 Located by the Infinity Climber and outside Eat or Be Eaten is the popular hands on Wonder Why. This space is a cornucopia of small activities for children to try out different scientific ideas. From maneuvering across a rock wall, to testing a bubble wall, this a great space for kids to engage.
Enjoy a Multi-Sensory Experience
Touch Tunnel (Permanent Exhibit)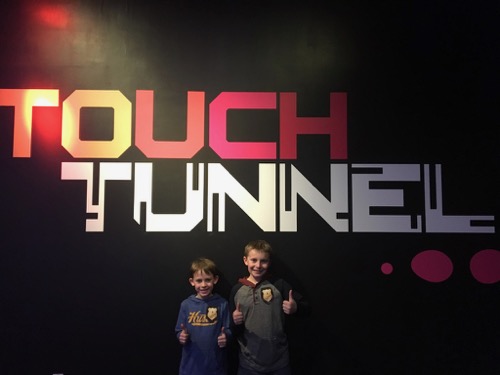 Are you a fan of the dark? The Touch Tunnel will challenge you to find the exit of a darkened 80-foot tunnel using your senses. Young children may be scared by this experience and older visitors may not prefer crawling through the space, however everyone in between has a great time. Projected on the wall you can watch individuals meandering their way through and photos are taken that you can share to social media. My children are huge fans of this activity!
iExplore (Permanent Exhibit)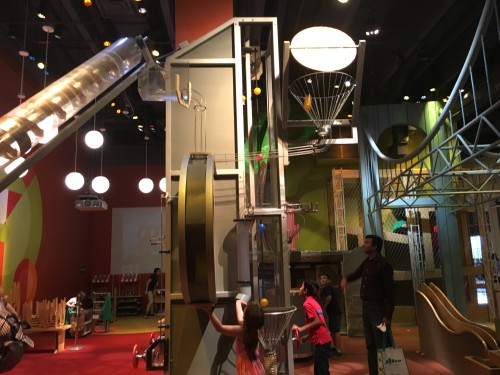 For the first few years we visited LSC, the majority of our time was spent at the iExplore exhibit which is designed for young children. This immersive space invites little ones using a multi-sensory approach. From building cars to race down a track to sensory tables filled with rice to painting with water, this is a MUST DO space for little ones. If you are bringing a little one, make sure you park your stroller outside.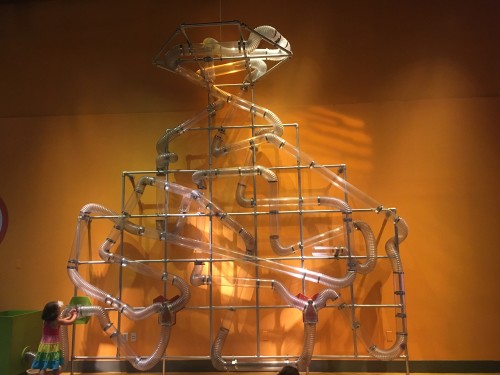 My children love to test cause and effect by placing fabric poofs into a tube system that pushes air. They attempt to predict where the poof will land and even adjust its path by moving different levers. In fact, cause and effect is very big in another massive device where children can maneuver plastic balls through the tubes and even project into the air!
Challenge Your Ideas
Our Hudson Home (Permanent Exhibit)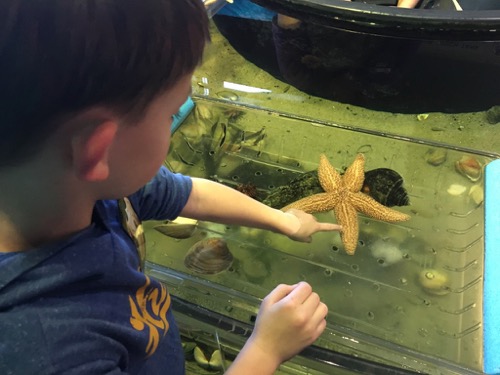 This space is dedicated to the Hudson River ecosystem as children can learn about the residents and complex systems that rely on each other. As well, this is a fun space that usually offers a touch tank at some point during the day (check the daily itinerary) which is wonderful for little ones. Recently, my children are of the age they can participate in different labs and there is one in this exihibit!
Eat and Be Eaten (Permanent Exhibit)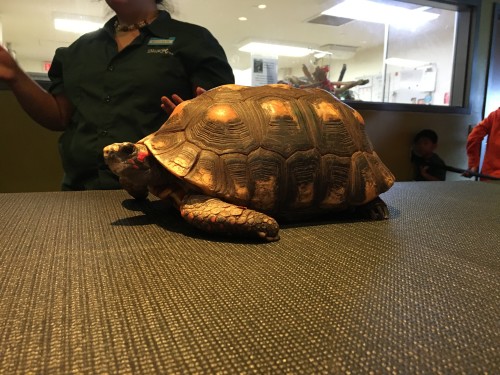 When we first started visiting LSC this was one of our favorite places as we watched the leaf cutting ants expand their colony and said hello to the snapping turtle. Usually, there are scheduled Animal Encounters where children can observe and learn about unique creatures (and sometimes even touch them). There are a lot of fun critters in this space!
Energy Quest(Permanent Exhibit)
Located on the fourth floor, Energy Quest is about learning to harness energy from different sources. After five years of going to LSC, some components of this exhibit (as well as others) have changed but nonetheless it is multi-sensory and utilizes motor skills. Spin the wheel to race your car around a track or wind power.
Microbes Rule! Exhibit
This eye-opening exhibit uses art, technology and music to teach guests the importance of these often misunderstood microorganisms. My kids loved playing the microbes video game while I enjoyed admiring the art work made from microbes. Who knew they could be so beautiful? I also learned a great deal by exploring the kitchen station. As I touched sensors, I learned about various microbes that could be found all around the kitchen and how to protect my family from getting sick.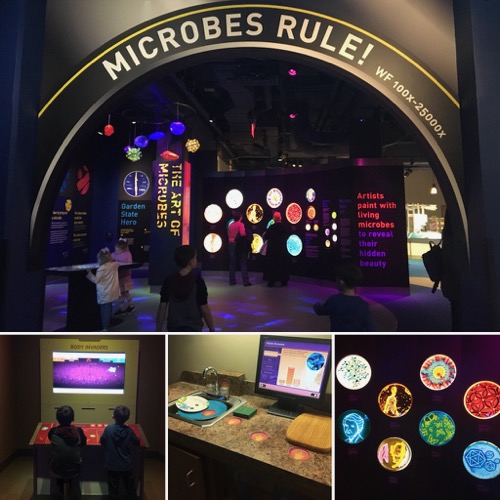 Towards the back of the exhibit is a timeline showing past and present scientific discoveries involving microbes that have changed the world. Did you know that a Jersey native discovered that the Streptomyces griseus microbe which produces an antibiotic that later became the first effective cure for tuberculosis? This discovery saved millions of lives all over the world!
Learn Something New!
Featured Exhibits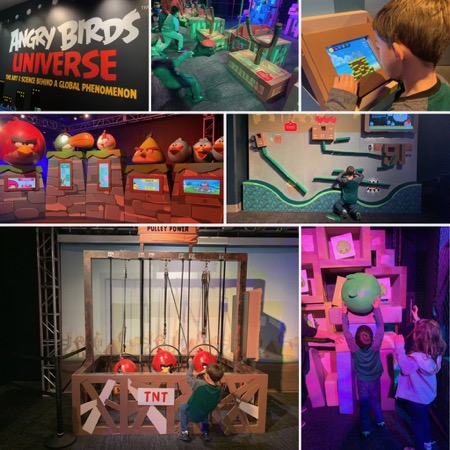 LSC not only has amazing permanent exhibits but they have two spaces for traveling exhibits. What have they hosted?  Well, in the past visitors have taken a trip on the Titanic and the USS Enterprise. Preschoolers have visited the Pridelands with The Lion Guard and diagnosed their toys alongside Doc McStuffins. There are times when the featured exhibit may cost an additional fee but most times it is absolutely worth it! Current exhibits include Angry Birds Universe (pictured above) and Dinosaur train.
Extreme LSC
Beginning November 22, LSC will be offering an exciting family fun experience the 4th Friday of every month. From 6pm-10pm, guests can enjoy activities such as laser tag, ball pit, slime experiments, planetarium shows and stargazing through telescopes. During Extreme LSC, guests can also explore all the amazing exhibits listed above!
Take a Bite of Visual Delight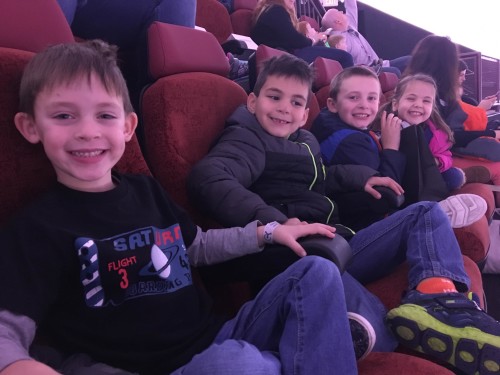 While LSC boasts many features and attractions, they recently opened the largest planetarium in the Western Hemisphere. The Jennifer Chalsty Planetarium possesses a diameter of 89 feet which can project over 281 trillion colors. The resolution exceeds what can be watched on the movie screen which translates into stunning imagery of the new images being shared of the galaxy. It is a must do experience when visiting LSC! Combined with its comfortable seating it is the perfect space to sit back and watch the stars. This space also projects stimulating (and yes educational) movies that will expand you world.  You can read our review here!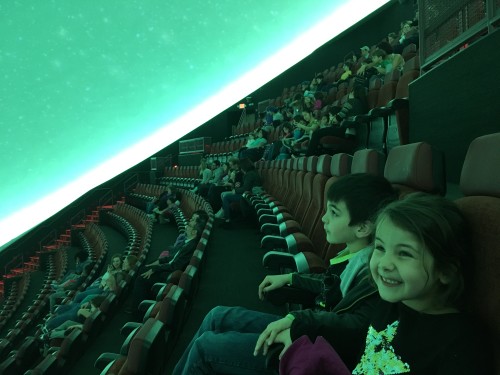 In addition to planetarium shows or movies, we also recommend enjoying one of the laser shows. We have watched a winter wonderland show as well as one dedicated to the soundtrack of summer. Don't be surprised if the individual who organizes the show gets inspired to keep playing music.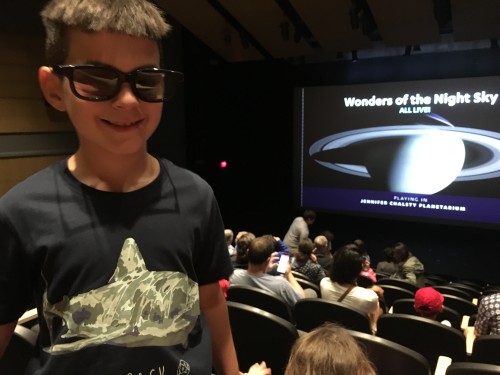 If all those options were not enough, LSC also offers 3D movies. While we swam with humpback whales in the planetarium, my family has flown with birds in the Joseph D. Williams 3-D Science Theater. The movies are shorter in length but very cool. Young children can be intimidated by the dark theatre so just be mindful of your child's age and comfort level with this experience.
And for the Adults?
While this learning space has always had a family component to its exhibits they have recently launched LSC After Dark which is all about the adults. Adults want to have fun too! LSC After Dark is hosted each month focusing on a different theme with adult beverages.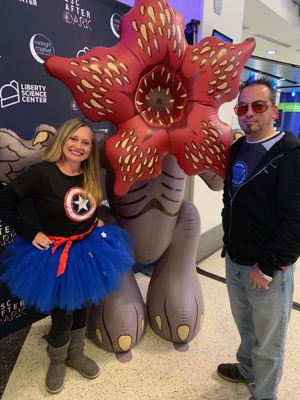 When to visit?
As a member of LSC, I have visited them during every season and with every type of weather possible and it is always a great time to visit! During the winter months, it is a hands-on learning playground to stimulate children's imagination and thoughts. You can check your coat and move comfortably  to the various exhibits.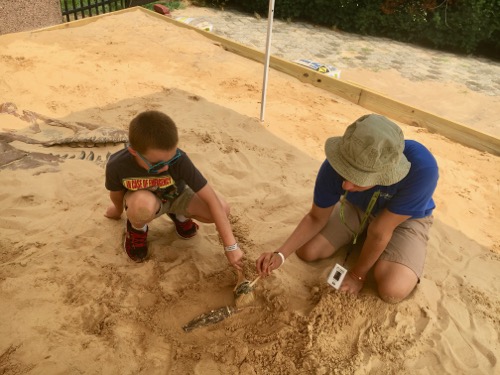 In the summer, the outdoors becomes an additional exhibition space that includes Jack Horner's Dino Dig which you can read about here! Whether it is raining or sunny, LSC is one of my family's favorite places. During the fall, they have hosted Fall Fest and in the winter they typically have 12 Days of Science. Don't overlook these themed days as they always bring science to the forefront of the season (or holiday)!
Mommy University Suggestions
There are multiple methods to visit LSC at a discounted rate. For example, if you are Bank of America cardholder then read this post! If you are a member of NJEA, show your teacher id for a discounted ticket. As well, coupons are usually available through the KidStuff Book and some libraries offer discounted tickets. Don't forget to check out Groupon as well!
LSC is massive so don't set a goal to see everything in one day especially if you have little children.
LSC is a space that has exhibits for older and younger children. For example iExplore is designed for children ages 2-5 years old while the science labs may your require a minimum age to participate.
If you find yourself visiting LSC more than once a year, consider investing in a membership. Part of the amount you pay is tax deductible and there are so many benefits!
It is not as crowded in the morning or towards the end of the day. It gets crowded in the middle of the day, on holidays or when it's raining.
If you have a child with sensory needs they have released a sensory map. As well, they host sensory days.
Pick up the itinerary before you go in as it can help you plan out which unique activities you may want to visit. For example, there can be an animal encounter, bee hive demonstration, science labs, etc. Use the itinerary to set a goal to visit 1-2 activities.
LSC has birthday parties, Scout weekends, camp nights, and so much more!
You can bring in your own food but food and drinks are intended to be consumed in the cafeteria.
A nursing room for breastfeeding mothers is on the second floor (request a key at the Welcome Desk).
Liberty Science Center contains one of my favorite gift shops. Plan some time to explore all the cool items available.
If you like this post, you might enjoy: