While Halloween and Christmas have a focus on children, nuzzled in between is the understated Thanksgiving. With a focus on family, food and fun, Thanksgiving is the American tradition. It starts with snacking, there is a lot of eating, a parade, a lot of football, and possibly depending on your sanity, shopping before Black Friday. Children have fun but depending on their age this holiday can be tough to navigate. Yet, there are so many different possibilities to engage them. Here are a few opportunities you can include in this year's celebrations!
How to Involve Your Children in Thanksgiving
Let Them Help with the Cooking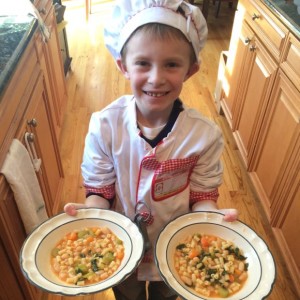 At an early age, children can help in the kitchen. I am not suggesting your preschooler make the gravy for turkey even if there is a YouTube star in another country basting a turkey. Rather, based on their age and ability, they can help. It will take some planning and thought each year but they will love and be proud that their dish, whatever it may be, is on the big menu. They can help make salad, cookies, or a small plate to serve as everyone is waiting for the main dish.
Decorate a Football Game Poster
If your family plans on watching the football games that consume the afternoon, this is a great activity to involve children. Provide the names of the teams and information they may need to help decorate their poster (mascots, colors, etc.) and let their creativity take over! The posters can be made in advance which you can use for invitations to the big meal OR they can make them that day and hung in the room where everyone is watching.
Let Them Set the Table
Young children love to help so this Thanksgiving get them involved by asking them to set the table. In fact, if you are having a super fancy meal and bringing out the cloth napkins, have them try their hand at making different shapes! You can even have them make their own place cards (see below) for each person attending.
Decorate Placemats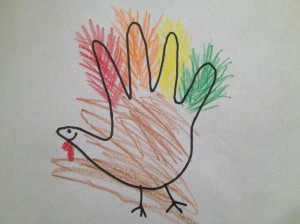 This is a fun activity for all ages! Have Kraft paper cut into the size of placemats which your children can then color or decorate. You can ask them to draw turkeys or to draw something they are grateful this year! I love looking back at the placemats my kids have made at home and at school.
Make Place Cards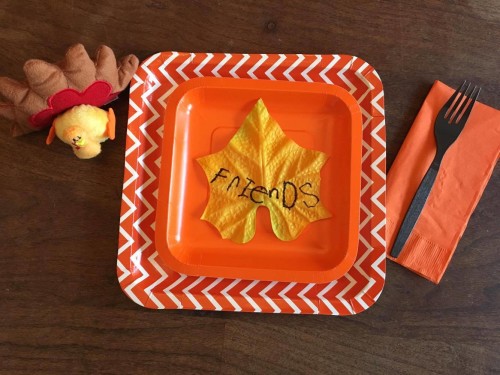 There are so many options for place cards that it can be overwhelming! Think simple at first. You can print a small turkey for them to color which they can cut out and glue to small folded cards. They can then write the names of the guests on the cards. Kids can also write names on index cards that they color or they can write names on paper leaves! The list is endless and they probably even have better ideas than the ones we provided.
Macy's Thanksgiving Day Parade Scavenger Hunt
Our family watches the Macy's Thanksgiving Day Parade each year; however, my kids tend to lose interest in between the different floats. Get them more involved and excited by creating a list of items they might see at the parade and see who can find all the items first. If you get stuck, check out the list of this year's balloons and artists.
Share Gratitude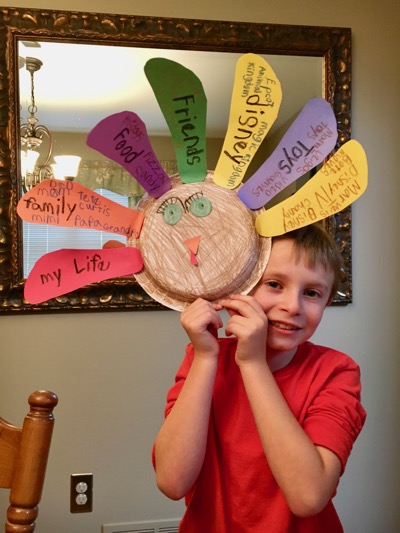 My father loved this tradition! One way to share is during the meal. Everyone goes around the table sharing what they are grateful for that year. You can also have the kids make thankful turkeys and write what they are thankful for. It is a day of giving thanks, and sharing the blessings in your life helps children to understand the beauty of gratitude.
Read about Thanksgiving
At Mommy University, we believe in reading for all occasions. It prompts discussion, encourages our children to become readers, and gives us insights into what our children are thinking. Grabbing a few books from the library or ordering a couple books from the Scholastic classroom flier, helps our children process the significance of this holiday. Here are a few ideas:
Thanks for Thanksgiving
Balloons over Broadway
Thankful
10 Fat Turkeys
Thanksgiving is for Giving Thanks
How do you get your kids involved Thanksgiving? Share your ideas in the comments below and we might add them to the list!
If you like this post, you might like: