The Harry Potter series is loved by millions of people around the world. Each story reaches into people's hearts and souls creating lifetime fans. The Harry Potter movies are now brought to life with the Harry Potter Film Concert Series. It is one of the most amazing Harry Potter events you will ever experience! I have seen the movies dozens of times but there is nothing like having the score played live giving a new appreciation for each scene.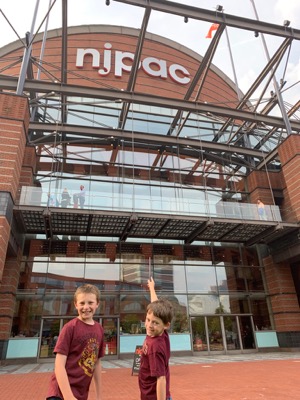 My boys and I have attended two Harry Potter Concerts at NJPAC: Prisoner of Azkaban and Order of the Phoenix. For each concert, the orchestra was set on the stage under a large screen on which the movie was played. Each show was broken down into 2 Acts with a short intermission in the middle. The shows were about 3 hours in total. Prior to the show beginning, guests can enjoy fun trivia questions to test even the biggest Harry Potter fan.
NJPAC offers an incredible show that all Harry Potter fans will LOVE. It is not just a show, however, it is an experience. The Harry Potter Film Concert Series goes beyond a typical concert or movie, it is a magical event that will make you understand the Harry Potter series in an entirely new way!
5 Reasons You MUST SEE the Harry Potter Film Concert Series
Magical Photo Ops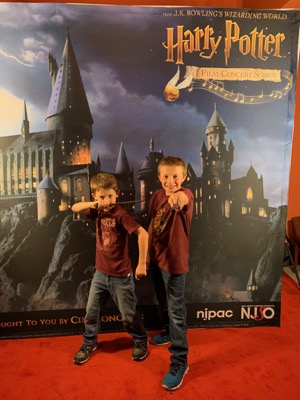 Before the show, Harry Potter fans of all ages can enjoy a FREE photo booth. Each show offers a slightly different experience but it is always a fun time. Harry Potter fans can use props and take pictures in front of a themed backdrop. The picture is then emailed to you so you can remember the experience forever. Guests are invited to dress up for the show so this is a perfect opportunity to capture your Harry Potter spirit.
Harry Potter Treats and Souvenirs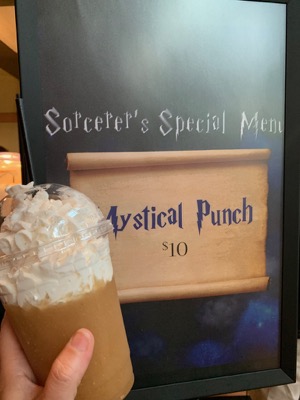 In addition to photo opportunities, guests can also enjoy delicious themed food selections like chocolate frogs, mystical punch, candy wands and more. The treats are an additional fee but totally worth every penny! Guests can also purchase Harry Potter souvenirs like house scarves, shirts, wands and more.
The Program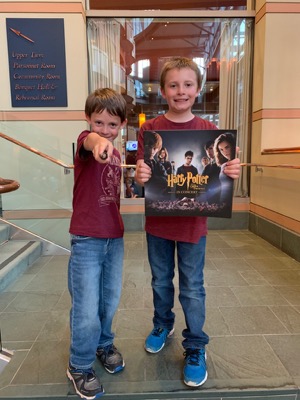 If you love music and want to learn more about the creative process, I highly recommend getting the program as it goes into great detail about the making of each breathtaking score. The program is not only a wonderful souvenir, but also a great learning tool. Kids and parents can read together and learn all about how the scores were created and how many people were needed to make each masterpiece. The program also includes pictures from the movies which are always fun to look at.
Develop a New Appreciation for Scores
When you watch a movie in the theatre or at home, you listen to the music in the background but I don't believe you really "hear" it. By experiencing the score live, audience members gain a new appreciation for scores and their important role in setting the tone for a film. The live music allows Harry Potter fans to hear each instrument and appreciate how they worked together perfectly to bring the story to life.
Inspires Young Musicians
The Harry Potter Film Concert Series inspires young musicians to be a part of something amazing. Whether it is to be a member of an orchestra, sing for a chorus or help create a movie score, kids are inspired to delve into the world of music! My boys asked so many questions about the instruments during the show. Now that my older son is playing the trumpet, he is asking what Harry Potter songs he can play.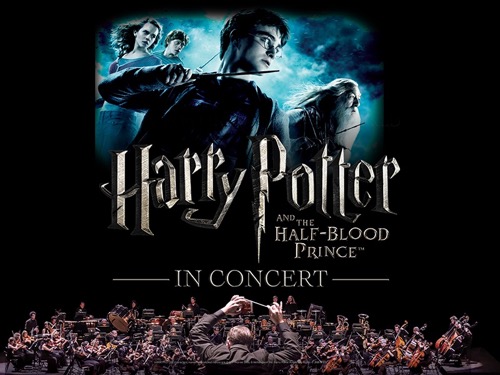 The Harry Potter Film Concert Series returns to NJPAC on October 26 at 2pm and 7:30pm with Harry Potter and the Half-Blood Prince. This is my favorite book and movie in the series. It really delves into the mind of Professor Snape and takes the story in another direction. You can purchase tickets to see this magical show by visiting the NJPAC website.
You may also enjoy: