From James the Giant Peach to Charlie and The Chocolate Factory, Roald Dahl has been delighting families for years with his books. As his printed words became movies and musicals, the complicated messages he shares about love, acceptance, and courage are presented in bite sized portions that children can understand. The Growing Stage, located in Netcong, embraces a philosophy that children should be exposed to the performing arts by presenting family friendly plays. The marriage of Roald Dahl plays and The Growing Stage has now developed into the 2019-20 Season with Matilda the Musical.
Admittedly, I never read Matilda or saw the movie. Attending the opening weekend, I knew the show would be great but I wasn't prepared for much I would love this performance. From the opening number with a young ensemble singing about their parents love, I quickly learned how amazing this experience was going to be for my daughter and I.
Matilda is a surprise for her parents the day she is born especially because she is a girl. Fast forward a few years when she is a little girl about to start school, we learn that her parents value money and superficial values. The centerpiece of this play is Matilda which is performed by the bright eyed Violet Caruso. This young woman does a stellar job demonstrating vulnerability, intelligence and gumption. Matilda is rare in her family as she consumes books read by high school students. Her family sends her to Ms. Trunchbull's academy where children are not treated well until Ms. Honey the teacher arrives. Ms. Honey, portrayed by Meowset Abbett, teaches the children with kindness. She offers a maternal presence that anchors the play and Meowset's voice is a pleasure to hear. What unfolds is a tale of courage and strength in self wrapped in upbeat music, a wonderful cast, and costumes and sets that are perfect together. There are so many themes and topics of conversation that emerge from this play, including the ones below I wanted to highlight.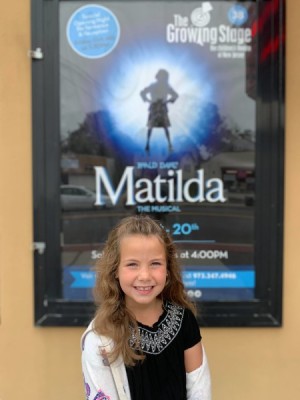 Themes in Matilda the Musical
The Power of Words
Within Matilda's world she experiences cruelty in two spaces that should be positive: family and school. It is communicated early in the play that Matilda's parents did not want a daughter. She is not appreciated because she is a girl and she reads books which defies what they value. When she begins school, which should be a safe space, she learns that Ms. Trunchbull, performed brilliantly by Sean Quigley, possesses only negative qualities.
There is a growing awareness of bullying in the news which Matilda the Musical unintentionally touches on with its themes of verbal cruelty. Dahl had overcome childhood trauma which is an underlying theme that emerges in his books and plays. What struck me as a mother has been an ongoing conversation with my daughter about what is acceptable behavior. Because Matilda is filled with lovable characters, delightful music and infused with humor, children are watching a rich story unfold that makes it easy to have this conversation.
Moral Courage
Along with Matilda are a cast of young students in her school that also suffer under Ms. Trunchbull. When Bruce, played by Jacob Escala, consumes a slice of the Headmistress's prized chocolate cake, it offers one of the funniest moments of the performance. Unfortunately, Bruce is sent to the "chokie" for punishment. The antics of the school children are quite comical and each time Ms. Trunchbull treats them with an excessively painful response. The fear of this character even extends to Miss Honey! Matilda, however, finds the courage to defy her and stand up for what is right.
Stay True to Yourself
Reading books provides Matilda an escape. Her short visits to the library become her only sanctuary and her conversations with Mrs. Phelps, the librarian, offer her assurances that she is on the right path. Although Matilda's parents are cruel, she persists in reading stories to them. When Ms. Trunchbull belittles her, she still supports her friends. Matilda has a strong sense of who she is and doesn't conform to make others happy. Matilda's resilience and strength of character is a wonderful role model for children.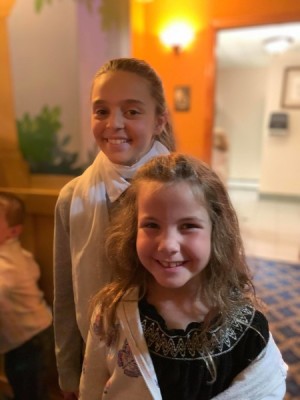 Celebrating 38 years as a the children's theatre of New Jersey, The Growing Stage selects productions which are family friendly. They invite young minds to fall in love with the performing arts. Little ones are given a Kids Activity Book that shares the same look as the Playbill the adults receive except it is designed with a word search, maze and an autograph page. One of the biggest joys for the children is meeting the cast after the performance. They are thrilled to talk to the cast and this wonderful moment reinforces their growing interest in the theatre!
Matilda the Musical runs until October 20 at The Growing Stage so don't miss your chance to see this amazing production! To learn more and purchase tickets, please visit their website.
If you like this you might like: