There are so many ways to enjoy the great outdoors and be one with nature, but nothing compares to the thrill and excitement of a treetop ropes course. Walking amongst the leaves with the wind in your hair is an experience that can make your heart race yet relax you at the same time. It is exhilarating but also incredibly therapeutic!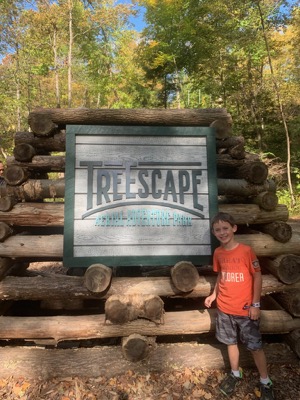 The TreEscape Ariel Adventure Park at Mountain Creek in Vernon, NJ is nestled within the picturesque mountains of Sussex County. It is not just for thrill seekers but also for couples, families, scouts or anyone looking for adventure. Open May through November, TreEscape offers a day of fun for ages 4-94 (well, you know what I mean). In the spring, you can watch as the leaves grow and flowers bloom, and in the summer, you can dip in and out of the sunlight using the shade of the trees. In the fall, you can witness the leaves change color and the animals collect their food for the winter. TreEscape not only helps enhance gross motor skills but also fosters an appreciation of nature.
How It Works:
First, reserve your passes online and pick your arrival time. Tickets are $25/child ages 4-6 and $40/person ages 7 and up. Make sure to check the weather forecast in advance before choosing your time. If it's going to be a gorgeous day, I recommend going as soon as the park opens to beat the crowds. We arrived at 11:15am for the 12pm time slot, and I am so glad we did!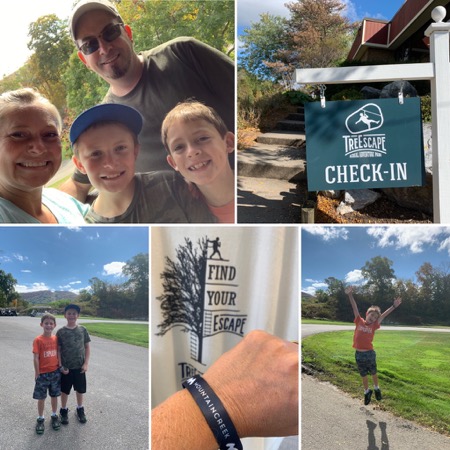 Check-in is located at the Great Gorge Clubhouse. You will complete your registration on an iPad including signing a waiver. Each guest will be provided a Mountain Creek bracelet that indicates their reservation time. Once checked in, you will be provided transportation to the actual TreEscape courses. (FYI: It's a bumpy ride so be prepared to hold on!)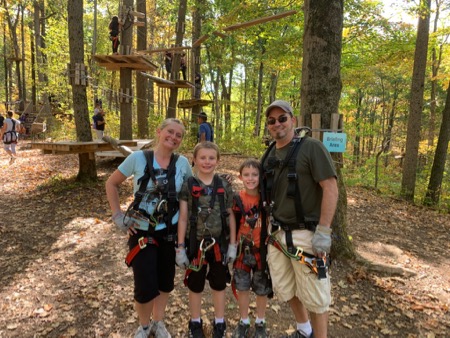 Upon your arrival to the course, the staff will fit you for your equipment. It may seem overwhelming at first, but the staff makes the process so easy. Once dressed and ready for adventure, you will receive a lesson on using the equipment. At first, I thought, "I am never going to remember this!" but I quickly caught on and felt like a pro in no time. My kids (even my 7 year old) used the equipment with ease as if they had been doing it for years!
After learning the essentials and putting on your gloves, you will head to the platform where you will practice your skills before heading out onto a course. I have to admit, my boys picked it up faster than I did but after a few clicks of the clips and some help from the staff, I was ready to go.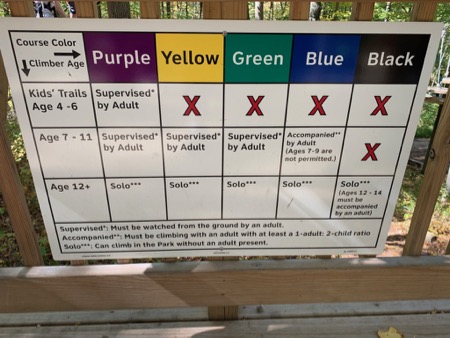 Last step is to pick your course. Courses are color coded based on age and difficulty level. Little ones (ages 4-6) can only do the purple courses which is located close to the ground. Yellow and green courses are for ages 7 and up while blue is for ages 10 and up. Black courses are for your ultimate thrill seekers over the age of 12 (12-14 year olds must be accompanied by an adult)!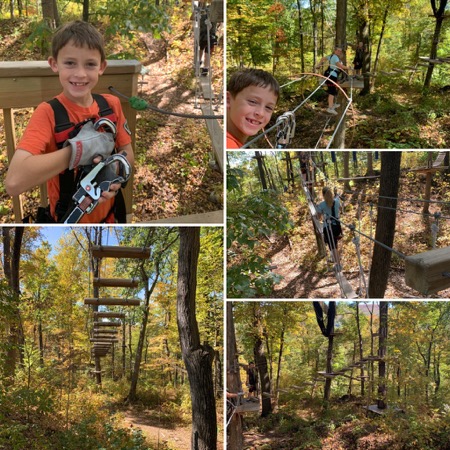 During our experience, we completed 3 green courses and 1 yellow course. Each one offered a fun and unique experience that tested our balance, coordination, strength and confidence. Each course also included at least one zipline. Walking, climbing, swinging and crawling amongst the trees was absolutely exhilarating! There were times when I was pushed to my limit which gave me an amazing feeling of accomplishment when I made my way across an element to the next platform. I loved watching my boys beam with pride after they completed a difficult element or seeing the joy on their faces as the zipped through the trees.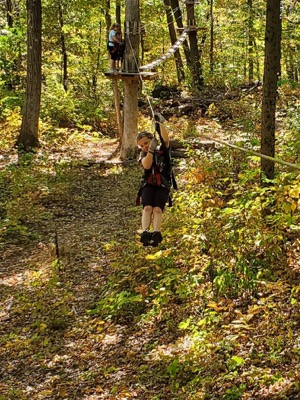 Not only is TreEscape fun, but each course also offers an incredible learning experience for children and adults. Here are just some of the skills enhanced by experiencing TreEscape Ariel Adventure Park:
Gross motor skills
Hand-eye coordination
Balance
Problem solving
Perceptual reasoning
Fine motor skills
Motor planning
Spatial awareness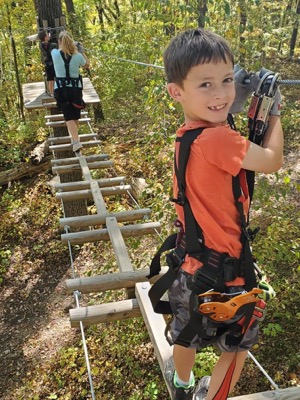 If that's not enough, guests also build confidence, self-esteem and an appreciation for nature. It also encourages family bonding. With all these amazing benefits, why wouldn't you want to spend the day at TreEscapes? Hurry and get your passes before it closes for the season. It will be an experience you will NEVER forget!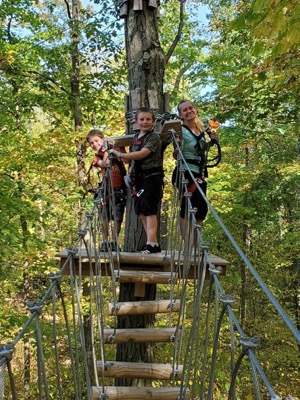 For more information and to make reservations, visit the TreEscape website!
You may also enjoy: