My boys are getting older so I decided that it's time to introduce them to haunted houses and hayrides. My 10 year old loves Stranger Things and has even seen It (not my finest parenting moment), and both of my boys love Goosebumps. Since I am researching haunted houses for them to visit, I decided to put together a list for other parents too. After reviewing what NJ offers, here are some of the most amazing haunted attractions I have found so far. From haunted houses to corn mazes to hayrides to asylums, there is something to terrify everyone in your family! Keep checking back because I will update the list as I find more as well as add a quick review to any we have tried!
Amazing Haunted Attractions in NJ
Brighton Asylum: Their website says it's the best, most interactive and scariest haunted house in NJ but we won't know for sure until we try it out! Located in Passaic, Brighton Asylum is a MUST DO haunted attraction this fall. You can also check out the new PORT9L experience, The Bleeding Grounds, escape rooms, ghost tours and more!
Cornfield of Terror: Located in Egg Harbor, Cornfield of Terror offers a haunted corn maze you will not soon forget. With something lurking around every corner, you will sure to be frightened.
*Recently canceled for 2020.
Dracula's Domain: If you dare, venture to Jackson this fall for 4 haunted attractions. Buried Alive escape challenge, Psycho Path walking trail, Dead End Corn Maze and Haunted Hayride will all terrify you. These haunted experiences are not recommended for children under the age of 13.
*Recently canceled for 2020.
Farm of Horrors: With 4 horrifying attractions, Farm of Horrors in Flemington offers a great way to celebrate Halloween. Guests can experience Hayride of Horror, Trail of Terror, Massacre Maze and Carnevil of Chaos. Farm of Horrors is not recommended for children under the age of 13; however, since all children are different, it is up to the accompanying parent/guardian to make that decision.
Field of Terror: By day, this 100-acre East Windsor farm offers Sunshine Acres a fun family-friendly experience, but by night, it turns into your worst nightmare (especially if you hate clowns). Guests can choose from Creepy Carnival Paintball, Killer Kornfield, Haunted Hayride to Terror Town, The Unknown Barn and Timmery Mannor. Non-scary events include a flashlight maze and night pumpkin picking.
HALLOWFEST at Six Flags Great Adventure: It's just not Halloween in NJ without HALLOWFEST! During the day, guests of all ages can enjoy some not-so-scary Halloween fun, but at night, the real horror begins. Older guests can enjoy parades, terrifying shows, haunted hayrides and more.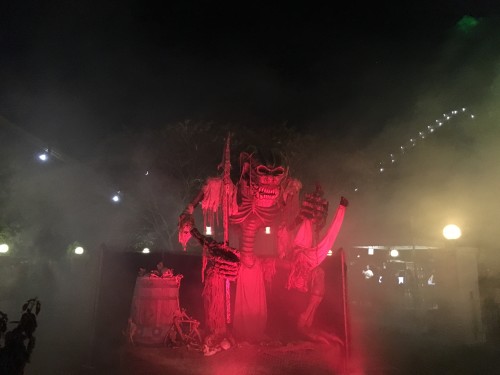 Haunted Orchards at Demarest Farm: This family friendly farm in Hillsdale is known for its fun fall experiences like apple picking and a petting zoo, but at night the evil spirits are awoken. Guests can experience haunted farm and/or haunted hayride, both of which will terrify you!
*Recently canceled for 2020.
Night of Horror: At night, V & V Adventure Farm in Shamong offers spooktacular experiences for everyone. In addition to a family friendly hayride, flashlight corn maze and s'mores, older guests can experience the Jersey Devil Haunt and Zombie Invasion Shootout Hayride. The Haunt is not recommended for children under the age of 13, and the Hayride is recommended for ages 10 and older.
*Zombie Invasion and Jersey Devil Haunt canceled this year.
Night of Terror: Creamy Acres in Mullica Hill transforms from an adorable family friendly fall destination during the day to one of the scariest locations in NJ at night! This haunted attraction offers a variety of experiences including The Harvest, Slaughter Cave, Dark Dreams, Ride of Terror and Haunted Paintball Hayride. Night of Terror is not recommended for children under the age of 13 but it is ultimately up to the parent's discretion.
Nightmare at Gravity Hill: Located in Jackson, this unique attraction offers a haunted walking trail with over a dozen scenes spread across 5 acres. You may run into zombies, clowns, ghouls and other terrifying creatures of the night. This attraction is not recommended for young children, and kids 14 and under must be accompanied by a parent.
Scare Farm: Offering 3 horrifying experiences, Scare Farm, located in Hillsborough, is a MUST DO haunted attraction. Guests can experience The Creepy Hollow, The Slay Ride and Paranoia, all of which promise to give you nightmares!
Scary Rotten Farms: With 3 haunted attractions, this farm in Brick will horrify you! Guests can experience Twisted Tales, Sinister Sneed's Chaotic Carnival of Chaos and Blackened The Plague.
The Hayride of Horrors and Haunted House: Located at Corrado's Farm in Hackettstown, this space offers three terrifying experiences: haunted house, haunted hayride and haunted corn maze. Add Zombie Paintball to your experience to make even more exciting!
*Recently canceled for 2020.
13th Hour Haunted House: Head to Wharton this fall for one of the BEST haunted houses in America! Guests can enjoy 3 haunted house experiences, 6 escape rooms and an all new virtual reality escape room, all of which will terrify you!
Know of more haunted attractions? Put them in the comments section below and I will add them to the list!
You may also enjoy: