This fall, take a trip (or several) to gorgeous Chester, NJ. Nestled within Morris County, Chester offers endless fun this fall. Besides their unique gift shops, nostalgic "home town" feel and delicious restaurants, Chester boasts some of the BEST farms in all of NJ. If you are looking for the ultimate fall destination, then you have found it!
5 Must Do Experiences This Fall in Chester, NJ
Hacklebarney Farm Cider Mill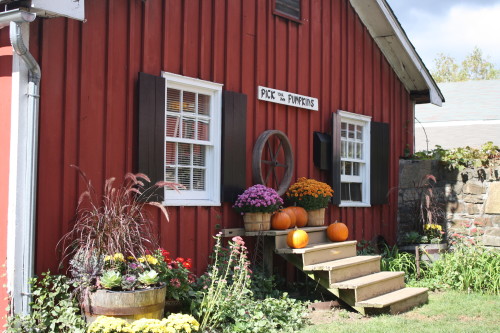 Hacklebarney Farm Cider Mill is one of my foavorite places to visit in the fall. Families can enjoy one hour or an entire day at this picturesque and historic farm where there is something for everyone! Visitors flock to Hacklebarney in the fall for their amazing apple cider and baked goods. I personally love their hot dogs cooked in apple cider! What makes this farm unique, however, is the live demonstrations of its famous cider being made. On most Saturdays and some Sundays, visitors can watch as the workers make cider using an oak rack and cloth process.
Another brain boosting activity at Hacklebarney Farm is their exciting twisty corn maze. It is a great way to foster those problem solving skills while bonding as a family! Guests can also enjoy pumpkin picking which is always a fall favorite. So make sure to visit the farm this fall and enjoy a hot cup of cider and a donut by the fire. Oh, you can bring your dogs too!
Alstede Farms
Alstede Farms is known for its wide variety of farm fun. They offer hayrides, a corn pit, wagon rides, pony rides, a hay pyramid and much more. With over 50 variety of apples, it is also your go-to farm for apple picking this fall! Apple picking at Alstede starts in August and lasts until around early November (weather depending). You can walk to the orchards or take a relaxing hayride. Make sure to get some homemade ice cream while you are there too!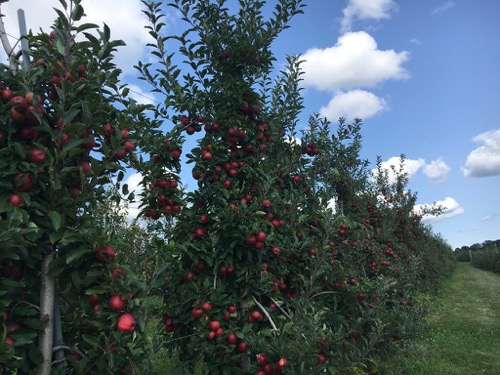 In addition to picking apples and veggies this fall, hop on the hayride at Alstede Farms to pick some amazing pumpkins too. What makes this farm unique, however, is that you can also pick pumpkins at night! Just bring your flashlight and find your perfect pumpkin.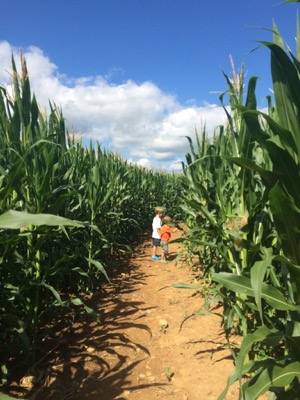 Want even more fall excitement? Then don't miss the Harvest Moon Hayride and Night Time Corn Maze which is available every weekend September 18-October 30. The hayride will take guests to the corn maze where you can explore the maze by the light of the moon (well actually your flashlight). Guests can also enjoy hot cider and roast s'mores by a campfire while waiting for their nighttime adventure. This is a fun event for families, friends and even scout groups!
Stony Hill Farms
Stony Hill Farms offers one of the most unique maze experiences in all of NJ. This year, their 10-acre corn maze is themed AMAZED by Weather. Stony Hill Farms does not stop with just a corn maze though. They also offer a 1-acre mini corn maze, rope maze, and tile maze. In addition, families can enjoy a life-sized barnyard board game, gemstone mining and a playground. Did I mention on Saturdays you can also explore the giant corn maze at night?
Although Stony Hill Farms is primarily known for their exciting and unique mazes, they also offer a unique apple picking experience as they have dwarf apple trees perfect for kids! Guests must purchase an admission ticket to pick apples and fees start at $7.99. This entry fee includes unlimited hayrides (on weekends)! Looking for pumpkin picking? Stony Hill Farms offers that too. This farm really does have everything!
Riamede Farms
If you love apple picking, then Riamede Farms is the place for you! It is a gorgeous farm offering 34 varieties of apples making for an exciting apple picking experience. In fact, it was the first apple picking farm in NJ opening in 1974. Apple picking begins September 3rd and continues for about 6-7 weeks as different varieties ripen at different times. Riamede also offers hayrides through the orchard as well as to the pumpkin patch in October. The rides are free and take place all day on Saturdays and Sundays. Hayrides are not required to reach the orchard or pumpkin patch as they are both walkable but they are a nice way to enjoy a fall day. Pumpkin picking is available in October.
Cooper Gristmill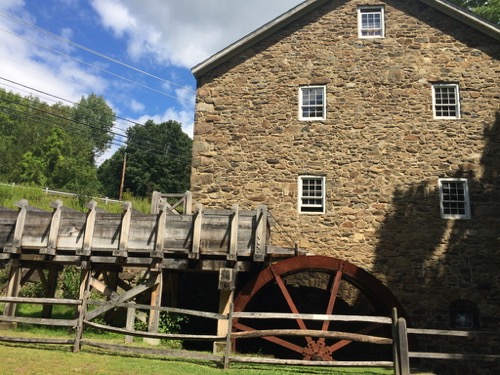 Located on County Highway 513, the Cooper Gristmill allows guests to step back in time to the 1800s when the Cooper Mill flourished. Learn what an important role the mill played in the development of this area during the Industrial Revolution. Guests can tour the mill and enjoy hands-on demonstrations on how the mill worked. When we visited, my boys learned firsthand how workers turned corn into flower and how the mill helped make this task much more efficient. The Cooper Gristmill does not have an admission fee but donations are appreciated. In the fall, it is open Friday and Saturday 10am-5pm and Sunday 12pm-5pm.
BONUS:
Hiking
Chester offers wonderful opportunities to go hiking! Our favorite is Hackelbarney State Park. I recommend grabbing some donuts at the Cider Mill before or after your hike too. Check out our video tour below.
To learn more about the amazing events in Chester visit the I Love Chester website!
You may also enjoy: