This school year, we are very excited to partner with amazing companies such as Crayola, Faber Castell, Blinger, Thinking Gifts, Creativity for Kids, Miniland, Tech Will Save Us and Globber to bring you amazing back to school products that will get your kids excited about going back to school!
I can't believe it but it is already that time of year again. It's time to get the backpacks, lunch boxes, pencils, crayons, notebooks…the list goes on. After an amazing summer of fun, excitement and some relaxation (I hope), it is time to get back to the school routine. To make the transition easier, we have put together a list of some awesome back to school items we know you and the kids will LOVE.
We all know it can be difficult to get the kids excited about school again, but with the school gear on this list, your kids will be begging to return. Well maybe not begging, but they will be pretty excited. In this guide, we have included items that will not only provide opportunities for academic success but will get kids excited to go back to school. We have included Amazon affiliate links to make your shopping experience easier and faster!
Back to School Guide for Kids
Backpacks
Rockets of Awesome Backpacks and More! 
Let your kids show off their style with an awesome backpack from Rockets of Awesome! Available in 3 designs, Camo, Neon Pink and Neon Blue, these backpacks have plenty of space for books and even a laptop. They also have padded adjustable straps and a mesh pocket for a water bottle. What's even more amazing is you can also purchase patches to stick on the backpack. Backpacks and other accessories can be purchased on the Rockets of Awesome website.
Dolce Mouse Backpack with Neck Support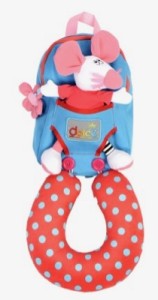 Is your little one heading off to preschool or day care for the first time this year? Then they will love this adorable Mouse Backpack from Dolce. The removable mouse offers various textures which is not only great for sensory learning and play but it is also a wonderful way to help little ones relax when nervous. The neck pillow is also removable and perfect for traveling to and from school especially if your little one is taking a bus. This adorable backpack is under $40 on the Magformers website.
Backpacks from Indigo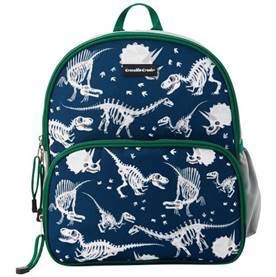 Head over to Indigo in the Short Hills Mall for all your Back to School essentials including adorable backpacks to fit every style and interest. Indigo features backpacks from Yoobi, Parkland, Skip Hop, Crocodile Creek and more! Each backpack is not only stylish, but also well-made, sturdy and loaded with storage space. For all the styles, check out their store!
Bixbee Backpacks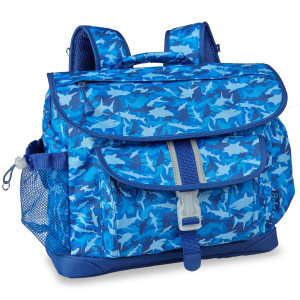 If your child dreams of flying, then give them wings this school year! If they dream of launching into outer space, then the Space Racer or Rocketflyer may be your child's style or they may prefer butterfly wings, but in either case there is a backpack for them. Not only does Bixbee have a phenomenal philosophy of One Here and One There, but they also make well designed and captivating backpacks. For each backpack purchase, Bixbee donates a schoolbag with supplies to a kid in need. If that doesn't grab you, then the design of a backpack resembling a fox or owl might. For older children, they have sparkly designs or camouflage in dinosaurs or sharks (see above). Backpacks can be found at affordable prices on Amazon.
BUILT NY Big Apple Buddies Backpack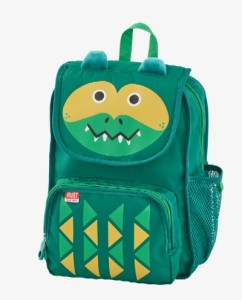 The little ones will love their adorable Big Apple Buddies Backpacks that come in a variety of playful designs like this alligator. This backpack offers tons of storage space as it has a roomy main compartment, zippered front pocket and side mesh pocket perfect for water bottles. The fabric is water-resistant polyester and is PVC and BPA free! Plus, it is affordable selling for under $20 on Amazon!
BUILT NY City Carryall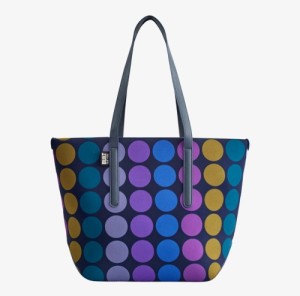 Looking for something a little different this school year? BUILT New York has stylish and durable bags perfect for moms, teachers and college students. They come in a variety of sizes and designs but I really like the City Carryall due to its larger size. It is perfect for carrying files, notebooks, books, electronic devices and more! There is also an inside pocket to store your keys, phone, wallet and more. The City Carryall is made from neoprene (wetsuit material) making it quite durable. It can purchased for under $30 on Amazon.

Lunchboxes and Containers
Litterless Lunch from Indigo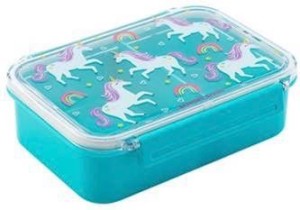 Indigo in the Short Hills Mall offers lunch bags and holders your kids will LOVE! From unicorns to sloths to dinosaurs, there are styles to fit every child's interest. The lunch bags come in a variety of sizes and designs but what I really love are their unique lunch holders. At Indigo, you can pick up an amazing bento box, stylish Thermos, a 6-section lunch box and versatile snack containers. You can definitely get creative this school year with these adorable options at Indigo!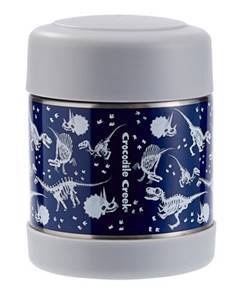 Bixbee Lunchbox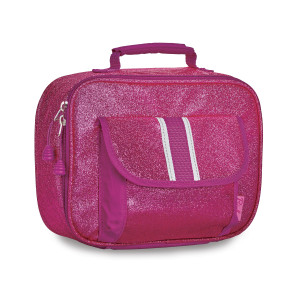 Besides making adorable, unique and stylish backpacks, Bixbee also makes lunch boxes that will make kids excited about going to school. From butterflies to zombies to camouflage to even monkeys in space suits, there is something for every style and interest. As fans of their backpacks, we appreciate that the lunchboxes can be partnered with a coordinated backpack. Conscious of the modern trends and what appeals to children, Bixbee knows how to make going back to school something to look forward to! Bixbee lunch boxes can be found on Amazon.
BUILT NY Big Apple Buddies Lunch Sack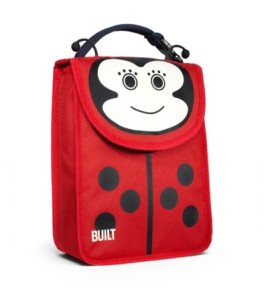 Looking for an adorable lunchbox to go with your new backpack? BUILT New York offers the perfect option for little ones as it comes in 3 designs: ladybug, dog and hippo. This bag is durable making it a great choice for your preschooler. The fabric is safe too as it is PVC, BPA, latex and vinyl free. It is affordably priced at under $20 on Amazon and the BUILT NY website.
BUILT Gourmet Getaway Lunch Tote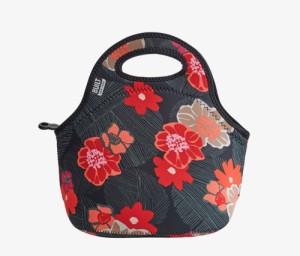 BUILT New York also offers stylish and durable lunch tote options for older kids, parents and teachers. The Gourmet Getaway Lunch Tote comes in a wide variety of designs to suit everyone's style. It is also insulated, made from neoprene (wetsuit material), has a zip closure, is machine washable and is PVC and vinyl free. Even better, it is stain resistant! This lunch tote is under $20 on Amazon.
Precidio Design Snack in the Box and Drink in the Box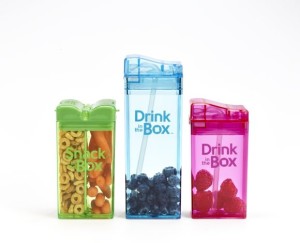 Your kids will LOVE to bring these innovative and unique snack and drink containers to school each day. Whether it is for lunch or snack, Precidio Design has created two amazing products that make packing snacks and drinks for school easy. The Drink in the Box is a reusable, easy to clean container that comes in 8oz and 12oz sizes. The Snack in the Box offers dual chambers so kids can have 2 healthy snack options. It is easy to open making it perfect for kids as young as preschool. Each product is BPA, BPS and Phthalate free and made from the nearly indestructible Tritan. They fit perfectly in your child's lunchbox and backpack and come in a variety of colors. You can purchase these products on Amazon.
Nalgene Lunch Box Buddy

Often times when you have a lunchbox, there are hinges or crevices to hold crumbs, but the Lunch Box Buddy has a simple design that makes it easy to use and clean. The top part of the lunch box can be taken off and used as a tray. The ice pack included is adjustable which allows you several ways to pack a lunch. The velcro sleeve makes it easy to be carried. Cleaning up is easy and the box is dishwasher safe and the sleeve can be thrown in the washing machine. On Amazon the Lunch Box Buddy is less than $25.
Nalgene 12 oz. Water Bottles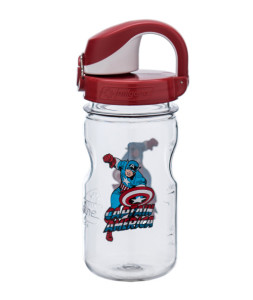 Every super hero needs to stay hydrated to tackle learning this school year which is why Nalgene has kids set up for success with these amazing 12 ounce water bottles. The lid has a latch that stops spills and is built for durability. The size of the water bottles is perfect for the lunch box or road trips! Your kids will love picking out their favorite Avenger and on Amazon the prices range but all stay under $11.

School Supplies
Crayola Take Note!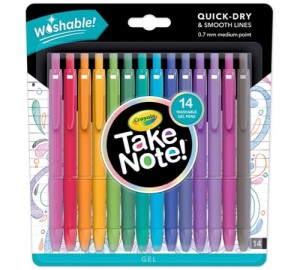 Every school year Crayola supplies are on the top of our list and this year is no exception! Their Take Note! line takes things to the next level. Recommended for ages 6 and up, the new Take Note! Washable Gel Pens and Erasable Highlighters are a perfect addition to your child's pencil case. The gel pens come in packs of 6 and 14 and are available in a variety of bold and bright colors. The pens feature a quick-dry formula and are streak-free.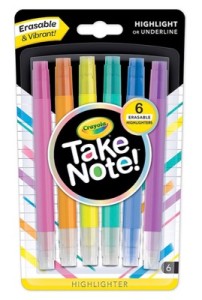 The Take Note! Erasable Highlighters will change the studying game as kids can boldly highlight important information but erase it if they make a mistake. It is perfect for kids just learning to perfect their reading and studying techniques. The highlighters come in 6 vibrant colors so they appeal to all learners! Other Take Note! products include dry erase markers, felt-tip pens and permanent markers. All products can be found on the Crayola website and Amazon.
Faber Castell DuoTip Washable Markers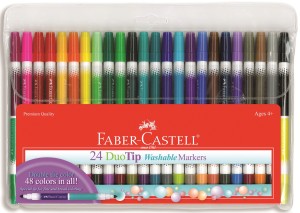 The DuoTip Washable Markers are a household favorite because they have bold and vibrant colors as well each marker has two colors. There are no strong odor or fumes from them and if your kids forget to return the caps dip them in water to rehydrate them. For less than $10 on Amazon it is recommended for children ages 4 and older.
Faber Castell Beeswax Crayons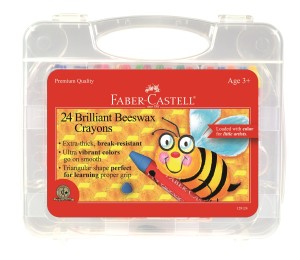 The Beeswax Crayons from Faber Castell boast not only bold and vibrant colors but are designed for young artists. They are triangular shape which works well for young children to learn proper grip (and they won't roll off the table). The 12 or 24 packs comes with a sturdy case that make them great to travel; however, most kids love how easy they are to use and how brilliant the colors are on their art projects. The 24 pack is priced less than $11 on Amazon and is recommended for children ages 3 and older.
Everyday Art Supplies from Crayola
Crayola continues to lead the pack in art and school supplies. My house is full of Crayola products just like classrooms across the country. Here are some everyday school supplies your kids can use in class and at home this year: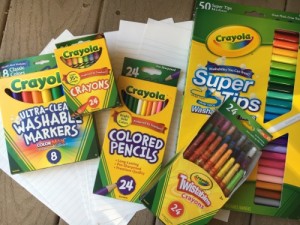 Ultra Clean Washable Markers Color Max: Let your kid's creativity shine without worrying about the mess with these new Ultra Clean Washable Markers. They come in classic, tropical, bold, multicultural and bright.
Colored Pencils: Available in a variety of pack sizes, these bright and bold pencils are perfect for your budding artist. With the Twistables Colored Pencils, no sharpening is needed as you just need to twist for more coloring fun. These pencils are perfect for adding to your child's pencil case this school year.
Twistables Crayons: Crayola is known for their amazing crayons. In fact, they are preferred by teachers! Crayola offers a wide variety of crayon options including ultra-clean washable crayons for your little messy artist. We especially love the new Twistable Crayons. No more broken crayon pieces all over your house this school year!
Super Tips Washable Markers: With these bold and vibrant markers, kids can draw thick and thin lines which inspires more creativity and imagination. They fit perfectly in pencil cases making them easy to transport to school. Plus, they are washable so don't worry about the new shirt or tablecloth!
Washable Dry Erase Crayon and Markers: Available in bright and bold colors, dry erase markers and crayons makes learning fun and easy. Kids can learn to write, draw pictures and solve math problems over and over again at school and at home. These are perfect for homeschool students as parents can use the Crayola Easel for lessons.
Faber-Castell World Colors
This school year, encourage your kids to embrace diversity and celebrate equality with the new World Colors EcoPencils from Faber-Castell. Available in sets of 15 and 27, the World Colors sets contain 3 blendable duo toned pencils that were developed by make-up artists. Little (and big) artists can blend the colors to make their own skintone and the skintone for their friends. The sets can be purchased on Amazon.
Thinking Gifts Booklight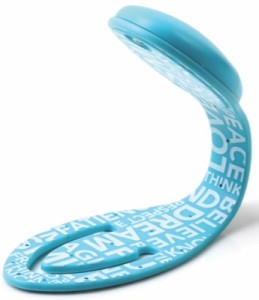 If your child loves to read, then they will love this booklight. With this booklight, there will be no more complaining that the room is too dark or he can't read in the car. With the booklight from Thinking Gifts, kids (and adults) can read anywhere. This is a great way to encourage a love of reading. The light comes in a variety of designs to fit any style and can be purchased for under $10 on Amazon.
Thinking Gifts Book and Tablet Holder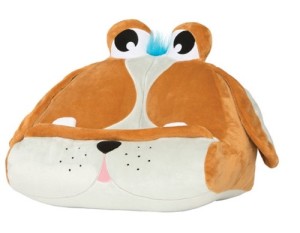 This is one of the most adorable creations I have seen for kids to encourage a love of learning! Available in a variety of styles, the book and tablet holder from Thinking Gifts gives kids a wonderful space that will get them excited to read and learn. It is a soft yet sturdy learning space that can be used anywhere.  On Amazon you can find the monster, owl, cat and pup (pictured above).

Accessories
Blinger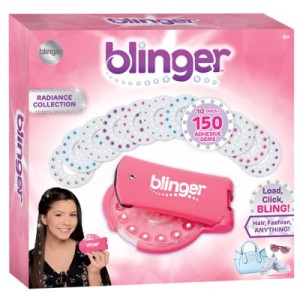 Everyone likes to show off their style especially at school! With Blinger, kids can get blinged out and show off their inner sparkle on the outside. Blinger comes with a Glam Styling Tool that allows you to add some bling with just one click. You can add sparkle to your hair, clothes, shoes and accessories. The Deluxe set comes with 150 gems and can be found on Amazon for under $25. You can also purchase the Brilliance refill set that comes with 180 gems in a variety of colors.
Tech Will Save Us Glow Kits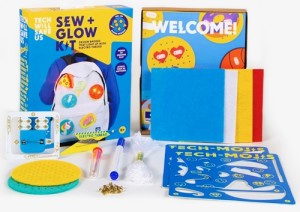 Let your kids add some extra bling and style to your backpack and clothes this school year with the Sew & Glow Kit. Not only will kids get to add some style to their bags, but they will also be learning all about science as they put together real circuits to create their light up patches. This kit lets kids use electro thread to create their very own glowing badges. They will also have FREE access to Club Make for more crafting ideas. This kit is under $20 on Amazon.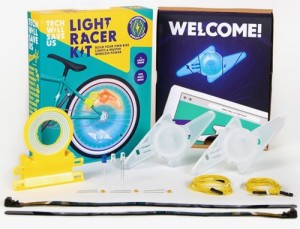 Kids can bling up their bikes too this school year with the Light Racer Kit! Using the kit, kids can put together circuits to build bike lights that flash when they ride them. While building with capacitors, led lights and wireless coils, they will learn about wireless technology. What a fun way to encourage a love of science while also fostering creativity. The Light Racer Kit is also under $20 on Amazon.
Creativity for Kids Magical Pom Pom Key Chains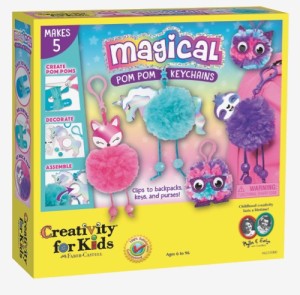 Magical Pom Pom Key Chains are the perfect accessory for your child's backpack this school year. The kit makes 5 pom poms so they can share them with their siblings and/or friends. They are also a perfect activity for a playdate or Girl Scout meeting. Children can show off their unique style by decorating their pom poms anyway they would like. The set comes with colorful yarn, pom pom maker, holographic bodies, beads, satin cord, key chains, glue, wiggly eyes, glitter accessories, scissors and more. Magical Pom Pom Key Chains can be purchased on Amazon for under $20.
Primo Foldable Lights Kids Scooter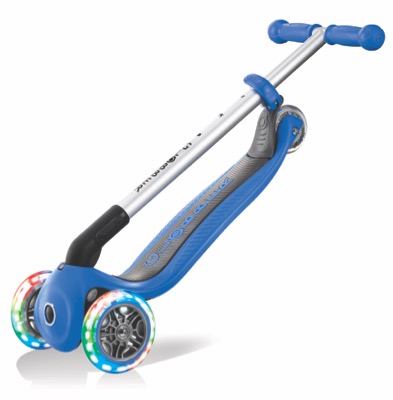 If your kids walk, ride their bike or take a scooter to school, then you have to check out this new foldable scooter by Primo! It is the perfect way for kids to travel to and from school, sports and even their friend's house. This 3-wheel scooter has an easy push button folding system, and the wheels light up. It also offers wide-integrated brakes and an extra long deck design allowing for greater comfort and safety! The Primo Foldable Scooter retails for under $70!
Creativity for Kids Unicorn Purse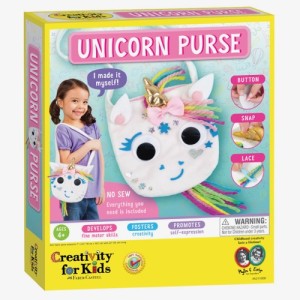 Little girls love bringing a purse to school so why not let them bring one that they made themselves? The Unicorn Purse set comes with everything a child needs to make an adorable bag including yarn, horn, ears, bow, stickers and wiggly eyes. Kids will build fine motor skills while enhancing their creativity and encouraging self-expression. The Unicorn Purse set is under $20 on Amazon.
Grumblies Miniacs (Skyrocket)

Grumblies are silly characters with lively facial expressions and wild hair. These popular characters are now available in a miniature version making them perfect for your child's Easter basket! There are 12 styles that come in blind bags. Grumblies Miniacs fit perfectly at then end of a pencil so kids can keep their friend close while doing homework. Grumblies Miniacs are recommended for ages 5 and up and can be purchased on Amazon!
Mabel's Labels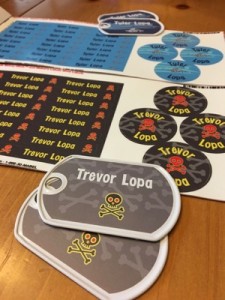 Don't let your child's lunch box, soccer jersey or baseball mitt go missing again! Mabel's Labels offers unique customized labels that can be used on anything this school year! The labels are not only waterproof but also dishwasher and microwave safe. The labels come in a wide variety of designs, colors and sizes with packages available for multiple uses. They even offer medical labels and tags. I let my boys pick out their labels to make them more personal to them, and we cannot wait to use them this school year. Learn more by visiting their website.

Sensory Tools
Sensy Band (Mindware)

I absolutely LOVE the Sensory Genius line from MindWare especially the Sensy Band. The band offers tactile input as it has soft silicone bristles on both sides. The band can be used in a variety of ways to provide tactile input, decrease anxiety and increase focus. It can be "slapped" onto your wrist, unrolled and rolled back up, left open on a desk and worn on your wrist. The Sensy Band is under $6 on the MindWare website.
Stretchy Strings (MindWare)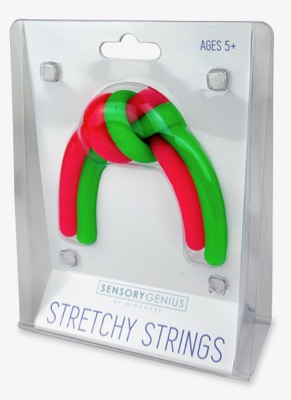 Part of the Sensory Genius collection, Stretchy Bands are wonderful sensory/fidget tools that can help keep kids and focused and regulated. Each set comes with too brightly colored bands that are 3 feet long. They can be stretched, twisted, wrapped, twirled and any other way you want to use them. They are squishy and soft too allowing for tactile input. Stretchy Strings can be found on the MindWare website for under $6.
Putty Scents (Mindware)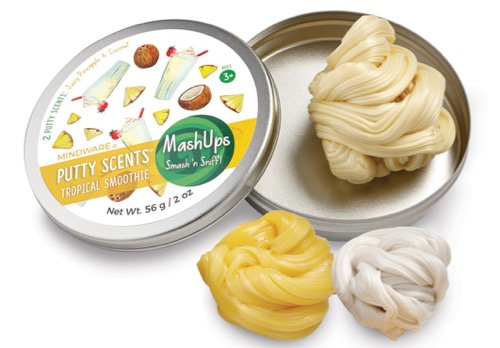 MindWare has released a collection that engages all the senses! Putty Scents come in tins in a variety of sizes and scents. Each one offers tactile sensory input and can enhance fine motor skills. Kids will really love the mash-ups which allow them to mash two different scents together such as Peanut Butter & Jelly and Tropical Smoothie. The trio of scented tins are $11 while the mash-ups are $10 on the MindWare website.
Pencil Pushers (MindWare)
 
If your kid fidgets in school or at home while doing homework, then Pencil Pushers is for you! Each set comes with 3 brightly colored pencil toppers that offer tactile input and opportunities to fidget. Each Pencil Pusher also encourages fine motor manipulation which helps enhance skills in that area. Pencil Pushers can be purchased for under $5 on the MindWare website.
Creativity for Kids Sequin Pets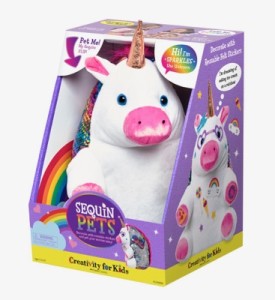 We are big fans of the Sequin Pets from Creativity for Kids. Each pet offers a multi-sensory experience that kids enjoy like movable sequins, soft texture and weighted bottom. Sequin Pets are perfect for kids who require tactile input during the day in order to decrease anxiety and overstimulation. Sparkles the Unicorn is the larger version while there are several options for the minis such as Twinkles the Elephant, Dazzle the Dinosaur and Hope the Hippo. Sparkles is under $20 on Amazon while the minis are under $10.
Lullabuddy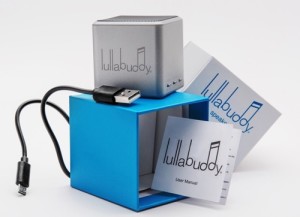 Winner of 6 parenting awards, Lullabuddy is an innovative product parents everywhere will LOVE! If your child has trouble falling asleep, Lullabuddy will provide soothing sounds and songs that will help them drift off into dreamland. It is perfect for bed time or nap time which means it can be used at day care too! Lullabuddy can play for up to 18 hours before needing to be charged, and it does not require any connections or WiFi. Lullabuddy can be purchased on Amazon for under $50!
Social, Emotional and Academic Learning
Miniland Mindful Kids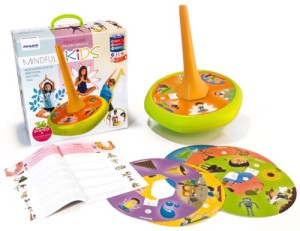 Mindful Kids is a wonderful game for children ages 2-7 years old to help enhance self-awareness. While playing, children are also increasing motor skills, coordination, vocabulary and social skills. Mindful Kids is a great way to get kids ready for school in the morning or to wind down before bed. Teachers and counselors will also love this game! It offers 36 mindfulness activities using 4 themes: conscious breathing, muscle relaxation, yoga and meditation. Mindful Kids can be purchased at Michaels and Amazon for under $50.
Miniland Emotiblocks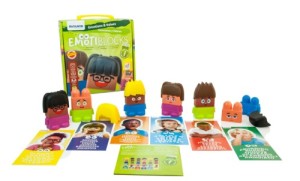 Emotiblocks helps teach children ages 2-6 years old to better understand and express emotions at school and at home. The set comes with 18 interchangeable pieces, activity cards and a teaching guide. There are over 100 possible combinations allowing for endless learning through play. Emotiblocks help enhance social, emotional, language and motor skills all while having fun. The set is priced under $20 on Amazon.
Miniland ABC Monster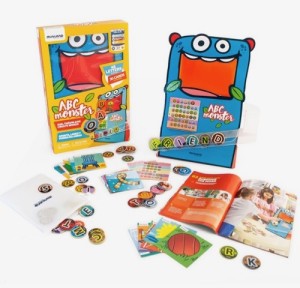 Are you looking for a fun new way to encourage a love of reading? ABC Monster helps kids enhance letter recognition, spelling, blending and reading all while having fun. To play, kids throw letter discs into the monster's mouth. The discs then slide down a channel to form words in the order in which they were thrown. ABC Monster is a multi-sensory game that builds academic and motor skills. It can be purchased on Amazon for under $40.
Miniland Emotions Detective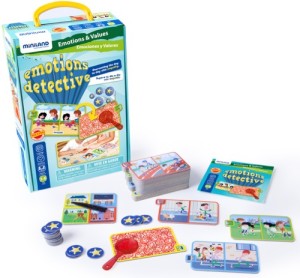 Build emotional awareness and understanding this school year with Emotions Detective game. Children have to use problem solving and reasoning skills as they pick out clues to solve various conflicts. Players learn to recognize different emotions and interpret how others feel. This game comes with 24 cards, 18 stars, a spinner and a magnifier. It is recommended for ages 3-6 years old  and can be purchased on Amazon for under $20.
Quercetti Rami
Encourage a love of math this school year with this fun award-winning game! Quercetti Rami uses a button and lever system to solve math problems. While playing, children are also building hand-eye coordination, motor planning, visual scanning and problem solving skills. This game is recommended for children ages 4 and up and can be purchased on Amazon for under $45.
You may also enjoy: