This summer, the temperature has peaked with record numbers in heat and humidity which transformed New Jersey into a sauna. That's why we were even more thrilled to receive an invitation to visit Six Flags Hurricane Harbor! Part of the Six Flags Great Adventure parks, Hurricane Harbor is filled with rides that accommodate families, children and thrill seekers of all ages!
The 45 acre park is a water wonderland. Filled with over 20 thrill water slides, a lazy river that is a half mile long, two water playgrounds, a million gallon wave pool and now the tranquil Calypso Springs. Six Flags Hurricane Harbor is a staple on the New Jersey summer bucket list and after visiting for the day, we have a better appreciation of what makes it worthwhile to families.
Highlights from Six Flags Hurricane Harbor in NJ
Calypso Springs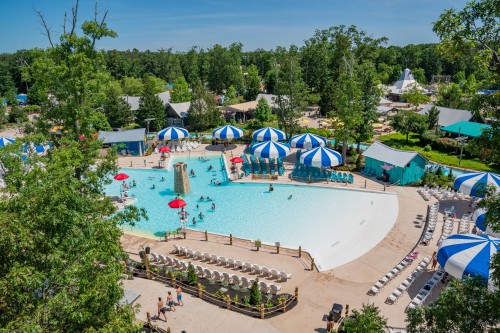 The centerpiece of Six Flags Hurricane Harbor is the recently opened Calpyso Springs. This pool, which boasts of 100,000 galloons of water, is impressive with four beach-style entrances that slope into the water. With four lifeguards at each corner surrounding the obelisk fountain, it is the central place to spend the day with family. Seating with oversized umbrellas enable plenty of shade and comfort at this space.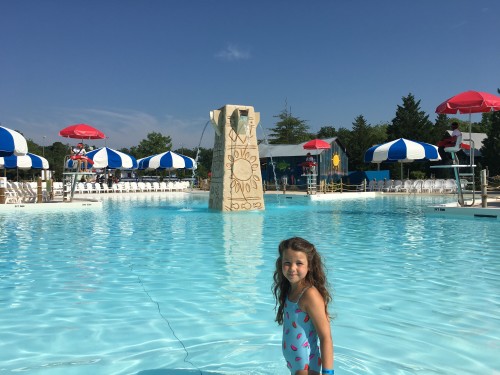 What makes Calypso Spring perfect for siesta time or as a homebase when visiting Six Flags Hurricane Harbor is that it is available to all ages, from novice swimmers (who can wear life jackets which are  available for free) to the more advanced swimmer to a grandparent who wants to dry off in the sun. When everyone is craving a snack or refreshment the Calypso Grill is a few steps away!
Taak It Eez Ee Creek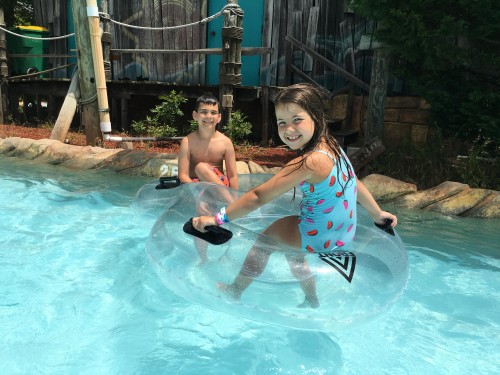 With over 2,000 feet of crystal clear flowing water, the Taak It Eez Ee Creek has been my favorite lazy river. It circles the inside of the park with multiple locations where you can jump in or jump out. We leapt into the Taak It Eez Ee behind Calypso Springs during the hottest part of the day with no difficulty. I recommend when visiting for the first time to make sure you go on this lazy river as it helps give you an orientation where everything is located.
Discovery Bay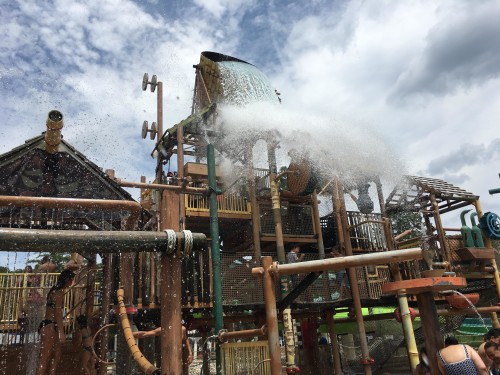 My kids love to get splashed so a trip to Discovery Bay was a mandatory stop! Water playgrounds are the best because you don't have to know how to swim so more people can enjoy this space together. Children can climb nets, maneuver water blasters, cruise down slides or embrace the water bucket!
Cannonball, Wahini and Jurahnimo Falls

While I prefer the tranquil spaces, my children are the thrill seekers which is how I ended up joining them on the triple threat of thrills. In the center is the Jurahnimo slide that has a 76-foot drop pretty much straight down. Flanking this is Wahini and Cannonball which transforms your body into the raft traveling from 0 to 40 miles per hour. You are propelled forward with quick turns, and did I mention it is in the dark?
Tornado
The first ride my family embarked on was the Tornado and for very good reasons. Grab the four person raft and be prepared to drop 75 feet into a 132 foot tunnel. Traveling at 35 feet per second, Tornado became their favorite ride at Six Flags Hurricane Harbor!
Blue Lagoon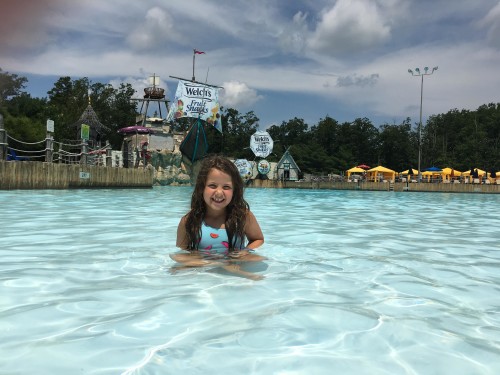 If you are looking for the wave pool, then stop by the Blue Lagoon! With 92,800 cubic feet of water, this pool is wave after wave of fun. Our family can easily spend hours lounging in the waves or attempting to dive under them. Surrounding this massive space are beach chairs to put your feet up!
Our first day trip to Six Flags Hurricane Harbor was a massive success even though we only visited a portion of the rides. We had so much fun that we are planning a return trip so that we can embark on other rides like Bada Bing, Bada Bang, Bada Boom! or Boreas, Eurus, Zephyrus and Nortus. What is your favorite experience at Six Flags Hurricane Harbor?
Six Flags Hurricane Harbor is open daily now through September 2, 2019. It is also open September 7-8 10:30am-6pm. To learn more and purchase tickets, please visit their website.
If you like this post, you might like!