It's always cool in New Jersey!
In the burning heat of the sun, the refreshing taste of ice cream is the perfect contrast. One thing most people agree on is that a cone of ice cream is a wonderful summer time treat especially in the Garden State! Luckily, there are tons of options! It is not just about the quality or diverse flavors that exist in  NJ but also the cool locations that inspire us to travel across the counties to find exciting experiences. We invite you to visit one (or all) of these North Jersey locations that some of our readers have recommended and others we enjoy as well!
Amazing Ice Cream Places in North Jersey
Absolute Zero, Montclair
Have you tried ice cream inspired from Thailand? While you might be thinking about flavors like Thai Iced Tea, Ube (purple sweet potato) and Vietnamese Coffee, Absolute Zero offers those fun and sweet flavors as well as an exciting method to making ice cream. Just like Street Carts in Thailand, at Absolute Zero the ingredients are mixed on a sub zero pan and then rolled. It is not only extremely pretty, but it tastes delicious too!
Alstede Farms, Chester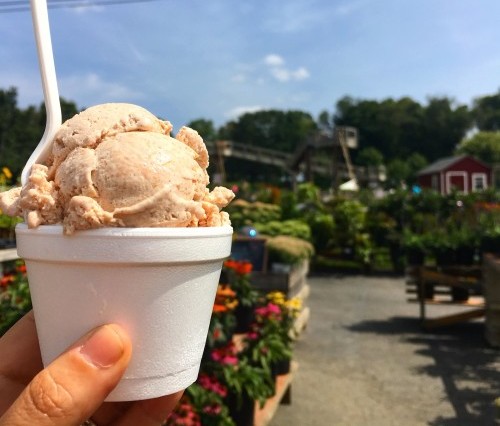 Alstede Farms made our list because this is a family friendly farm that offers children learning experiences throughout the year. In addition to sunflowers, corn mazes and pick your own activities, they also possess delicious home made ice cream.
Andersen Farms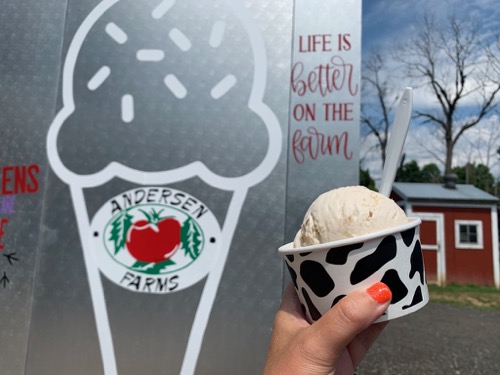 Located in Sparta, Andersen Farms has thrown their hat in the ring with ice cream making and it is AMAZING!! Open daily, this adorable farm offers a wide variety of unique homemade ice cream flavors including their new summer pie inspired flavors. I definitely recommend Boston Cream and All American. While enjoying your sweet treat, you can also admire the adorable farm animals then purchase farm fresh produce.
Applegate Farms, Montclair
Applegate Farms has been a staple in Montclair for decades and they even offer birthday parties! They make their own unique flavors as well as apple cider donuts and other treats. It is a favorite place because they also sponsor FREE movie nights where you can grab your favorite ice cream before watching a family film.
Cliff's, Ledgewood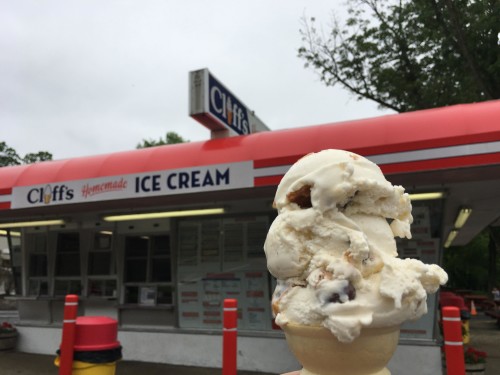 Cliff's has served ice cream for over forty years! After tasting their Peanut Butter Pretzel Madness, I understand the appeal. With additional parking in the back and picnic places, this is a great place to stop and enjoy a cone.
Curly's Ice Cream, Riverdale
Not many ice cream spots can boast about decades of amazing ice cream; however, Curly's has been impressing families for over 60 years! The values established by their founder are the guiding principles used in offering delicious ice cream, great customer service and reasonable prices. Brighten up your day with a soft served Tarty Twist (green apple and pomegranate raspberry sorbet), Coconut Cream or Cannoli Cream.
Das Creamery, Mount Olive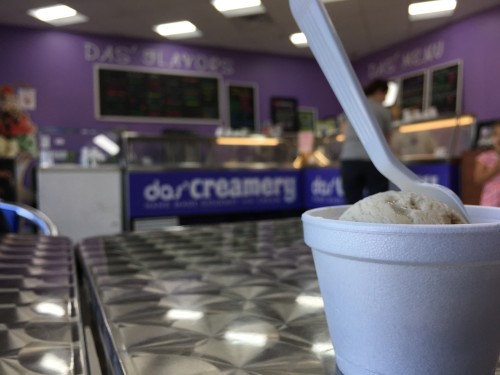 Das' Creamery takes ice cream to a whole new sensory level by offering unique flavors created by the father-daughter team. The Das family serves scoops of ice cream that will dazzle the taste buds. From For the Sage of Maple to Downton Abbey to The Dark Knight Rises, Das' uses fresh ingredients to create sensational treats. If you are an ice cream connoisseur, you definitely need to visit this space that has been regarded the best in Morris County and competed for that title in New Jersey.
Falls Creamery, Little Falls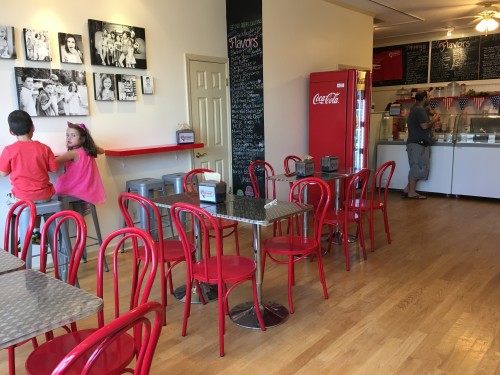 The Falls Creamery is a locally owned shop with the classic look of an ice cream parlor from decades before. Little Falls is known for some amazing mom and pop shops and Falls Creamery is one of them. When we visited, we tried a coffee drink with ice cream that was divine.
Gelati by Mike, Caldwell, Montclair and Randolph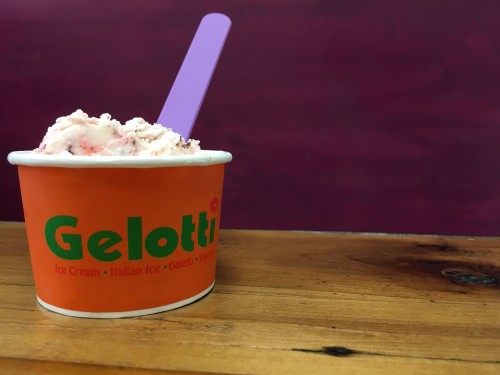 If you catch a Jackals game this summer, you will notice Gelotti's presence, but this ice cream parlor born in Patterson has a big following in a few towns. They always give back to their community like donating ice cream to the July 4th Ice Cream Social at Grover Cleveland's House or Night Out celebrations. They are known for their creativity like the Cabernet Chocolate Chip Sorbetto or Avocado! In fact, they have won awards not only in the United States but also in Europe.
Jefferson Dairy, Lake Hopatcong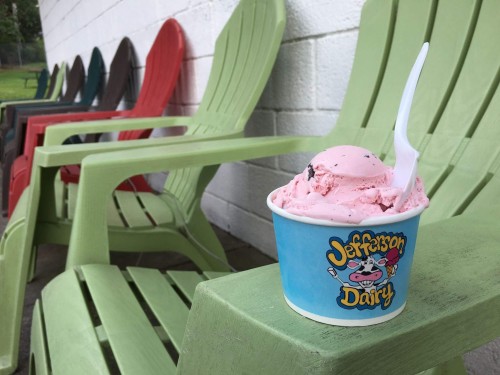 For close to fifty years, the Jefferson Dairy has been offering the community of Lake Hopatcong delicious ice cream including some unique flavors that are their own creation. My family stops here each year to have a cone in the brightly colored Adirondack chairs. It is cash only but if you forget they have an ATM inside.
Mark & Julie's, West Orange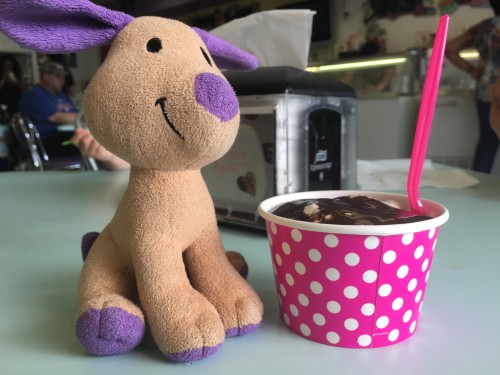 What began as a love story has grown into a popular ice cream destination named after its owner Mark and Julie. Boasting over 50 flavors and sold in local restaurants, this parlor is a hopping spot that hosts birthday parties and special events.
Windy Brow Farms, Newton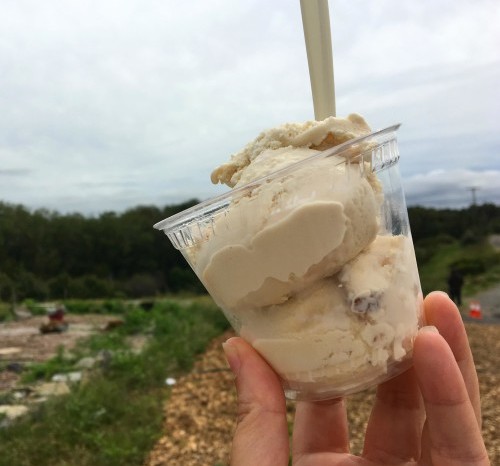 One of the most iconic flavors of New Jersey, is Taylor Ham which is why Windy Brow made a maple based ice cream that includes caramelized ham to treat your taste buds. This Sussex County farm scoops up unique flavors throughout the season and they all sound delicious. There is always the Meyer Lemon & Shortbread or the Honey & Rubarb as well as a bakery that has fresh baked bread.
Taylor's Ice Cream, Chester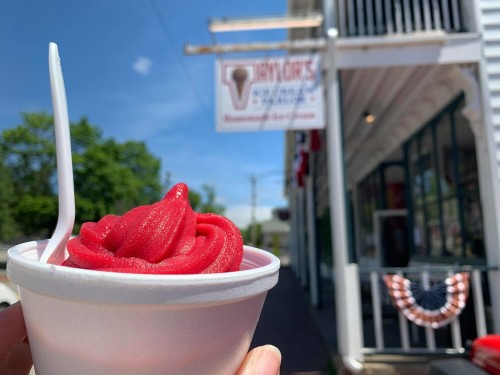 Stop by Chester for that small town Norman Rockwell feeling and visit Taylor's Ice Cream for some delicious and refreshing ice cream.  Pictured above is the Pomegranate Raspberry sorbet which my family fought over but they also make an amazing Dole Whip!
Tranquility Farms, Andover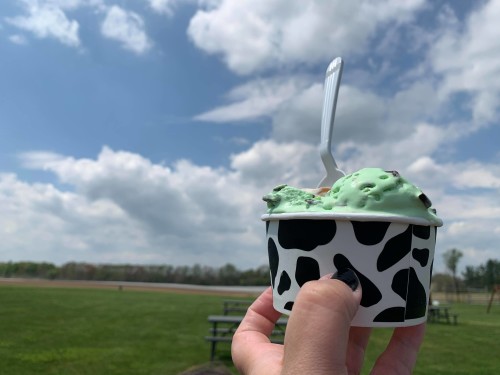 There is nothing like fresh air in the mountains!  Tranquility Farms is in Sussex County surrounded by a beautiful landscape.  There are picnic tables set up to enjoy this delicious and refreshing home made ice cream which is right next to two small climbing structures for the kids to play.  Our favorite was Raspberry Cow Chip but when we return it will be to try the new Blueberry Cheesecake!
Other Ice Cream Places of Interest
Baumgarts, Ridgewood
Bischoff's, Teaneck
Brownstone Pancake Factory, Edgewater
Charlie's, Rutherford
Denville Dairy, Denville
Ernie's, Mahwah
Holstens, Bloomfield
Pink Ice Cream, Clifton
Polar Cub, Whitehouse Station
Sparta Dairy, Sparta
Van Dyk's, Ridgewood
The Whistle Stop, Waldwick
We will be adding more ice cream shops as we explore them this summer! Know of a great one in North Jersey we left off the list? Put it in the comments below and we will check it out!
If you like this post, you might like: