My family absolutely LOVES Medieval Times! I have been attending tournaments since I was a little girl, and now, as a mom, I love sharing this experience with my children. Although the meal and the premise of the show remains the same (well almost), every trip to Medieval Times offers a new and exciting learning experience!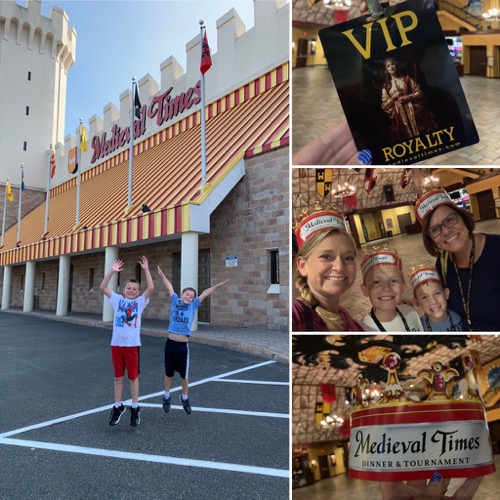 We were recently invited to be royal VIP guests at the Lyndhurst Castle. This included a tour, Q & A with a few Knights and a special Junior Knights Training class. It was an incredible way to learn all about Medieval Times and the hard work that goes into creating such a spectacular show!
The Junior Knights Training took place on the arena floor that is filled with 40,000 pounds of sand! The Medieval Times Knights taught us a few important moves then treated us to a fight sequence. My boys then had some time to play on their own and take pictures with the knights. It was an amazing experience!
For those that don't know, when you enter the castle, you receive a crown that represents the Knight you are to cheer for. That will also be the section you sit in for your meal. There are 6 sections: red, yellow, red & yellow, blue, green and white & black. For this show, we cheered for the red knight. Each Knight is incredibly talented and clearly loves what they do. In fact, one Knight we spoke to has been performing for over 15 years at Medieval Times! Now that's dedication!
I have always admired the Knights at Medieval Times. Their skill, artistry and bravery are inspiring. Although the Queen rules the land, in my opinion, the Knights are the real stars of the show. Well, their horses too of course! Until now, however, I had no idea what went into being a knight. Although anyone can be a Knight, it is a lengthy training process that requires dedication, determination and hard work.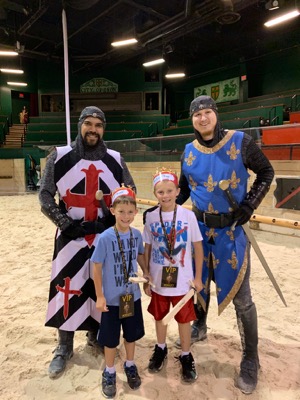 Before becoming one of the Knights we see valiantly performing each night at Medieval Times, the performers must train as a Squire for 6 months to 2 years. A Squire is the person that aids the Knight by handing him weapons during battle. He also gets the Knight's horse ready and trains alongside his Knight. The Squire must then pass the Knighting Test to become a Knight's Apprentice. During their apprenticeship, they will learn more advanced techniques. Once fully trained in more intricate and precise moves, they will become a Knight!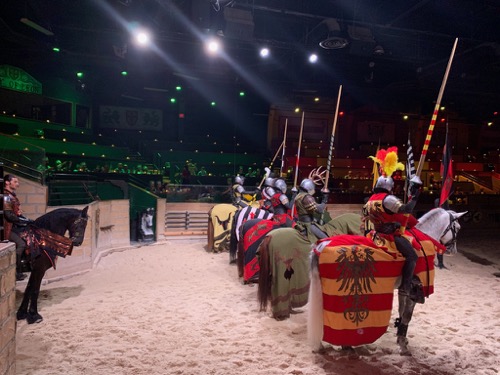 Being a Knight isn't just about competing in medieval games and tournaments though. It also means knowing a lot about medieval history. In order to play the part, performers have to know what it was like to live during that era. They also need to know a great deal about medieval weaponry. For instance, Knights at Medieval Times use 2 different kinds of swords during the show. The espada is a short sword used on horseback while the mandoble is a longer sword used when fighting by foot. When not using a sword, Knights use a lance to knock their opponent off their horse. Also used during battle are the alabarda and the mace.
So much is involved in creating a spectacular Medieval Times show, and we should really tip our crowns to everyone involved especially the Knights. Our Knight won during our most recent visit to Medieval Times, and after learning what he went through to achieve the honor of being called a Knight, we were even more impressed!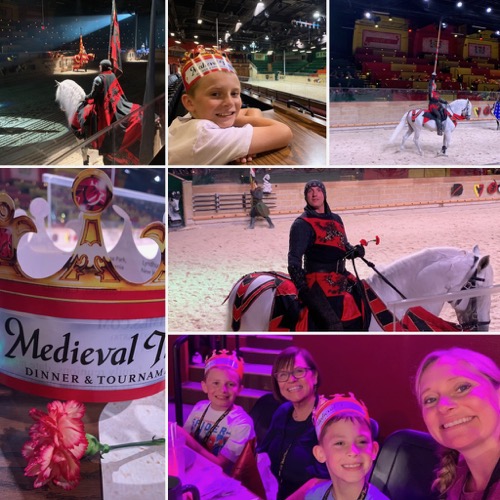 Medieval Times in Lyndhurst is open Tuesday-Sunday with 1-3 shows per day. Each ticket includes the show along with a delicious 3-course meal. You can also upgrade your experience by purchasing the Royalty Package, Queen's Royalty Package or Celebration Package. To purchase tickets, please visit their website. To learn more about the new show, check out our review and YouTube video!
Additional locations:
Altanta, GA
Buena Park, CA
Baltimore, MD
Dallas, TX
Chicago, IL
Myrtle Beach, SC
Orlando, FL
Scottsdale, AZ
Toronto, ON
You may also enjoy: