While you can get a passport to travel the world, there is one destination that is impossible to purchase a ticket to. Pangea was a supercontinent that existed during the Paleozic and Mesozoic eras that was home to dinosaurs. This summer, the Academy of Natural Sciences invites visitors to pick up a passport and travel back millions years ago to observe creatures that roamed the different terrains.
Dominating the exterior of the Academy of Natural Sciences are two prehistoric ambassadors to greet you before you begin your journey to learn about dinosaurs, geography and science! Here are some reasons that you will want to bring the budding paleontologist in your family to visit this expansive and engaging exhibit this summer!

Get Your Passport Stamped in Pangea
With Dinosaurs Around the World
Observe Dinosaurs
The Academy is currently hosting 8 enormous animatronic dinosaurs that mimic different movements set against stunning backdrops. The robotic creatures add to the surreal feeling that you just walked into a time travel movie. In this special exhibit, your family can safely interact with a Velociraptor! While we had fun pretending the dinosaurs were real, it was also fascinating to learn how dinosaurs influenced the creation of mythology.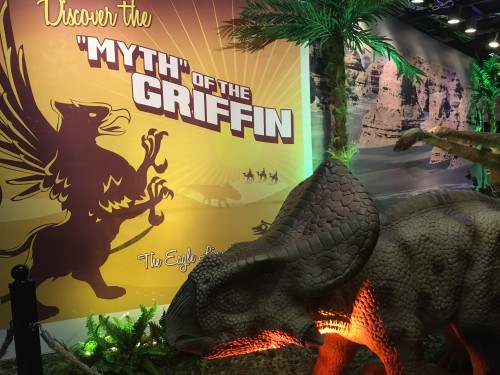 Imagine a Different World
One of the exhibit spaces is filled with different books making it the ideal space to take a break and read. There is also a table filled with dinosaur models that children can color! Currently, science doesn't answer the question what color were the dinosaurs; however, in this space ,children can use their imagination to color them with different designs and colors.
Travel the World
While the graphics evoke posters that scream of visiting the National Parks, this exhibit transports you in time to the geographic areas that eventually become the continents we know today. Located in your passport, your children are challenged to locate and identify several different dinosaurs. Spoiler Alert: one of the dinosaurs is hiding in Dinosaur Hall!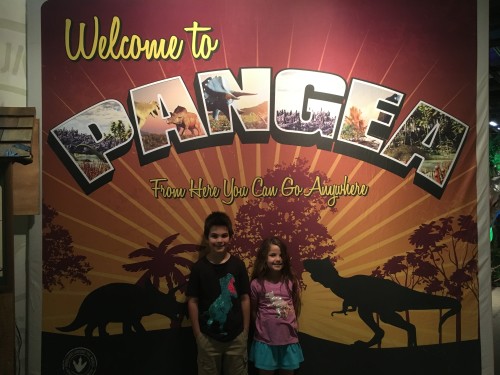 Touch Fossils!
The Academy incorporates a multi-sensory approach which is apparent when you walk into Pangea as the sounds and lights provide a feeling that you are not in Philadelphia anymore. Don't be surprised if there is a Cart of Curiosity on display or a staff member offering you the opportunity to touch a fossil. During our trip, we were able to touch different fossils. In fact, we were able to compare the skull of a real velociraptor to one that was being displayed.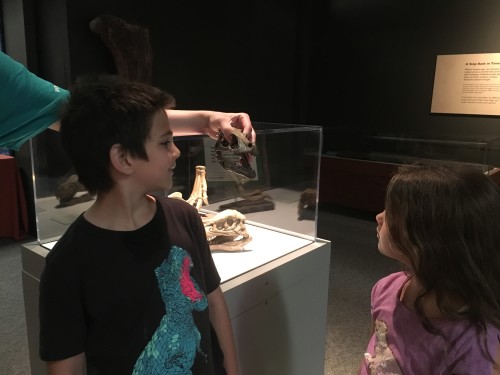 This new exhibit at The Academy of Natural Sciences of Drexel University runs until January 20, 2020 offering a whole new experience for families to enjoy together. This is the perfect place to explore this summer as families can travel the world during prehistoric times.
The Academy of Natural Sciences is located at 1900 Benjamin Franklin Parkway, Philadelphia, PA. It is open Monday-Friday from 10am-4:30pm and on weekends and holidays from 10am-5pm. Admission varies based on age and time of visit. Kids under 2 are FREE! For more information, please visit the Academy's website.
Want to win tickets to travel back in time and explore Pangea! Of course you do! We are so excited to partner with the Academy of Natural Sciences to giveaway 4 passes to the museum.
Here are the rules and conditions for this amazing giveaway:
Participants MUST live in the United States.
The winner will be chosen by Rafflecopter.
The contest will run from July 10 through 12am on July 24.
The winner will be contacted on July 24.
The winner will receive the tickets directly from the Academy.
The winners must respond within 1 day or another winner will be chosen.
To enter, participants can earn entries by: visiting the Mommy University Facebook page (likes are appreciated but not required), following Mommy University on Twitter, sharing the contest with friends, subscribing to the MU newsletter, sharing our Dinosaurs YouTube video, following MU on Instagram, subscribing to our YouTube channel, providing your email address and commenting on this blog post by answering the required question.
No purchase is necessary to win.
Your chances of winning are dependent on the number of entries received.
Enter here: a Rafflecopter giveaway

You may also enjoy: