No trip to Hershey is complete without visiting Hershey's Chocolate World! It is located directly next to Hersheypark and offers endless opportunities for sweet family fun. One of the best experiences at Hershey's Chocolate World is Hershey's Unwrapped! This new interactive learning experience takes guests on a chocolate tasting journey that engages all the senses! Here's how it works:
Guests can purchase tickets to Hershey's Unwrapped at Chocolate World for $15.95/adult (13+) and $12.95/child (3-12). Children ages 2 and under are FREE. The experience is about 30 minutes long and you will choose the time you want to attend the show (based on availability). When you check-in to your show, you will receive a tin filled with chocolate samples that will be used during the show. At the end of the show, you get to keep the tin!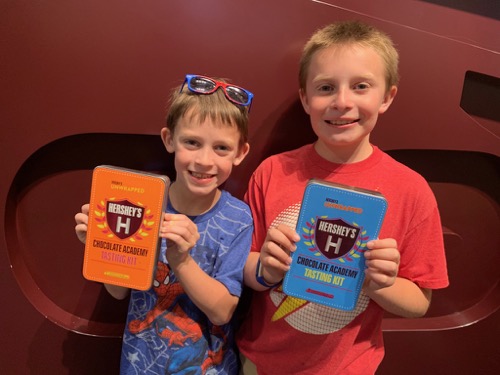 Guests are then invited into the Hershey Chocolate Academy to learn about the art of tasting chocolate. While waiting for the show to begin, trivia questions are displayed on the screen to test your knowledge of chocolate and Mr. Hershey.
At the start of the show, guests are greeted by a bubbly and engaging "professor" who just earned her degree from the Chocolate Academy. She is nervous but eager to share her newfound knowledge with her guests.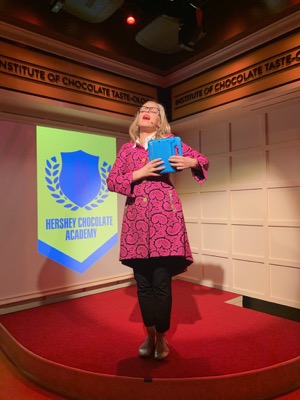 During the show, guests will learn about the 5 senses and how they can all be used to understand more about chocolate. Guests then practice using their senses with the chocolate samples in their tins. Before ever actually tasting the chocolate we learned to smell it, hear what it sounds like when we broke it, look at the colors and feel the textures.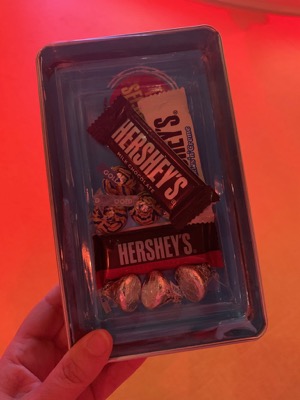 Then, of course, we tasted it. Once we tasted the chocolate, we learned how to determine which of the 6 flavor families the chocolate tasted like. These includes: fruity, floral, earthy, nutty & spicy, sweet and dairy. Since there were a variety of samples, we were able to find several of the flavor families during our tasting. It was a really fun hands-on learning experience for my entire family!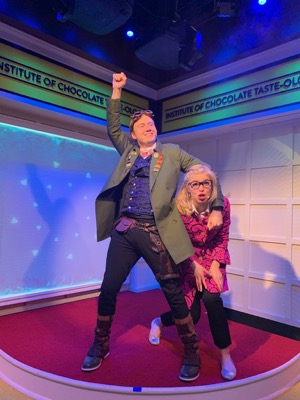 After this fun and entertaining tasting experience, we were introduced to Doc Chocolate who is an eccentric chocolate maker who likes to experiment with flavors to make new kinds of candy. We were invited into his lab to help him develop a new chocolate bar. Since we were the only ones at our show (it was a late showing), we received personal attention, and each one of us was able to participate in the show. For a larger show, Doc will interact with the audience and select a few people to come up and be a part of the experiment.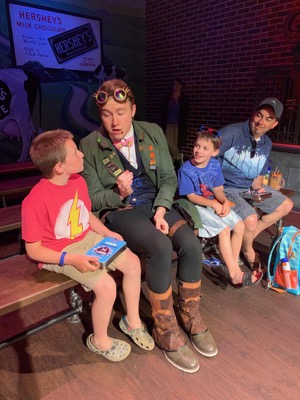 At the end of the show, we learned a few very important lessons! It is okay to experiment and try new things. It is even okay to fail because failure just takes us one step closer to success. Mr. Hershey was not successful in all his ventures but he enjoyed trying new ideas, and in the end, he changed the lives of millions of people!
To purchase tickets to Hershey's Unwrapped, please visit their website!
You may also enjoy: