Since I was a little girl, my family has enjoyed summer days and nights at the State Fair Meadowlands. My father loved taking my sister and I to play games, see the shows, enjoy the rides and so much more. He especially loved sitting in the audience during the hypnotist show that was nothing short of AMAZING! As a parent, I have continued this tradition with my children as well. Since my son was just about able to walk, he has enjoyed the State Fair Meadowlands. In fact, he played his very first carnival game there several years ago. I am now adding to my bank of fair memories, and I cannot wait to create more memories this season!
Since 1986, State Fair Meadowlands has offered a variety of low-cost options making a fun time at the fair possible for EVERYONE! This year, families can enjoy 18 days of fun and excitement at an affordable price. Every day children under 34 inches tall are admitted FREE, and parking is FREE Monday-Wednesday. There are also a number of Bargain Days available throughout the season!
Bargain Days
Opening Night Preview: On June 20 (6pm-midnight), State Fair Meadowlands will celebrate over 30 years of affordable family fun by offering an admission price of $8 for all ages (children 34 inches tall and under being FREE). Each paid guest will also receive a FREE "Come Back" ticket valid June 24, 25 or July 2.
Dollar Night: On June 21 from 6pm to 1am, admission will only be $10/person with parking, select food items, rides and games only $2!
Kids Go Free Night: On June 26 from 5pm-midnight, kids 12 and under are FREE and unlimited ride stamps are only $20!
Cheap, Cheap Night: All ages pay only $5 for admission on July 1 from 5pm-midnight! Plus parking is FREE!
Early Bird Special: On July 5, guests who arrive between 4:30pm-6:30pm will only pay $8 for admission. After 6:30pm, the price returns to $12.
State Fair Meadowlands also offers a wide variety of FREE events and programs that are included with admission. Here are some free experiences you won't want to miss:
Pig Races
Educational Petting Zoo
Paul Bunyan Lumberjack Show
Jurassic Kingdom
Magician Jay Mattioli
Hypnotist Show with Steve Bayner
Death Defying High Dive Show
Fireworks (July 3rd and 4th)
Cycle Circus Live
There is so much fun to be had at the State Fair Meadowlands but there are a few things you just can't miss. Here are some experiences you have to try this year at the fair!
Must Do Experiences at the State Fair Meadowlands
Watch a Pig Race
A day at the fair is not complete until you watch a pig race. Pick your favorite pig and see if they win. If you're lucky, you may even be called up to be a part of the show! Pig Shows take place every day and are FREE with admission.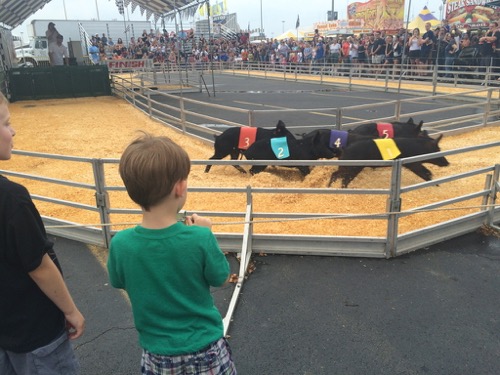 Check Out a Show
The State Fair offers a number of FREE shows that will blow your mind. We absolutely LOVED the High Dive Show and were on the edge of our seats during the Cycle Circus. You will also love the magic, illusion and hypnotist shows. New this year, is Jurassic Kingdom that offers an interactive journey back in time to when dinosaurs roamed the Earth. Families will also love the new Paul Bunyan Lumberjack Show where world-class lumberjacks show off their strength and skill.
Try a New Ride
Each trip to the fair can create new memories and new experiences, and that can start with riding a new ride. Every time we go to the fair my boys try a new ride. When they were little, it was bumper boats but as they got older it became rides that were higher and faster!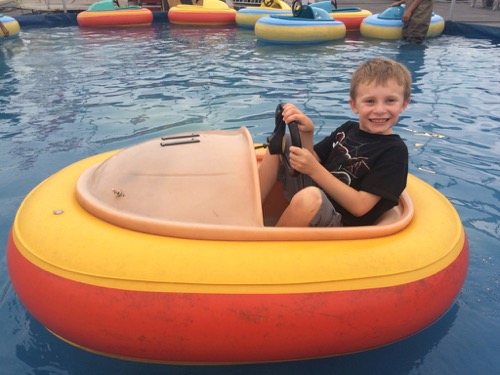 Eat Some Fair Food
What's a trip to the fair without trying some fair food? You can pretty much try anything fried or you can go for the traditional funnel cake and ice cream. This year, there will also be unique options like alligator bites and shark kabobs as well as healthy options too like salads and Italian ice. The State Fair Meadowlands offers a wide variety of eating options so everyone in your family will be happy!
Play a Game
My kids LOVE playing games. In fact, this is their favorite part of the fair. If you visit on Dollar Night, select games are only $2 so playing all night won't break the bank!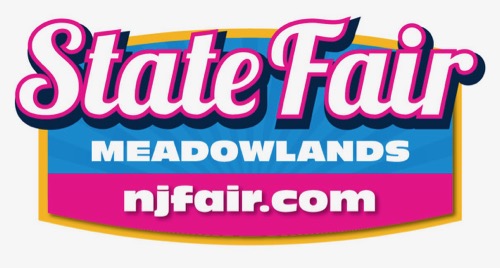 State Fair Meadowlands is open June 20 – July 7 and is located in East Rutherford, NJ (in the parking lot of MetLife Stadium). Check the website for times as they vary each day.
You may also enjoy: