For the past several years, we have taken road trips with stopovers around Virginia. This spring break, we decided to explore Williamsburg which is when I came across a brochure for the Virginia Living Museum (VLM). Our best decision that trip was ignoring our laid out plans for the day and taking a detour to Newport News to explore this incredible space!
I don't know whether to describe the Virginia Living Museum as a museum, zoo, aquarium or nature center, but all of these words apply! The mixture results in an educational play space that enables families to not only enhance their knowledge but also their awareness of the world. After you park your car in the free lot, you will be greeted by a two story building that offers several exhibits focused on Virginia environment. You can also easily walk outside to a boardwalk that will take you past native animals. The boardwalk then leads guests to a Dinosaur park, an Aviary and the Planetarium. We spent most of the day at this location, and when we left, my son had brainstormed where we will go on our return visit. Here are some highlights and recommended spaces.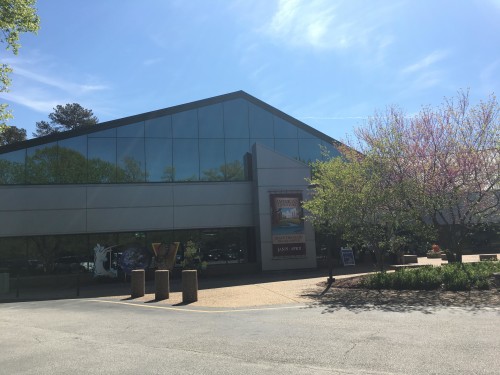 Amazing Spaces at The Virginia Living Museum
Coastal Plain Gallery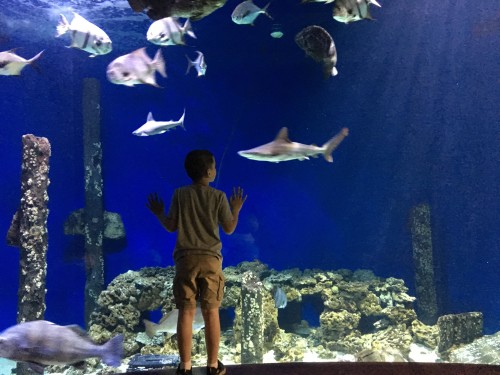 The Coastal Plain Gallery is an incredible space that your aquatic loving child will truly enjoy. When you enter, you are greeted by the 30,000 gallon Noland Chesapeake Bay Aquarium that is filled with fish and even sharks. The Gallery is designed to increase an awareness about the Chesapeake Bay.
Appalachian Cove and Cypress Swamp
Visitors become immersed in natural environments when they visit the Appalachian Cove and Cypress Swamp which is a 2-story glass covered walk-through. Guests will engage all their senses as they learn all about native plants and animals. When you explore this incredible space, you will have the chance to see turtles, fish, an alligator and more!
Outdoor Boardwalk Trail
Virginia Living Museum offers a 3/4 mile elevated boardwalk that crosses over Deer Park Lake and weaves through wetlands and woods. While exploring, guests will see animals like the gray fox, bald eagles, wolves and more. We came across volunteers who also helped us find some of the more hidden characters like the bobcat and the oppossum. Don't forget to also stop and say hello to the otters!
Dinosaur Discovery Trail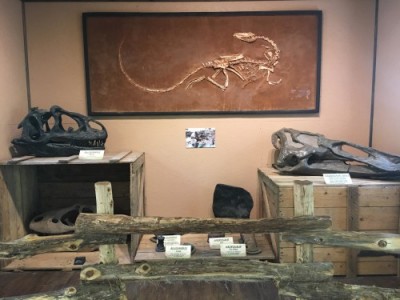 The Outdoor Boardwalk Trail will bring you to Dinosaur Discovery Trail which is perfect for the 6 and under crowd or any child fascinated with dinosaurs. Dinosaur sculptures line the perimeter of this space which makes for awesome photos. Inside the center are digging spaces, building spaces and huts with fossils and replicas that children can touch. If the weather is right, this is another space you can easily find yourself letting kids play in for hours!
Coastal Plain Aviary
The Coastal Plain Aviary was a favorite spot as we looked at over 16 species of birds such as pelicans, snow egrets, blue herons and more. We are just beginning to explore birds but it can be so hard to look at them through the binoculars. Here you can see them at a safe distance and appreciate their stunning plumage and unique qualities.
Touch Tank
Children learn best through hands-on activities. Utilizing their senses to increase their awareness is the purpose of the touch tank where they can pet horseshoe crabs and starfish. We were able to observe how a horseshoe crab devours its food using its bristles and it was fascinating! The staff was patient and knowledgeable in their explanations making the experience even more amazing.
Virginia's World of Darkness Gallery
This compact exhibit located indoors is one of my favorites! The space is darkened to help those nocturnal animals feel a little more at home. From a screech owl to a black widow, there are so many cool creatures to observe in this space.
Wild & Well
This indoor exhibit is all about playing! Children will learn about animal care and careers working with animals while exploring this large space. They can put on a lab coat and get to work helping a wide variety of animals. Don't worry even the alligator and shark are stuffed animals! They can look at x-rays, give medicine or perform feedings. They can also listen to individuals talk about their professions working with animals. This is the perfect space if you want to sit down for a little bit while they burn some energy putting into practice what they learned at VLM.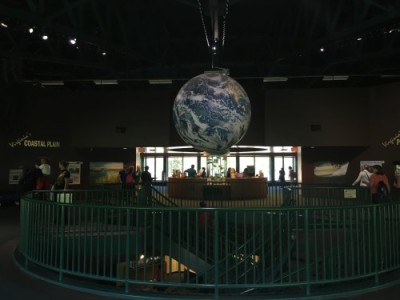 Mommy University Tips/Suggestions
There is an admission fee to enter the VLM; however, we were able to visit for FREE thanks to our membership to the Academy of Natural Sciences which is part of the ASTC Passport Program.
The indoor space is air-conditioned so if you are visiting while it is hot outside, this is a wonderful space to cool off.
The VLM is near the Mariner's Museum and within driving distance to the Virginia Air and Space Museum.
Although we did not visit the Abbitt Planetarium, we recommend checking out one of their shows when you visit. We also recommend visiting the Children's Garden which is an outdoor space for children (ages 2-5) to engage with nature.
There is a café onsite.
The gift shop is wonderful! It has an excellent selection of books, cool pens, reasonably priced jewelry and stuffed animals.
Check out the list of daily activities. We watched a snapping turtle being fed in the Cypress Swamp exhibit and later that day watched a horseshoe crab feeding at the Touch Tank.
The VLM is open daily 9am-5pm, and admission is $20/adult and $15/child with an additional fee for some tours and experiences. To learn more, visit the Virginia Living Museum website!
If you liked this post, you might like: